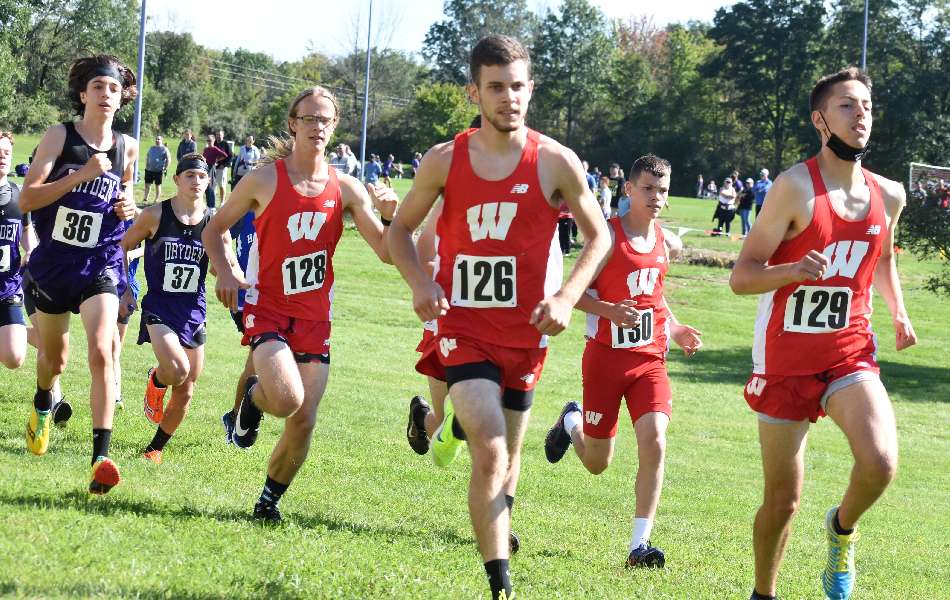 WAVERLY DOMINANT AT CRUSADER CLASH INVITE
By: Brian Fees | Waverly Athletics | September 11, 2021 | Photo courtesy Brian Fees
ELMIRA — It was a dominant performance by Waverly's runners at the inaugural Notre Dame Crusader Clash Cross Country Invitational.

The boys won the team title with a score of 31, topping Johnson City (36) and Elmira Heights (53). Along with the team title, Waverly had the individual champion as Nate Ackley won the title in 15:16.62.

"There were things we have to work on," Waverly coach Nate Culver said. "But, overall I think confidence is a big thing. Early in the season with Covid it was hard on a lot of the kids. They are just getting back in the swing of things and obviously are modified did awesome and kind of set the tone for the day."

Ackley went out fast and led the whole way on the way to his victory.

"Get out there in front of the lead pack," Ackley said.

The runner-up for the boys race was Notre Dame's Derek Simpson, an IAC foe for Ackley. For the Waverly standout, it helps to know who the competition is.

"It kind of helps to know what they are going to do in the race," he said.

The way Ackley has started the year, winning this invite and taking second in a big meet earlier in the week, gives him a lot of confidence.

I'm very ecstatic about how I've started the year," Ackley said.

For Culver it's special to see Ackley running so well.

"I have had him since he was in modified," Culver said. "When he was in modified, eighth grade, he won the IAC Championships as a modified runner. He could have moved up to varsity, but he decided to stay. I think that was a great move for him to stay down and then I can't tell you year after year, he was either a position off, a few seconds off from getting into states that way.

"During Covid last year if we would have had states he would have made it, so he finally realizes I'm there, this is his senior year and he is fully focused on it, which is awesome."

Culver was happy with the way his team ran on Saturday, and hopes it carries over as they go forward.

"I'm hoping after we dissect it and talk about the strengths and things we have to work on, coming up we have the pre-state meet," Culver said. "Because, we are hosting this year at Section 4, Chenango Valley is next Saturday. I'm hoping what they learned here they are able to transition over to that race."

Gavin Schillmoeller finished seventh for Waverly in 16:17.90 and Matt Atanasoff finished 13th in 17:04.94, followed by Sam VanDyke in 15th in 17:28.02 and Brayden Hurd in 18:25.30, finishing 22nd.

In the girls race Harper Minaker finished second for the Wolverines in 17:57.01, behind race winner Piper Young of Notre Dame (17:16.30).

"I felt pretty good," Minaker said. "The hills were a little different than our last meet, but it wasn't too bad."

For the Waverly runner the goal was to Keep Young in site and try and pace herself based on the Notre Dame runner.

"I wanted to keep her in site, but Piper is a really good runner, it's hard to keep up with her," Minaker said. "It's hard to pace when you have no one near you, you have to try and keep up. As long as I could see her, I could try and get up to her."

For Minaker it's been a strong start to the season.

"I'm really happy with how I'm starting," she said. "Hopefully I can keep it going throughout the season."

Elizabeth Vaughn was fifth for Waverly in 19:41.20 and Olivia Nittinger was eighth in 20:16.70 as the Wolverines had three in the top eight, but didn't have enough runners to score as a team.

In the boys' modified race, Chase Nine finished fourth for Waverly in 9:56.40 and for the girls Lauren Gorsline won the race in 10:33.90, while Taylor Sinsabaugh finished sixth in 12:31.60.

In the co-ed JV race Ally Barrett finished third overall in 25:05.10 for the Wolverines.
FOR MORE PHOTOS, VISIT VALLEY SPORTS REPORT.

About the Author