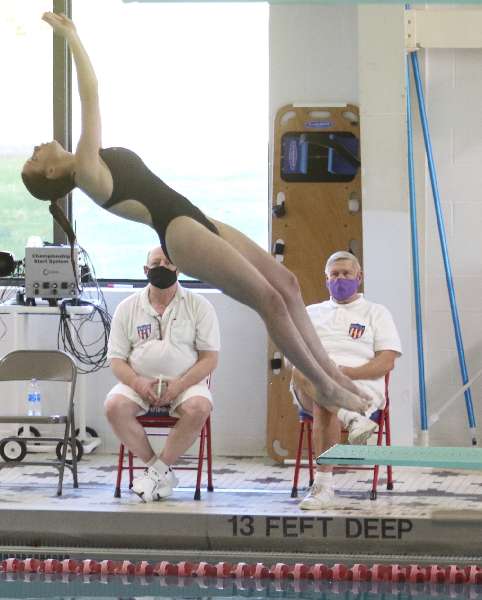 WAVERLY DUO PLACES SECOND, FOURTH IN CLASS C DIVING CHAMPIONSHIP
By: Tim Taylor | Waverly Athletics | April 23, 2021 | Photo courtesy Tim Taylor
OWEGO — Waverly's Josie VanDyke captured runner-up honors at the Section IV Class C Girls Diving Championships here Friday evening.

The Wolverine sophomore scored 256.45 points, trailing only Chenango Forks' Stephanie Hall with 295.7 points.

Forks' Alison Dell placed third with 232.15 points and Waverly sophomore Natalie Garrity took fourth with 179.3 points.

"Our divers did extremely well," head coach Amy Steck said. "We're striving for progress, not perfection, and they've shown that in the week's time they've had a baseline for an 11-dive meet this season that was abbreviated."

The four Class C divers competed alongside 10 Class B divers and VanDyke had the eighth-highest score overall.

VanDyke also qualified for the swimming finals, which will be held Saturday at Watkins Glen High School at 2 p.m.

"Josie is a veteran, so she dove last year and had that prior experience," Steck said. "Natalie is brand new, fresh out of the gate, and was able to master 11 dives in a six-week period with a 10-day quarantine in there. Just a lot to be said for that dedication and commitment to the sport."

That dedication and commitment extends to the Wolverine swimmers as well, according to assistant coach Carrie Condon.

"The group of kids that we have are the best, I beg to say, in Section IV," she said. "I brag all the time at work. We are the luckiest coaches. We have the sweetest, sweetest divers who work their tail off. They swim and they dive. That's really hard to kind of find that balance.

"There's a lot to be said about our group and we really, really love them fo making us the lucky people."