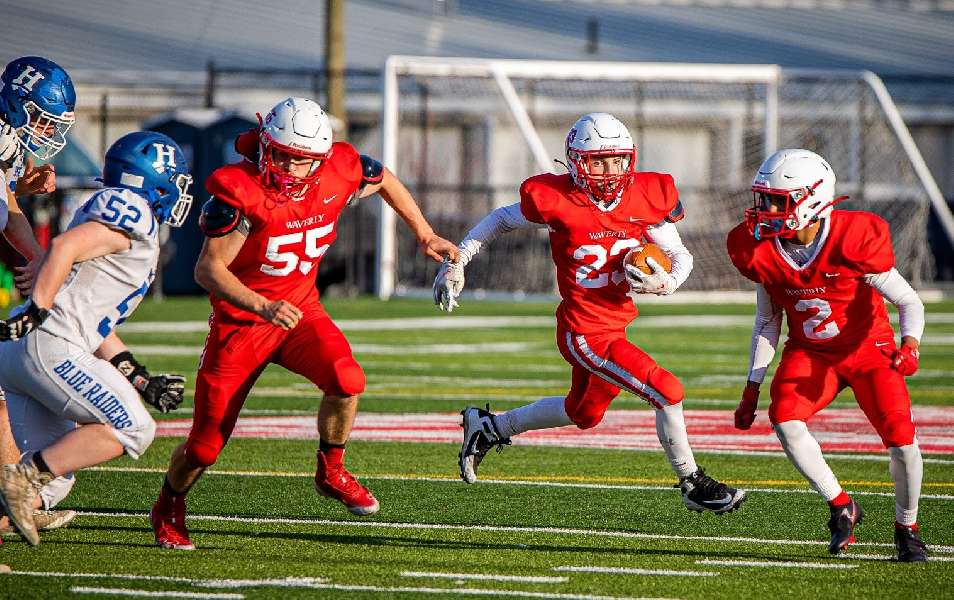 WAVERLY FALLS TO HORSEHEADS IN SEASON FINALE
By: Kevin L. Smith | Waverly Athletics | April 23, 2021 | Photo courtesy David Alliger
WAVERLY — Waverly fell 47-6 to Horseheads in Section IV football action here Friday — Homecoming / Senior Night for the Wolverines — at Waverly Memorial Stadium.

"Even though we lost, I'm proud of our kids and the way they played," Waverly coach Jason Miller said. "They had a really good attitude and stuck with it."

Miller added, "Hats off to Horseheads. They're a good football team."

Freshman quarterback Joe Tomasso led Waverly with 11 completed passes for 98 yards and a touchdown.

For the Raiders, senior QB Ryan Scott led the charge with 5-of-6 passing for 88 yards and two TDs, along with 11 carries for 120 yards.

After the Wolverines punted on its opening possession, Horseheads went to work in its first drive. In the middle of the possession, Scott connected with senior wide receiver Andrew McLaughlin for 21 yards to put the ball at Waverly's 45-yard line.

A few plays later, Scott found McLaughlin, this time for 15 yards to spot the ball at the 11. Horseheads briefly back-tracked on a 5-yard penalty, but senior tailback Maxhemilian Stansfield ripped off 16-yard run for the touchdown. After the extra point, the Raiders took a 7-0 lead with 3:11 remaining in the first quarter.

Following the kickoff, Waverly had good field-position at the Raiders' 48. A handful of plays in, freshman tailback Jason Pipher ran 7 yards before the first quarter came to a close.

In the second quarter, Tomasso aired out a pass to sophomore wide receiver Isaiah Bretz in the right corner of the end zone, but Scott was right there for the interception.

Horseheads took advantage of the turnover on its next possession. Thanks to a combined 50 yards rushing from Scott and junior tailback Riley Loomis, the Raiders made it to Waverly's 17. After Scott targeted senior Daniel Richter for a 7-yard reception, Loomis punched it into the end zone on a 6-yard run.

Scott threw a quick pass to senior tight end Nathan Ham for the 2-point conversion and Horseheads went up 15-0 with 5:16 left in the second quarter.

On the Wolverines' next possession, Tomasso was picked off again as junior linebacker Lukus Roberts went 45 yards to give Horseheads another scoring opportunity at Waverly's 11. Sure enough, Scott released a darted pass to Richter for the 4-yard score. Richter ran in the conversion, bumping the Raiders' advantage to 23-0.

"We had turnovers, and a good team like (Horseheads) is going to take advantage of that," Miller said.

Horseheads tacked on another TD with 1:34 left in the first half when senior tailback Nicholas Procopio took it 41 yards on a pass from Scott. Horseheads led 29-0 at the half.

The Raiders continued to overwhelm the Wolverines at the beginning of the third quarter. Scott compiled 40 yards on the ground in Horseheads' first possession.

Later on, senior offensive lineman Maxwell Rohl plowed through Waverly defenders for a 2-yard TD, making it 35-0 with 10:14 left in the third quarter.

The Wolverines finally got on the scoreboard with 29 seconds to go in the third. In the thick of the drive, Tomasso found Bretz for a 25-yard reception to bring Waverly to Horseheads' 25.

A couple of plays later, Tomasso successfully targeted Bretz once again for a 20-yard TD reception, slicing the deficit to 35-6.

"For more than a half, I think we played them tough," Miller said.

Horseheads' last two scores of the night came in the fourth quarter when junior Matthew Gillette ran it for 2 yards and Richter scooped up a fumble and returned 35 yards for a TD.

Waverly was missing important pieces for its offense, including seniors Caden Wheeler and David Hallett respectively due to injury and coronavirus exposure.

"We battled through adversity," Miller said.

The Wolverines capped its 2021 campaign with a 1-4 record. Despite a losing season, Miller mentioned how he was "glad we were able to have a season and be able to compete.

"In those five weeks it gave our seniors a season, and gave our young guys a season so they can get their feet wet," he added.

Underclassmen make up a majority of the Wolverine squad, which led to Miller harping the varsity program "has a long way to go.

"This game is a good example of why we need to work hard in the offseason," he said.

Miller is hopeful another season of football we'll be here in a "very short four months.

"We'll be back soon, and we'll get right back at it after spring sports," he said.