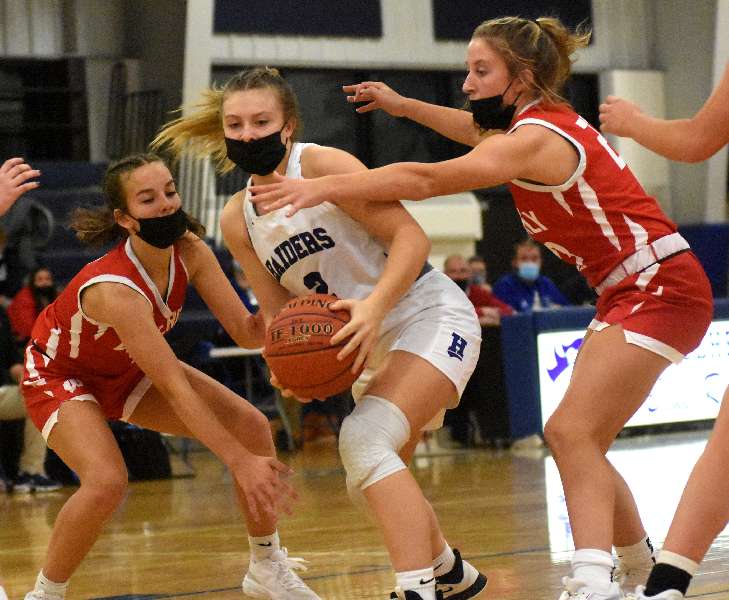 WAVERLY FALLS TO HOT-SHOOTING HORSEHEADS
By: Brian Fees | Waverly Athletics | December 21, 2021 | Photo courtesy Brian Fees
HORSEHEADS — A 5-0 Waverly run to start the fourth quarter and suddenly the Blue Raiders saw their lead cut to a single point.

The momentum was on the Wolverines' side and the game hung in balance. Just seconds later, Sophia Bonnell pulled up for a straight-away three and the lead was back to four and Horseheads never looked back, beating the Wolverines 60-47.

"It was definitely a big shot in the game," Bonnell said. "And, it was a good pass by everybody to get me open."

All night long Bonnell, Carly Scott and the Blue Raiders were making big shots from the perimeter and that proved to be the difference as Horseheads hit 15 threes in the win.

"Fifteen threes," Waverly coach Bob Kelly said. "Which means their offense is out front 20 plus feet away from the basket. Says a lot about our defense, I believe. Says a lot about their offense when they connect on them. I don't know if that's a consistent thing, but it certainly went in for them tonight."

Bonnell hit a career-high eight threes in the game, and scored a career-high 24 points, and Scott hit six threes and had 20 points in the win.

"We were hyping each other up as we ran down the court," Scott said of the way the two fed off each other."

For Horseheads coach Andy Scott, he saw an opportunity for looks if Bonnell could knock them down.

"We watched the film from last year against Waverly and we said they give up a lot of opportunities from the top-of-the-key, because they are really focused on taking away the wings," Scott said. "When you have a kid that can knock it down like that left and right, you have a 1-2 punch and we have some other kids that can knock it down on the other wing. At the end of the day, we are just getting better as a whole team, so it's great."

Bonnell hit another big three in the fourth to push the lead to seven and Scott followed with a three that helped close out the win.

"At one point my Dad was like 'that's going to help us' on the sideline," Carly Scott said. "It felt really good to hit that shot to get that little push to keep us ahead in the second half of the game."

It was a career day for Bonnell, who is a sophomore.

"That was definitely the most points I've had in a game," Bonnell said.

In every quarter of the game both girls hit threes. They combined for at least three baskets from long-range in each quarter. Bonnell had three threes in the second quarter and two each in the third and fourth, after one in the opening quarter. Scott had two threes in the first and third quarters and threes in the second and fourth quarters, adding another basket in the fourth.

"With both of us hot it's hard to stop us," Scott said. "I'm proud of Soph. I'm proud of our team. We put in a lot of effort today. A lot of preparation before the game and it really paid off with the W here."

While the guards were hitting big threes, the post players were doing a good job on the boards.

"We wouldn't be hitting our shots if it wasn't four our team setting good screens, so we have to give kudos to them," Carly Scott said. "They did a really good job on the boards today. They got the boards and kicked it out and we hit those big shots."

"I told the kids we don't hit those threes today without the forwards getting rebounds and kicking it out and getting those looks," Andy Scott said. "A lot of their teammates are doing a lot of work for them."

Kelly thought his team did a good job getting the rebounds and loose balls in the first half, but they were hurt by it in the second half.

"I think in the first half we were getting to the 50/50 balls, maybe we got a little tired," Kelly said. "We are a little thin, a little injured, maybe we got a little tired in the second half and they were getting to those 50/50 balls that we were getting in the first half and yeah, that hurt."

Horseheads led 31-23 at the half after Bonnell made a half-court shot to end the half.

"That was really exciting," Bonnell said. "My heart rate went up."

"You had no idea it went in," Carly Scott added.

"No, I had no idea it went in and I turned around and everyone was on me," Bonnell said.

Addison Westbrook had 17 points to lead Waverly and Kennedy Westbrook finished with 12 points, scoring seven in the third quarter, including 5-for-7 shooting from the foul line. Eight of Kennedy's points came from the free-throw line, where she was 8-for-12.

It was a 15-14 Waverly lead after one quarter, but Horseheads outscored the Wolverines 17-8 in the second quarter.

Olivia Nittinger had nine points for Waverly and Lourden Benjamin had four points, while Ashlen Croft had three points and Peyton Shaw finished with two points.

Despite the loss, the Wolverines know how important it is to play bigger schools like Horseheads.

"You don't get better by going out and playing inferior opponents," Kelly said. "You get better by playing teams that go after it and we are just trying to make ourselves better."


About the Author