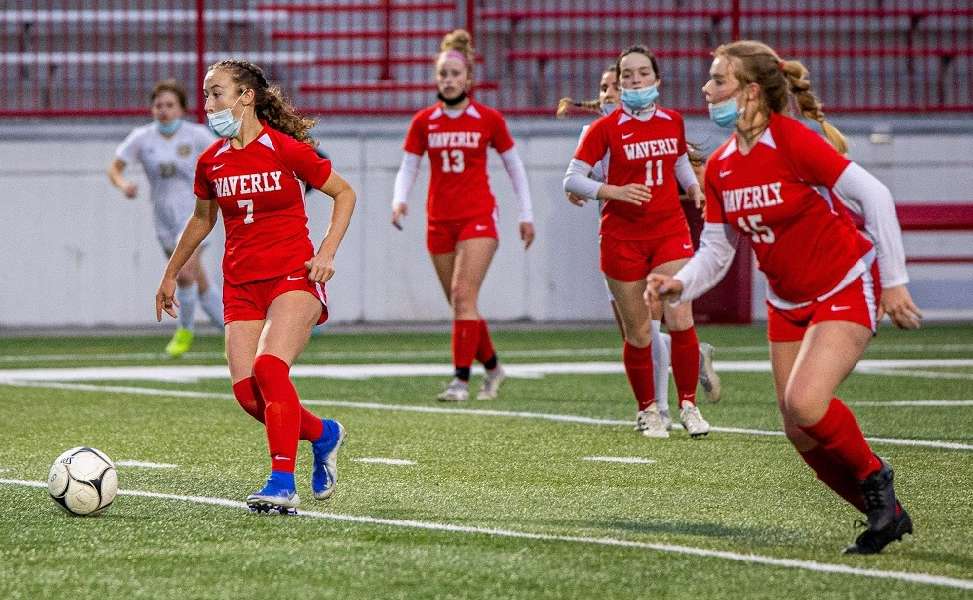 WAVERLY FALLS TO NOTRE DAME, 2-1, IN OVERTIME
By: Tim Birney | Waverly Athletics | April 12, 2021 | Photo courtesy David Alliger
WAVERLY — Waverly scored late in regulation to force overtime, but Notre Dame had the last laugh with a goal late in the extra session to pull out a 2-1 win here Monday night in IAC South Large School Division girls soccer action at Memorial Stadium.

Notre Dame scored the only goal of the first half when a Waverly defender's attempt to clear the ball from in front of the Lady Wolverine goal hit a Notre Dame player and caromed past Waverly keeper Kaitlyn Clark.

Despite the defensive miscue, Waverly coach Tara Hogan was pleased with her team's play.

"We started off this game way better than we have the lsat few games.

"It was evenly-matched most of the game," said Hogan. "We worked on being aggressive to the ball, and putting more pressure on their defense. Our forwards worked hard to put a lot of pressure on their defensive line, and it helped to disrupt their plays forward.

"We had a record of how many throw-ins we got due to us disrupting their defensive line's forward movement," added Hogan.

The rain began to fall at halftime, and caused a few problems for both teams.

"With rain starting around halftime, we ran into some issues with finding each other," said Hogan.

Notre Dame had a 14-13 edge in shots-on-goal, and Waverly had a 2-0 advantage in corner kicks.

Hogan said the Lady Wolverines missed on some scoring opportunities.

"We took a lot more shots this game, but weren't able to follow up on any of them," she said. "I feel like we never truly got to test their goalie."

Notre Dame maintained its lead until late in the second half.

With 5 minutes remaining in regulation, Waverly senior Gabby Picco sent an indirect kick deep into the box, where sophomore Kennedy Westbrook made a sliding kick to direct the ball into the goal to tie the game at 1-1.

With two minutes remaining in overtime, Elle Mustico settled a corner kick, and drove a shot over Clark's head into the bottom of the crossbar. It caromed into the goal for the game-winner.

Clark recorded 12 saves in net for the Lady Wolverines.

"Kait (Clark) had another great game in goal, while Gabby Picco and Kennedy Westbook did an amazing job defending and running the middle of the field," said Hogan.

"We always hope for a different outcome, but we're still struggling with having such a minimal amount of subs," she added.

Waverly is 3-3 on the season, and Hogan says she is hoping to host Newark Valley later in the week.
About the Author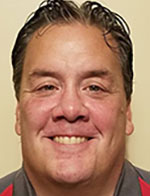 Tim Birney is the founder / owner of River Road Media Group. He was born and raised in the Valley, graduating from Waverly High School in 1984.
Birney earned an Associate's Degree in Journalism from SUNY Morrisville in 1986 and a Bachelor's Degree in Journalism / Public Relations from Utica College of Syracuse University in 1988. He began his newspaper career at The Daily Review in Towanda in 1989, before moving on to The Evening Times in 1995. He spent more than 10 years at the Times, the last four as Managing Editor.
River Road Media Group includes Valley Sports Report (launched Aug. 10, 2009), Tioga County (NY) Sports Report (Aug. 13, 2018), and Northern Tier Sports Report (Aug. 31, 2020). Southern Tier Sports Report is set to launch in 2021.