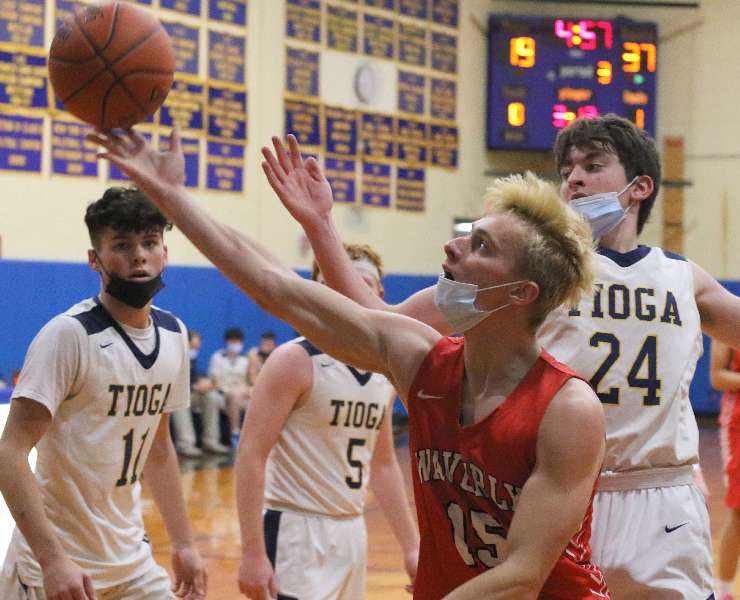 WAVERLY KNOCKS OFF TIOGA, 63-3
By: Tim Birney | Waverly Athletics | December 8, 2021 | Photo courtesy Tim Birney
TIOGA CENTER — Waverly used a pair of first-half run to take control on its way to a 63-39 win over Tioga here Wednesday night in IAC boys basketball action.

The Wolverines didn't shoot the ball particularly well from the perimeter — 4 of 20 from 3-point range in the first half, but used it's defense to create easy scoring chances.

"I've been pleased all season with our defensive effort," said Waverly coach Lou Judson.

"We didn't shoot it well tonight," he noted. "The fortunate thing is we have other ways to score.

"I don't think we made the extra pass tonight, like we did the other night," added Judson. "And I think we settled for some jump shots when we could have attacked the basket, and got to the free-throw line."

Tioga coach Brian Card, whose team has had two full practices together with football season ending just five days ago, was pleased his team's performance.

"Waverly is a very good team and they wore us out tonight," he said. "They forced us into some turnovers that led to some easy baskets.

"We made a few mistakes that can be corrected in practice, but I was happy with how my guys played tonight.

"My guys didn't give up, and kept playing hard," added Card. "Once we get into basketball shape, we are going to have a very competitive team."

Judson praised Tioga for its effort.

"I was impressed with how hard Tioga played. Some of those guys have only had a few practices," he said. "I have to give them a lot of credit because they played extremely hard tonight."

Judson knows his team needs to play better if it's going to achieve its goals.

"Tonight's performance won't be good enough as we move forward with the strength of our schedule and who we're going to play.

"But, when you win by 24 on the road in a varsity basketball game, you have to walk away somewhat pleased, and I am," said Judson. "There are a lot of good things that happened tonight."

Sophomore Evan Sickler knocked down a jumper in transition to give Tioga a 2-0 lead in the opening minute of the game, but Waverly scored the next 11 points, capped by an old-fashioned three-point play by senior Davis Croft.

Sophomore Ethan Landmesser snapped the Waverly run with a short jumper, but Waverly led 13-4 after the first eight minutes.

Senior Brennan Traub knocked down back-to-back 3-pointers to give Waverly a 20-6 lead early in the second quarter, then scored four more points to cap a 14-3 run that extended the lead to 28-9 lead with 2:52 remaining in the half.

A minute later, Tioga's Ethan Perry canned a 3-pointer to stop the Waverly run, but Brennan Traub, who had 15 points in the quarter, drained his third trey of the stanza to make it 31-12.

The Wolverines had six different players put their name in the scoring column in the third quarter, with sophomore Joey Tomasso knocking down a pair of jumpers, and Brennan Traub and junior Nate DeLill each adding conventional three-point plays in an 18-8 run that pushed the lead to 51-22 entering the final eight minutes.

Josh Reis scored six points in the fourth quarter, while Landmesser added four points, and senior Casey Stoughton canned a 3-pointer as the Tigers trimmed five points off its deficit.

Judson was pleased with the play of his bench, which contributed 15 points.

"This is our first road game, and it's only the second game for a lot of these guys at the varsity level," said Judson. "I was able to play all my guys — 1 through 10.

"I thought Nate DeLill played very well off the bench tonight. He gave us some positive minutes, and shot the ball well.

"I have a lot of guys who can play, and I'm going to have to find different ways to get them into the game," noted Judson.

"At the beginning of the season one of my main concerns was the quality of depth we had coming off the bench, but now I feel pretty comfortable putting anybody in the game," he added.

Brennan Traub led Waverly with 22 points, including a trio of 3-pointers, and four rebounds, while Tomasso had 15 points, three rebounds, and two blocked shots, and DeLill scored 10 points.

Croft added five points, three rebounds, three assists, three steals, and one blocked shot in the win, while senior Liam Traub chipped in with four points, three rebounds, and three blocked shots, senior Brady Blauvelt hauled down seven rebounds, sophomore Jay Pipher had four rebounds and three assists, sophomore Jake Benjamin added four boards, and senior Declan Murphy chipped in with three rebounds.

Perry led Tioga with nine points and four rebounds, while Landmesser had eight points and five rebounds, Josh Reis scored seven points, Stoughton added six points, and Sickler chipped in with four points and seven rebounds.

Waverly, now 2-0, hosts Watkins Glen Tuesday in a key early-season IAC South Large School divisional match-up, while Tioga (0-3) travels to S-VE Friday night.

——————

IN PHOTO 1: Waverly's Brennan Traub. ... PHOTOS BY TIM BIRNEY.

About the Author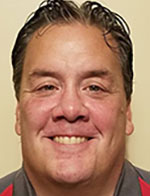 Tim Birney is the founder / owner of River Road Media Group. He was born and raised in the Valley, graduating from Waverly High School in 1984.
Birney earned an Associate's Degree in Journalism from SUNY Morrisville in 1986 and a Bachelor's Degree in Journalism / Public Relations from Utica College of Syracuse University in 1988. He began his newspaper career at The Daily Review in Towanda in 1989, before moving on to The Evening Times in 1995. He spent more than 10 years at the Times, the last four as Managing Editor.
River Road Media Group includes Valley Sports Report (launched Aug. 10, 2009), Tioga County (NY) Sports Report (Aug. 13, 2018), and Northern Tier Sports Report (Aug. 31, 2020). Southern Tier Sports Report is set to launch in 2021.