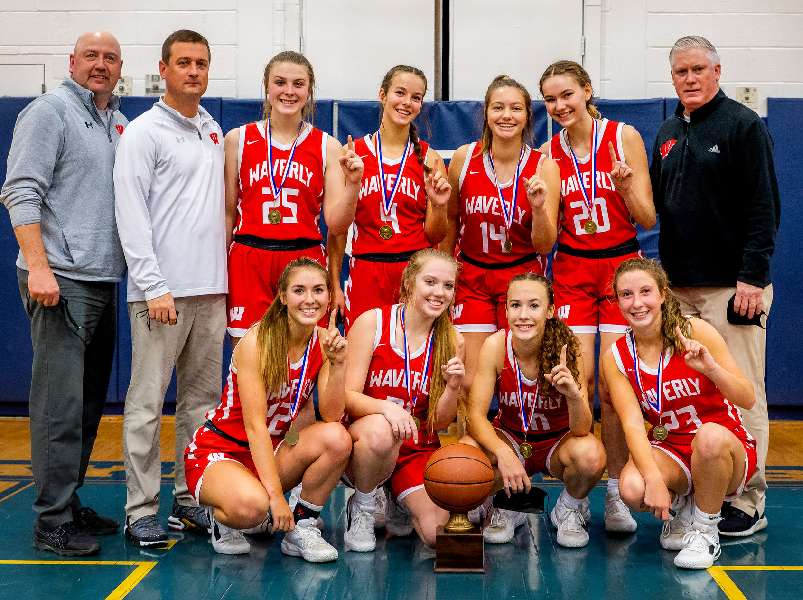 WAVERLY KNOCKS OFF TOWANDA, 40-34, TO WIN VALLEY CHRISTMAS TOURNAMENT
By: Chris Manning | Waverly Athletics | December 30, 2021 | Photo courtesy David Alliger
SAYRE — It wasn't the prettiest game for Waverly on the offensive end, especially from the free throw line, where they shot 5-for-20, but coach Bob Kelly was glad to be holding the Valley Christmas Tournament girls' basketball trophy at the end.

"It's impressive," Kelly said about his team's 40-34 win over Towanda on Thursday. "We always say, 'when the ball's not going in the basket, you can always play defense.' And, we played some pretty solid defense."

Their speed and physicality caused Towanda problems all night long, especially in the early going, when they took a 10-0 lead right out of the gate.

"The pressure was very key," said Kelly. "That's what our goal was to start. We had a good start, and it's tough when you have to dig out of a hole. And they did, they fought hard to battle back."

Waverly missed their first 11 free throw shots on the night, but they did hit six 3-pointers on the day, and, came back to make three freebies in the final 30 seconds to ice the game.

"You know, we couldn't put the ball in the ocean," Kelly remarked. "It didn't matter if it was a free throw, it didn't matter if it was a lay-up — it just wasn't going in. But down the stretch, Kennedy Westbrook was 3-for-4 from the line when we needed it in crunch time, and that's huge."

Olivia Nittinger had 13 points to lead the Wolverines, including three 3-pointers, while Addison Westbrook added nine points. Paige Robinson had seven points, Kennedy Westbrook notched five, Lourden Benjamin had four, and Peyton Shaw finished the game with three points.

Paige Manchester had a double-double of 17 points and 16 boards, to go along with three assists, and two steals to lead Towanda, with Bella Hurley adding eight points, six rebounds, and two steals.

Gracie Schoonover had four points, and grabbed 14 boards, while Eliza Fowler rounded out the scoring with five points.

The Wolverines jumped out to a 4-0 lead in the early going, then got back-to-back 3-pointers from Robinson and Nittinger to take their 10-0 lead with 5:45 left in the opening frame.

Manchester got Towanda on the scoreboard with a free throw, but a Waverly lay-up at the three-minute mark saw them take a 12-1 advantage.

Manchester and Kennedy Westbrook traded lay-ups, before the Knights scored five points in the final 30 seconds off a Hurley 3-ball and two more Manchester freebies, to cut it to 14-8.

The Wolverines would extend their lead to 16-8 off a putback to start the second quarter, but three straight points from Towanda saw them cut it to 16-11.

Back-to-back buckets from Addison Westbrook — first a 3-pointer, followed by a lay-up — pushed Waverly's lead back to double-digits, at 21-11, with 3:40 left in the half.

Manchester responded for the Knights, first with two free throws, then with a 3-pointer off an Aziza Ismailova assist, to get it back down to a five-point deficit, at 21-16.

Nittinger then bagged a 3-pointer with 55 seconds to play in the quarter to extend the lead again to 24-16. Manchester got the final say, though, hitting two more free throws with 4.9 seconds on the clock for a 24-18 halftime score.

Manchester would be held scoreless in the third quarter, but Towanda still dug into the lead. It was scoreless for the first 3:20 of the frame until Benjamin hit a 3-ball to push the Wolverine advantage to 27-18.

Towanda then responded with seven straight points — a Fowler 3-pointer and lay-up, followed by a Hurley bucket — to cut it to 27-25 with 1:30 left in the third quarter.

An Addison Westbrook steal and lay-up saw Waverly push it to 29-25, but in the final seconds Manchester hit Schoonover for a basket to pull within two, 29-27, with one quarter left to go.

In the first minute of the fourth quarter, Towanda had two close shots rim out, baskets that would have tied it for them, and given them their first lead.

In any case, it was Waverly once again making a push, beginning with a made free throw — their first of the game — by Shaw. That was followed by a jumper from Robinson, and a 3-ball from Nittinger — her third of the game — to push their lead back to 35-27 with 3:22 left.

With 2:55 on the clock, Manchester hit a lay-up to pull to within six, 35-29. However, Waverly ran some clock as it grabbed two offensive rebounds on its next possession.

They would turn it over on an illegal screen, but there was just 1:38 left to play.

The Wolverines would get the ball back after a Towanda miss, with Benjamin hitting a lay-up to extend their lead to 37-29 with 1:17 left to play.

Manchester would hit two more freebies to cut it to 37-31 with 48.5 seconds left, but would turn it over on their next possession on a five-second call.

Kennedy Westbrook then went to the line for a pair and hit both to make it 39-31 with 27.2 seconds left to effectively end the game.