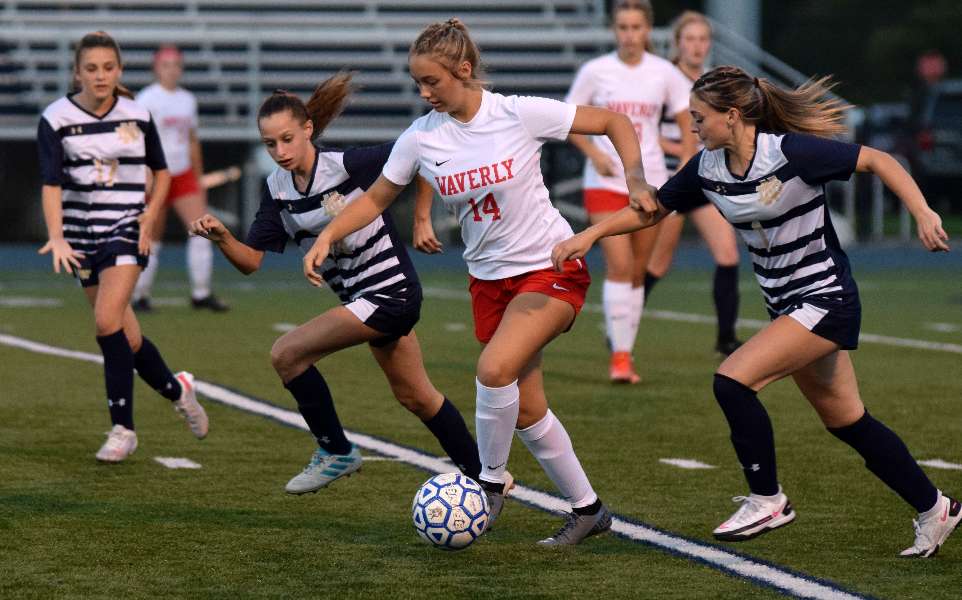 WAVERLY, NOTRE DAME BATTLE TO 0-0 DOUBLE-OVERTIME DRAW
By: Tim Birney | Waverly Athletics | September 17, 2021 | Photo courtesy Mike Lubertowicz
SOUTHPORT — Waverly and Notre Dame battled for 100 minutes, and neither was able to dent the other's defenses in a scoreless draw here Friday night at Brewer Stadium in IAC girls soccer action.

"We were slow and quiet to start. It took a long time for us to get our bearings and settle down," said Waverly coach Tara Hogan. "A lot of the time we didn't realize that we had more time and space than we thought.

"We found ourselves rushing the passes and not taking the time to make smart passes," added Hogan. "It resulted in a lot of extra work for us."

Notre Dame coach Joe Picco said his team didn't finish when it had opportunities.

"I thought we played well in moments. We seemed to be in their end the majority of the game," he said. "I have to do a better job in helping them tactically, how to break those last lines of defenders."

Notre Dame had a 7-5 advantage in shots-on-goal, and a 2-1 edge in corner kicks.

Freshman Lea Cole had seven goals in net for Waverly.

"Lea Cole had the best game of our season so far," said Hogan. "She was so confident and made some very impressive saves.

"I'm really proud of how she stepped up tonight," she added.

Hogan also tipped her cap to her defense.

"As always, I need to credit our phenomenal defense," she said. "Paige Robinson, Bella Romano, and Olivia Robinson did another amazing job tonight in holding down the line."

Hogan also acknowledged the play of junior Kennedy Westbrook and sophomore Lea VanAllen.

"Kennedy Westbrook helped literally every one of our lines in our formation," noted Hogan. "She runs our field and is vital to all offensive and defensive movements.

"Lea VanAllen had some good opportunities tonight and was able to move up top for a short time," said Hogan. "Lea has a great talent for seeing those open passing lanes to our forwards.

"I am dying to get Kennedy and Lea more time up top," added Hogan.

She also had positive words on one of her newcomers.

"Eighth-grader Claire Clonch saw time, and played well, at defense, midfield, and forward," said Hogan.

Waverly is now 1-1-1 on the season.

"Overall, I am happy with the outcome and already look forward to seeing ND again," said Hogan.

The Lady Wolverines return to action Monday at Tioga.
FOR MORE PHOTOS, VISIT VALLEY SPORTS REPORT.

About the Author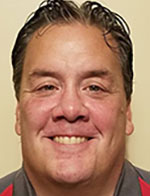 Tim Birney is the founder / owner of River Road Media Group. He was born and raised in the Valley, graduating from Waverly High School in 1984.
Birney earned an Associate's Degree in Journalism from SUNY Morrisville in 1986 and a Bachelor's Degree in Journalism / Public Relations from Utica College of Syracuse University in 1988. He began his newspaper career at The Daily Review in Towanda in 1989, before moving on to The Evening Times in 1995. He spent more than 10 years at the Times, the last four as Managing Editor.
River Road Media Group includes Valley Sports Report (launched Aug. 10, 2009), Tioga County (NY) Sports Report (Aug. 13, 2018), and Northern Tier Sports Report (Aug. 31, 2020). Southern Tier Sports Report is set to launch in 2021.