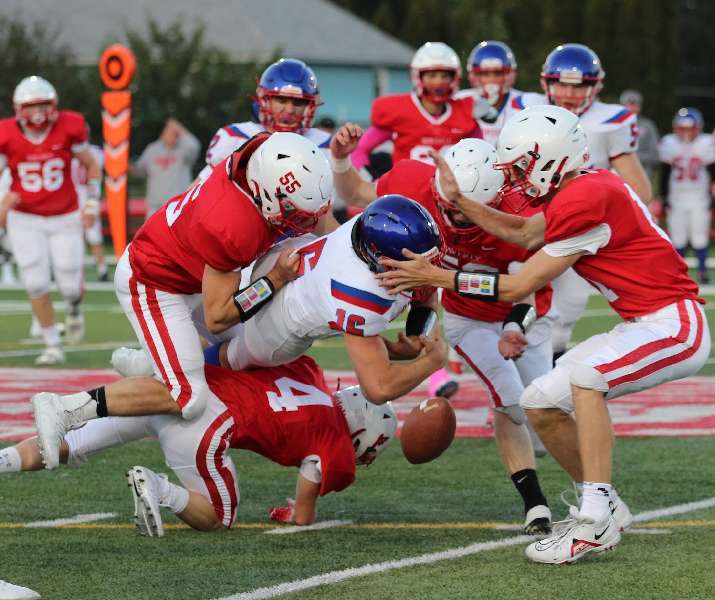 WAVERLY OVERCOMES SHAKY START TO BLANK OWEGO, 35-0
By: Tim Taylor | Waverly Athletics | September 10, 2021 | Photo courtesy Tim Taylor
WAVERLY — Football can be a game of momentum and on Friday night, Waverly snatched it away from Owego and pulled away for a 35-0 Section IV non-conference victory here at Veteran's Memorial Stadium.

Sophomore quarterback Joey Tomasso and the rest of the Wolverines overcame a shaky start and took advantage of the Indians' struggles to improve to 2-0 on the season.

A Waverly three-and-out would give the visitors the ball in the first minute of the game and the Indians marched down to the Wolverine 6 on the strength of 18- and 21-yard quarterback keepers by Spencer Mead. Unfortunately for Owego, the drive would sputter and the Indians failed to put a 23-yard field goal attempt through the uprights.

"I thought that was a huge momentum swing early in the game where, coming into this place and playing, and we get a defensive stop, take it down the field and we don't get any points. That was tough," Owego coach Steve Virkler said.

On the Wolverines' next possession, Tomasso would throw into the arms of the Indians' Dan Schofield at the Waverly 36 and he would bring the ball back to the 14. Again, Owego struggled as a Tomasso tackle-for-loss and two penalties would push the Indians back to the 31. They would turn the ball over on downs at the 30.

This time, Tomasso would shake off an ugly start to the evening (2-for-5 for minus-1 yard with an interception) and engineer a 9-play, 70-yard scoring drive. Gage Tedesco lugged the rock in from the 4 and Ryan Clark converted the PAT kick, giving the home team a 7-0 edge with 22 seconds left in the opening period.

"I don't think Joe's decision-making early in the game was that great," Waverly coach Jason Miller said. "Owego has presented problems for us for three, four, five, going back actually 10 years with their coverage, pre-snap and then what happens post-snap. We had a little problem figuring that out and talked about it at halftime. We hit some big plays in the middle of the field in the second half."

The Indians bounced back with a 52-yard kickoff return by Steven Bidwell, putting the pigskin at the Waverly 27. However, a sack by Ty Beeman and two solid plays by the defensive line force Owego to turn the ball over on downs

"They went down and scored and we had a long kickoff return and didn't punch that in," Virkler said. "If we punch it in and tie it up, there's a different feel and different vibe to the game, and we weren't able to do that."

The Wolverines turned that defensive stand into a 14-0 lead with their longest drive of the night — 78 yards in 14 plays. Tomasso hit Tyler Talada, Nate Delill and Jay Pipher a combined four times for 50 yards, the last putting the ball at the 11. He covered the final yardage with his feet, scoring on a 7-yard keeper with 5:13 on the clock.

"Hats off to them," Virkler said. "They took advantage of those situations and we didn't."

With a two touchdown advantage to his liking, Tomasso opened up the passing game and connected on a pair of second-half touchdown passes.

The first came on the Wolverines' first possession of the third quarter. After forcing Owego to turn the ball over on downs at the Waverly 40, Tomasso capped a 9-play march with a 25-yard strike to Brady Blauvelt in the middle of the end zone on third-and-nine. Clark's kick made it 21-0 with 6:25 on the clock.

The next came on Waverly's first possession of the fourth quarter and covered 48 yards in three plays. Following an Owego punt to start the period, the Wolverines were flagged for five yards then, on second-and-nine, fumbled the ball back to the 48 where guard DJ Shaw recovered it. On the next play, Talada beat his coverage and Tomasso found him all alone on a post route. Another Clark kick made it 28-0 with 10:05 remaining in the game.

Just 13 seconds later, Waverly tacked on a little insurance. A blocking-in-the-back penalty placed the ball at the Owego 8. On first down, the Indians botched the pitch and Beeman scooped it up for an easy three-yard TD run. The PAT kick made it 35-0.

Tomasso finished the night 18-for-31 for 224 yards.

"I thought he played really good," Miller said of Tomasso's overall performance. "He was very composed after he settled down after that first quarter. He started making the throws he should make."

He did get a little help from an inexperienced Owego defense.

"We had two broken coverages, and I'm not taking anything away from him, because he throws the ball awesome," Virkler said. "He sits in the pocket and he finds a guy and he puts it in the right spot and we had two broken coverages, and they took advantage of it. One was on fourth down unfortunately. It was fourth-and-11 down there and we had a break in our coverage, and they took advantage of it."

Waverly chalked up 336 yards offense on the night, giving 13 different players touches. Tedesco carried the ball nine times for 52 yards and Tomasso ran it five times for 36 more.

"We ran the ball a little bit," Miller said. "We wore them down after about midway through the second quarter. I thought we started controlling the line of scrimmage a little bit.

"We rotated three backs, three of them don't have much experience, so it's nice to see. Braden Hills came in the second half, gave us a little burst. Kaden Wheeler had some tough runs and Gage (Tedesco) is going to be our workhorse."

Through the air, Tomasso found seven different targets.

"Receiver-wise, they all got involved. Isaiah Bretz had a couple nice catches tonight and did a great job blocking on the perimeter, Tyler had a big post play and Brady had a big post play," Miller said. "That's something we've wanted to do, knew we could do it going back to the spring. That was a game we pretty much saw the same type of coverage. Those guys have worked hard. They worked hard over the summer, worked hard since the spring. Got a lot of experience in the spring and it's showing up on the field.

"Once again, the line did a great job with the protection," Miller said.

For the second consecutive week, the Wolverines held an opposing offense in check and without a point.

Owego finished with 171 yards offense, 159 of which came on the ground. Quarterback Spencer Mead picked up 96 on 15 carries. Presten Gorski added 34 on three runs and Mason Wills had eight on four runs.

"Once again, we played really good defense," Miller said. "We gave them a lot of field position and were able to get them off the field, despite them having the ball, most of the time, starting their drives 50-yard line in. A really great job on defense, flying around."

In addition to Beeman's effort on defense, Connor Stotler recovered a fumble and Jake Benjamin registered a sack. Waverly attempted several onside kicks and recovered one, that by Thomas Hand late in the third quarter.

It resulted in zero points as the Indians came away with a goal line stand.

With many new faces (Owego graduated 22 players), Virkler knew coming into the game his team had a tough task before them. A handful of injuries didn't help their cause.

"We got banged up tonight," he said. "We've got some guys in tough shape. At halftime, we lost two offensive linemen, and we only have five, so we were scrambling a little bit.

"That's tough with a small group, an inexperienced group at the same time, to come in and play a really quality football team in my opinion. I think they're going to have a nice season and I hope they can keep it going.

Waverly (2-0) will host Chenango Valley in another non-conference game Friday.

"We've got a lot of confidence right now and we need to build on it," Miller said. "We have a huge game this week."


Owego visits Johnson City Friday to begin Division III play.
(NOTE: Waverly's Week 1 opponent, Class A East Syracuse Minoa beat Class AA Central Square, 28-8 Friday night.)