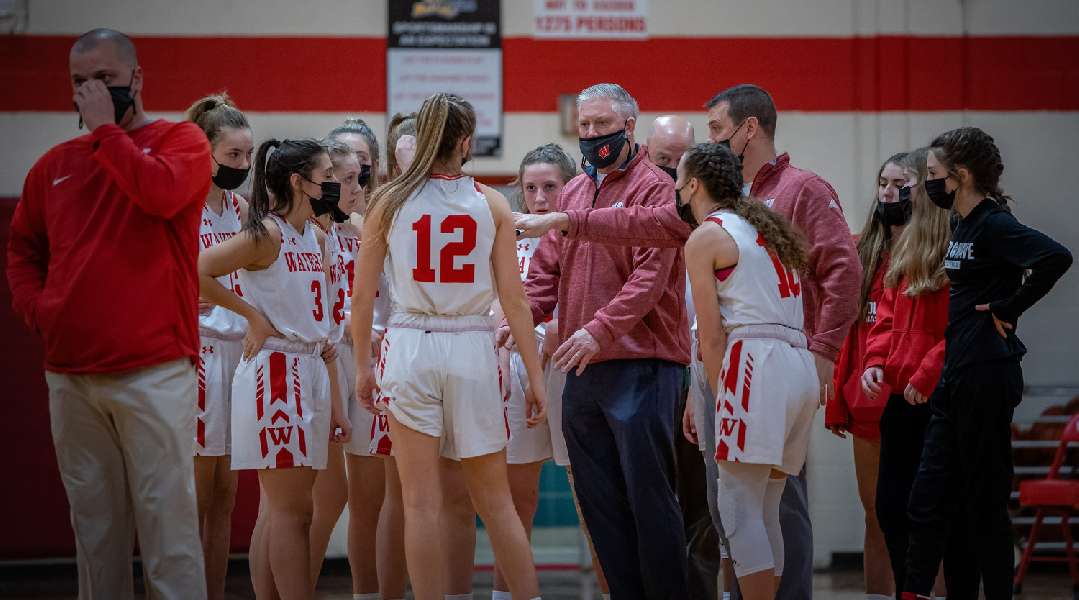 WAVERLY PULLS AWAY FROM OWEGO FOR 10TH VICTORY
By: Tim Taylor | Waverly Athletics | March 2, 2021 | Photo courtesy David Alliger
WAVERLY — Waverly rode a solid defensive effort, and big scoring nights from Sidney Tomasso and Kennedy Westbrook to a 62-31 IAC victory over Owego here Tuesday evening.

Tomasso pumped out 23 points and Kennedy Westbrook chipped in with 20 more, and the Wolverines held Division I-bound standout Evee Coleman to a season-low 13 points.

The Wolverines struggled with their three-point shooting, but took advantage of Indian turnovers caused by their in-your-face defense to win their 10th game in 11 outings.

"Our defense has been pretty solid the whole year," Waverly coach Bob Kelly said. "We're pretty scrappy. I like our pressure, I like our quickness and they anticipate. They don't give up on it, so it's been very good for us. It's kind of a pain in the rear if you've got somebody in your face tall game long, the way that we have played this year, which is nice to see."

The Waverly defense constantly makes them a tough opponent to deal with.

"Their full-court pressure, and then back into their half-court, they definitely challenge you for 32 minutes," Owego coach Luke McEvoy said. "Bob obviously runs an incredible program here. That's why he has 300-plus wins now.

"It's alway funs to play against, because they're going to challenge you every minute of the game and keep you on your toes. It's a good learning experience for the group of girls that will be coming back into the off-season and to next year, and kind o f shows us where we need to get to."

The Wolverines missed their first seven long-range attempts before Kennedy Westbrook knocked down the first of the night. It came with 46 seconds left in the first period and closed out the scoring with the home team grabbing a 14-5 lead.

Kennedy Westbrook would account for five points in the first frame, Tomasso added three, and Gabby Picco, Paige Robinson and Peyton Shaw tacked on two apiece. Coleman would score Owego's only baskets.

Tomasso turned a pair of steals into three points in the first 30 seconds of the second quarter, and she and Kennedy Westbrook scored 22 seconds apart just past the midway part of the period to extend the Wolverines' advantage to 21-7.

Held to one field goal and one free throw in the first six minutes of the second quarter, Owego would get a trey by Coleman and a field goal apiece from Maggie Huizinga and Maddie Bennett late in the half. However, Waverly would counter with one three each from Picco and Tomasso to make it 29-15 at the half.

The Wolverines would build a comfort zone after the break, outscoring the Indians, 18-7, in the third quarter as Kennedy Westbrook, Picco and Tomasso each drained a trey.

Coleman would score her 1,000th career point on a foul shot with 4:31 remaining in the period, but Waverly would build a 49-25 cushion heading into the final eight minutes of action.

"Obviously, a great individual accomplishment, a well-deserved accomplishment based on the hard work she's put in over the years, let alone the last couple of years, to come back from a couple of knee injuries that she had to be out here doing what she's doing. Definitely a highlight of the season," McEvoy said.

Tomasso scored seven more points in the final frame while Kennedy Westbrook added five more, including her third trey of the game, and Addison Westbrook tacked on a trey.

Waverly, usually pretty accurate from long range, converted less than 30 percent of its 3-point attempts. Kelly attributes that to the fact his team has been playing a lot of games in this shortened season — three of the last five days and five in the last eight.

"I think that can be attributed to the legs and just being dead," Kelly said. "The legs are dead. I just think it has to be just being tired, just being dead-legged. They need a day off. We haven't practice since, I think, last Thursday. We've been playing just games and we could use some time to get a little practice and try to get some legs back.

"I'm very thankful for the season, and I know they are, so there's no complaints here, but we do need some recovery time."

Picco contributed eight points to the win, Addison Westbrook had five, Robinson scored four and Shaw pitched in with two.

Huizinga scored six points for the Indians, who slipped to 4-5. Bennett put up three, Georganna Hankey, Ellie Sherwood, Ava Brown and Lauren Gilbert scored two apiece, and Saylor Ayers had a point.

The two teams meet again Thursday in Owego.