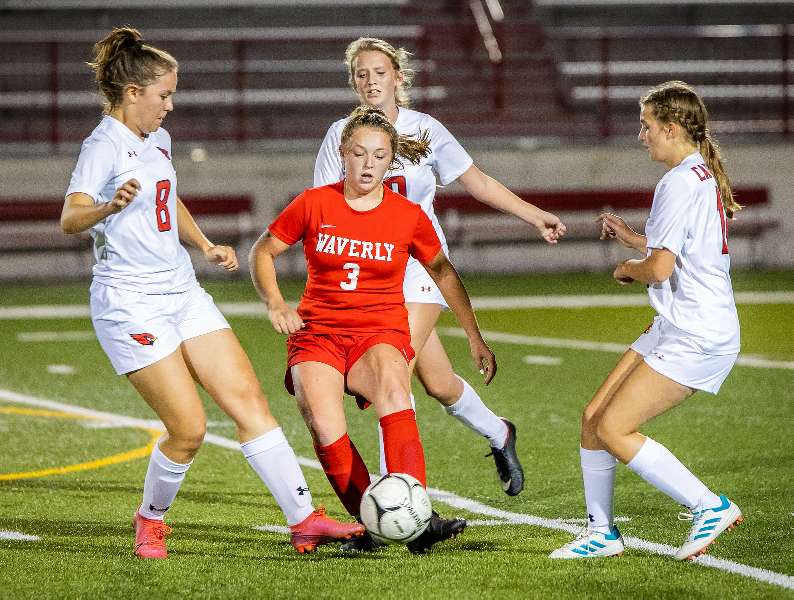 WAVERLY RALLIES FROM TWO GOALS DOWN AT HALF; EDGES NEWARK VALLEY, 3-
By: Tim Birney | Waverly Athletics | September 27, 2021 | Photo courtesy David Alliger
WAVERLY — Junior Kennedy Westbrook scored two minutes into the second half to trigger Waverly's rally in a come-from-behind, 3-2, win over Newark Valley here Monday night in IAC South Large School girls soccer action at Memorial Stadium.

Emma Miller scored a pair of first-half goals to give the Lady Cardinals a 2-0 lead at the halftime intermission.

"We had a tough first half.," said Waverly coach Tara Hogan. "We weren't working hard for each other and players were watching as the ball rolled right past us.

"Newark Valley beat us to every ball and we found ourselves scrambling," noted Hogan. "Their first goal was a result of that. The second goal was unlucky as we had a hand ball in the box.

"In the second half, Kennedy (Westbrook) moved up top to put one away within the first two minutes of the second half," continued Hogan. "It was from that point on that we started playing our game and not theirs.

"Our passing was cleaned up and we were working as a unit," added Hogan. "I am very proud of how the girls rose to the occasion and played the way I know they can."

Miller scored an unassisted goal seven minutes into the game to put Newark Valley up 1-0. She added a goal on a penalty kick with 9 minutes remaining in the half.

Kennedy Westbrook finished off a give-and-go from sophomore Lea VanAllen to trim the deficit to 2-1.

Midway through the second half, sophomore Paige Robinson crossed a pass into the box, and freshman Addison Westbrook headed it over the keeper and under the crossbar to tie the game at 2-2.

With 2 minutes remaining, VanAllen took the ball up the center of the field, and fired a shot inside the near post to give the Lady Wolverines' a 3-2 lead.

"All three of our goals were well placed and were a result of great teamwork," said Hogan.

"Paige Robinson's cross to Addison Westbrook was a sight to see," she noted. "And, Lea's game-winning goal was beautifully- and patiently-placed off a phenomenal pass from Kennedy.

"I give due credit to Newark Valley," added Hogan. "They have low numbers and still gave us a great fight."

Waverly had an 8-5 edge in shots-on-goal, while Newark Valley had a 7-3 edge in corner kicks.

Lea Cole had three saves in net for the Lady Wolverines.

Waverly, now 5-1-1, hosts Newfield Wednesday night.
FOR MORE PHOTOS, VISIT VALLEY SPORTS REPORT.

About the Author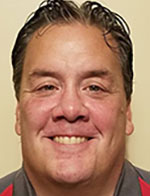 Tim Birney is the founder / owner of River Road Media Group. He was born and raised in the Valley, graduating from Waverly High School in 1984.
Birney earned an Associate's Degree in Journalism from SUNY Morrisville in 1986 and a Bachelor's Degree in Journalism / Public Relations from Utica College of Syracuse University in 1988. He began his newspaper career at The Daily Review in Towanda in 1989, before moving on to The Evening Times in 1995. He spent more than 10 years at the Times, the last four as Managing Editor.
River Road Media Group includes five sites in "The Sports Reports" family that cover 24 school districts in five counties: Valley Sports Report (launched Aug. 10, 2009), Tioga County (NY) Sports Report (Aug. 13, 2018), and Northern Tier Sports Report (Aug. 31, 2020); Northern Tier West Sports Report (March 15, 2021) Southern Tier Sports Report (Aug. 16, 2021).