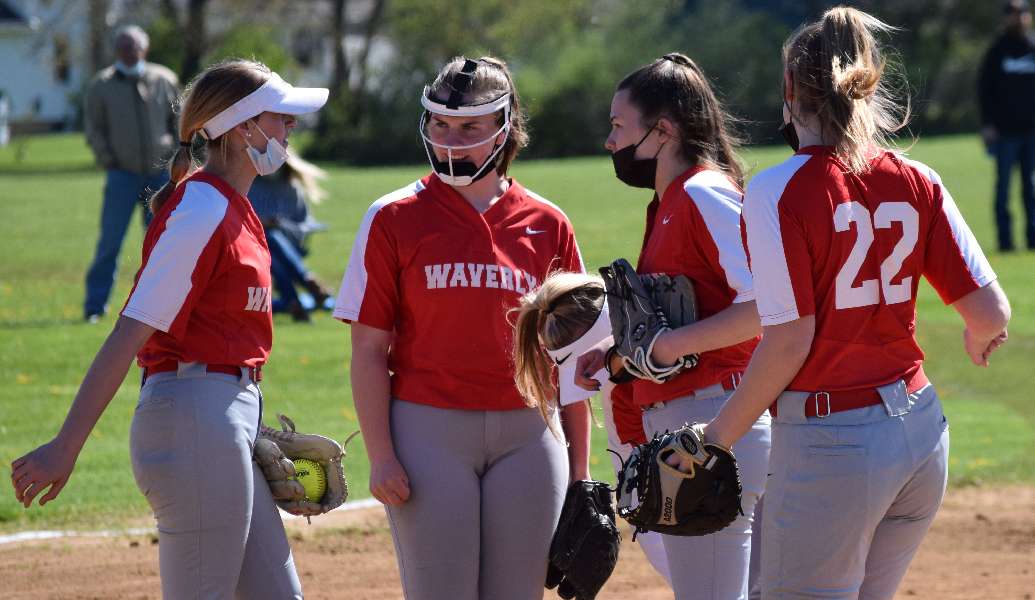 WAVERLY RALLIES IN FINAL AT-BAT TO EDGE TIOGA, 7-5, IN OPENING GAME OF 'BATTLE AT THE BORDER'
By: Tim Birney | Waverly Athletics | May 1, 2021 | Photo courtesy Mike Lubertowicz
WAVERLY — Bella Romano stroked a tie-breaking single in the top of the seventh inning to help Waverly to a come-from-behind, 7-5, win over Tioga here Saturday morning in the opening game of the "Battle at the Border" softball showcase.

The Lady Wolverines, playing as the visiting team, built an early 4-0 lead, but the Lady Tigers rallied to take a 5-4 lead.

Aubrey Ennis led off the top of the second inning with a solo home run over the center-field fence to give Waverly a 1-0 lead.

Alyssa Sindoni, Olivia Robinson, and Michaela Lauper re-ignited the rally with consecutive singles to load the bases. After consecutive strikeouts, Sidney Tomasso delivered a two-run single to extend the lead to 3-0.

Ennis led off the third inning with her second home run — a solo blast over the left-field fence — to make it 4-0.

Sindoni and Robinson hit back-to-back singles, and Lourden Benjamin reached on a one-out error to load the bases, but Tioga starter Kindra Wessels registered back-to-back strikeouts to escape further damage.

The Tioga offense, which was limited to a single by Wessels in the first two innings, roared to life with two runs in the bottom of the third.

Gabby Foley led off the frame with a single, and scored on an error that allowed the batter — Abby Foley — to reach third base. With one out, Abby Foley scampered home on a sacrifice fly off the bat of Austyn Vance to trim the deficit to 4-2.

Wessels and Mykenzie Thetga followed with consecutive singles, but Waverly starter Hali Jenner escaped further damage with a strikeout to end the inning.

Molly Bombard led off the bottom of the fourth inning with a single, and moved to second on a groundout off the bat of Mackenzie Luther.

Gabby Foley and Abby Foley followed with back-to-back RBI singles to tie the game at 4-4.

Olivia Ayres singled to put runners on first and second, and back-to-back two-out walks to Wessels and Thetga forced home a run to give the Lady Tigers a 5-4 lead.

Jenner and Weasels dominated through the sixth, but the Lady Wolverines broke through in the seventh.

Robinson led off the top of the seventh with her third hit of the game — a line-drive single to center field, and moved to second on a walk to Lauper.

With two outs, Tomasso lined an RBI single to center field to tie the game at 5-5, setting the stage for Romano, who hit the first pitch she saw to right field to make it 7-5.

Jenner pitched around a two-out single by Bombard to preserve the win.

Tomasso had three hits, one run scored and three RBI, and Robinson had three hits and two runs scored to pace Waverly's 13-hit attack, while Ennis hit two solo home runs, Romano singled twice and drove in two runs, Sindoni singled twice and scored one run, and Lauper singled and scored one run.

Jenner earned the win, allowing five runs — three earned — on 10 hits, while striking out seven and walking two.

Bombard stroked three singles and scored one run, while Gabby Foley singled twice, scored two runs, and knocked in one run, and Wessels added a pair of singles in Tioga's 10-hit attack.

Abby Foley singled, scored two runs, and drove in one run for the Lady Tigers, while Thetga singled and drove in one run, Ayres added a single, and Vance drove in one run.

Wessels was tagged with the loss. She allowed seven runs on 13 hits, while striking out 11 and walking four.

The Lady Tigers, now 0-2 (they lost 10-5 to Athens later in the day), return to action Wednesday when they host S-VE, while Waverly hosts Watkins Glen.
About the Author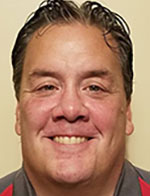 Tim Birney is the founder / owner of River Road Media Group. He was born and raised in the Valley, graduating from Waverly High School in 1984.
Birney earned an Associate's Degree in Journalism from SUNY Morrisville in 1986 and a Bachelor's Degree in Journalism / Public Relations from Utica College of Syracuse University in 1988. He began his newspaper career at The Daily Review in Towanda in 1989, before moving on to The Evening Times in 1995. He spent more than 10 years at the Times, the last four as Managing Editor.
River Road Media Group includes Valley Sports Report (launched Aug. 10, 2009), Tioga County (NY) Sports Report (Aug. 13, 2018), and Northern Tier Sports Report (Aug. 31, 2020). Southern Tier Sports Report is set to launch in 2021.