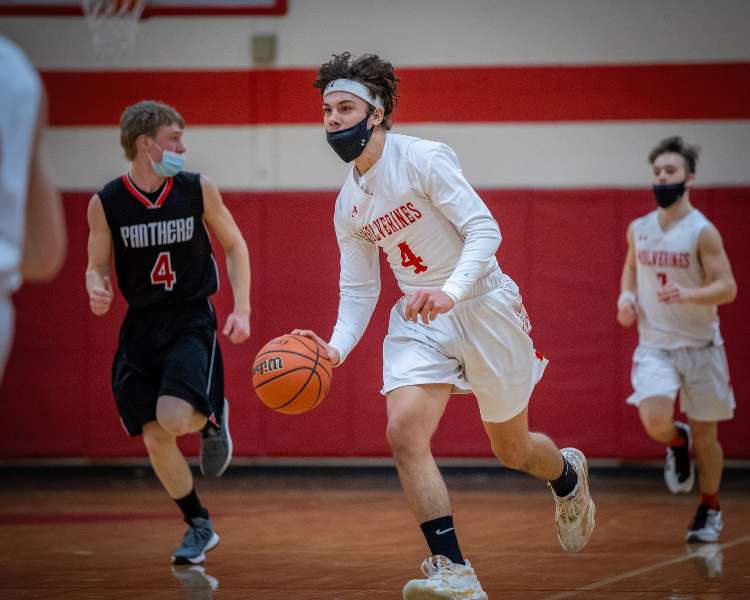 WAVERLY RALLIES TO DEFEAT S-VE, 58-46, IN SEASON FINALE
By: Tim Birney | Waverly Athletics | March 6, 2021 | Photo courtesy David Alliger
WAVERLY — Spencer-Van Etten started out hot, but Waverly was able to cool the Panthers off to post a 58-46 victory on the final day of the shortened season here Saturday.

S-VE jumped in front, 26-17, on the strength of five 3-pointers before the Wolverines were able to regroup. The Panthers' largest lead of the game came on Matt Merrick's third trey of the day with 3:19 remaining in the first half.

With the Wolverines down nine, Brennan Traub scored a basket and Liam Traub followed with a three a minute later, igniting the Waverly comeback.

"We didn't play well up until that point," Waverly coach Lou Judson said. "We just kind of got a spark going and kind of found a way to get back in the game. We knew going into the second half that we didn't play well and if we could play up to our capability we would be fine.

"Certain guys were maybe shooting the basketball too soon or too often, and the ball was not finding the right guy. Today in the second half, the ball found the right guy at certain moments.

Davis Croft scored following a Panther turnover and Joey Tomasso out-jumped Jewell for a defensive rebound, then turning it into a bucket moments later to knot the score at 26. Logan Jewell would find the hole with a free throw with 5.4 seconds left in the half, but Waverly raced to the other end with Brennan Traub getting open in the paint for a buzzer beater to put the Wolverines on top to stay, 28-27.

"I've been doing a lot of substitutions all year long and allowing guys to start that maybe wouldn't have started in a regular season, so it gets you out of the flow a little bit," Judson said of the slow start.

Waverly remained hot after the break as Tomasso put in a follow-up and Ryan Lambert scored on a fast break to make it 34-27. Marcus Brock got a point back for Spencer on a free throw, but Tomasso flipped in an easy shot in the paint and canned a three, the Kobe Decker added a bucket to push the Wolverine advantage to 43-28.

"We started out really strong," S-VE coach Cliff Pierce said. "I think fatigue actually hurt us a little bit as we got going. The first quarter we were pretty fresh, played pretty well. The last two minutes of the second quarter, that hurt us. We turned the ball over a bunch of times. We didn't really run a good offensive set.

"We gave up a bunch of threes there toward the end of the first half and then Waverly was able to take that momentum and come out in the second half and kind of ride that wave. The third quarter really hurt us. I think they outscored us, 22-6. Other than that, we played pretty well the rest of the quarters."

James Sutherlin stopped the assault with a three, then made two of three foul shots 47 seconds later to cut the gap to 43-33 with 2:49 left in the third period.

Unfortunately for the Panthers, Waverly responded with a basket and a steal and layup by Tomasso, and a trey from Croft to close out the period with a 50-33 cushion.

Aidan Westbrook and Liam Traub combined for three free throw points, offsetting a foul shot by Dominic Grier to make it 53-34 early in the final stanza.

"We really worked through Aidan Westbrook in the post in the second half," Judson said. "He found cutters and he was able to get to the rim and do some good things for us there.

Matthew Byrne knocked down the first of his two fourth-quarter treys, then Jewell added a free throw to keep the difference at 15. Brennan Traub canned a trey at the 3-minute mark and Croft tallied Waverly's final points with 2:34 to go to push the lead to 2:34 on the clock for a 58-38 lead.

"I was pleased with our team defense today," Judson said. "We knew James Sutherlin and Matthew Byrne, and those guys are tough, and James Sutherlin being one of the better guards in Section IV, so we knew we had our hands full today."

Sutherlin added a basket and a trey, and Byrne nailed his third three of the day to close out the scoring.

The game had several lead changes in the first two minutes as Tyler Doster and Sutherlin scored the first two buckets. Aidan Westbrook converted a conventional three-point play and Decker scored to make it 5-4 Waverly. The lead changed twice on threes by Merrick and Decker, then went back in S-VE's favor on a basket by Sutherlin.

The Panthers would tack on treys by Byrne and Brock to go up, 17-12, at quarter's end. A trey and layup by Merrick offset a reverse layup from Westbrook and a three by Peyton Bowen, then a Sutherlin free throw and another Merrick three gave S-VE its biggest lead of the game at 26-17.

Tomasso led the Wolverines with 15 points. He also had a pair of steals. Decker and Westbrook contributed nine points each. Croft and Brennan Traub chipped in with seven points apiece. Croft added five rebounds and two assists, and Traub handed out two assists.

Liam Traub tacked on four points and two steals, Bowen had three points and eight boards, Lambert added two points and two assists, and Brady Blauvelt tacked on two points and a blocked shot.

Sutherlin led all scorers with 17 points, Merrick scored 11 and Byrne chipped in with nine. The trio combined to sink eight 3-pointers, three each by Merrick and Byrne. Brock added four points, Doster and Jewell had two apiece and Grier scored a point.

Waverly closed out the season with an 8-4 record, all its losses coming to Class AA teams.

"(I was) very pleased with our performance and very please with the season," said Judson. "I just wished we could have gone a little bit further this year."

S-VE finished at 4-2, playing a limited schedule due to its season being cut short by a COVID quarantine.
About the Author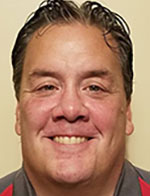 Tim Birney is the founder / owner of River Road Media Group. He was born and raised in the Valley, graduating from Waverly High School in 1984.
Birney earned an Associate's Degree in Journalism from SUNY Morrisville in 1986 and a Bachelor's Degree in Journalism / Public Relations from Utica College of Syracuse University in 1988. He began his newspaper career at The Daily Review in Towanda in 1989, before moving on to The Evening Times in 1995. He spent more than 10 years at the Times, the last four as Managing Editor.
River Road Media Group includes Valley Sports Report (launched Aug. 10, 2009), Tioga County (NY) Sports Report (Aug. 13, 2018), and Northern Tier Sports Report (Aug. 31, 2020). Southern Tier Sports Report is set to launch in 2021.