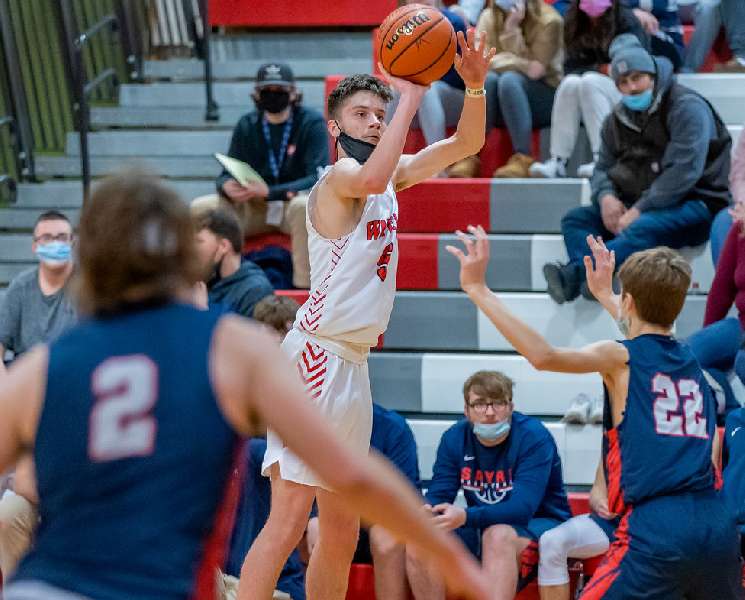 WAVERLY RIDES BIG SECOND HALF TO 81-46 WIN OVER SAYRE IN CONSOLATION GAME OF VALLEY CHRISTMAS TOURNEY
By: Tim Birney | Waverly Athletics | December 29, 2021 | Photo courtesy David Alliger
WAVERLY — Waverly shook off a slow start, and used pressure defense and balanced scoring in an 81-46 win over Sayre here Wednesday night in the consolation game of the boys Valley Christmas Basketball Tournament.

"I thought we might come out a little flat coming off that emotion game (Tuesday) night with Athens, and we did," said Waverly coach Lou Judson. "We were a step slow and lethargic in our defensive rotations early on and (Sayre) hit some 3s in the first half.

"We played pretty well in the second quarter, and took an 8-point lead at the half.

"Then, we switched up some defenses, and went to some full-court traps and made it more of an up-and-down paced game, and really got some points in transition off our defense," noted Judson.

"We probably played the best second half we've played this year," he added.

Judson said it wasn't all about the defensive adjustments.

"I think the guys just woke up," he said. "We may have taken our opponent a little bit lightly, but the guys realized Sayre came to play tonight and we need to get going.

"We had a nice discussion at half about what we needed to do," added Judson. "We made the adjustments, and the kids played a great second half."

Junior Jackson Hubbard scored nine points, including a 3-pointer, in the first quarter, while senior Dom Fabbri knocked down a pair of treys, and freshman Nick Pellicano added a 3-pointer to help the Redskins to a 20-18 lead after the first eight minutes.

Sophomore Joey Tomasso scored seven points, including a 3-pointer, while senior Brady Blauvelt added six points, and senior Liam Traub canned a 3-pointer and scored five points to keep the Wolverines within two points at the end of the opening stanza.

Tomasso drained a 3-pointer early in the second quarter, but Fabbri and senior Josh Arnold each connected from behind the 3-point arc, and senior Kannon VanDuzer scored five points to keep Sayre even for the first half of the second quarter.

Senior Brennan Traub scored six points, and junior Isaiah Bretz and Tomasso each scored four as the Wolverines closed the half with a 10-2 run to take a 39-31 lead at the halftime intermission.

Brennan Traub and Blauvelt combined for 14 points in the third quarter, and junior Nate DeLill knocked down a 3-pointer in a 23-7 blitz that extended the Waverly advantage to 62-38 entering the final eight minutes.

Waverly kept it rolling in the fourth quarter as six different players fund the scoring column in a game-closing 19-8 run.

Brennan Traub led Waverly with 19 points, three assists, three steals, and one blocked shot, while Tomasso had 18 points and three assists, and Blauvelt added 16 points and seven boards.

Bretz scored eight points in the win, while Liam Traub had seven points, six rebounds, four assists, and three blocked shots, DeLill scored seven points, senior Davis Croft chipped in with six points, and senior Declan Murphy pulled down three rebounds.

Hubbard led Sayre with 17 points, including three 3-pointers, while Fabbri had 14 points, including four 3-pointers, and VanDuzer scored a season-high nine points.

Waverly, now 4-3, returns to action Jan. 3 at Thomas A. Edison, while Sayre (2-4) is off until Jan. 6 when it hosts Canton.

About the Author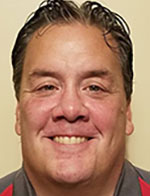 Tim Birney is the founder / owner of River Road Media Group. He was born and raised in the Valley, graduating from Waverly High School in 1984.
Birney earned an Associate's Degree in Journalism from SUNY Morrisville in 1986 and a Bachelor's Degree in Journalism / Public Relations from Utica College of Syracuse University in 1988. He began his newspaper career at The Daily Review in Towanda in 1989, before moving on to The Evening Times in 1995. He spent more than 10 years at the Times, the last four as Managing Editor.
River Road Media Group includes Valley Sports Report (launched Aug. 10, 2009), Tioga County (NY) Sports Report (Aug. 13, 2018), and Northern Tier Sports Report (Aug. 31, 2020). Southern Tier Sports Report is set to launch in 2021.