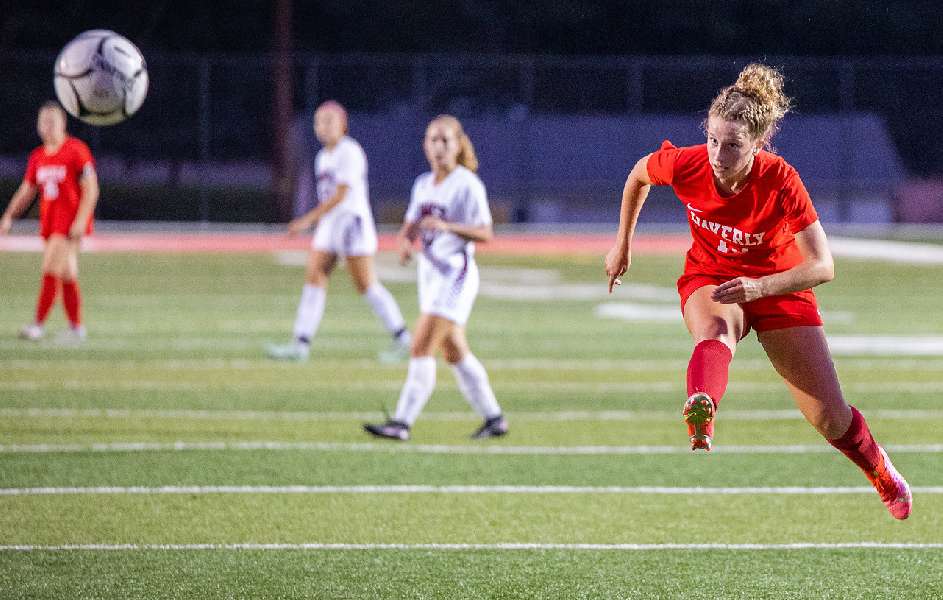 WAVERLY ROLLS OVER O-M, 7-1, IN SEASON OPENER
By: Tim Birney | Waverly Athletics | September 8, 2021 | Photo courtesy David Alliger
WAVERLY — After 25 minutes of scoreless action, Waverly blew the game open with four goals in the final 15 minutes of the first half en route to a 7-1 win over Odessa-Montour here Wednesday night in IAC girls soccer action at Memorial Stadium.

"We had a quiet, but quick start today," said Waverly coach Tara Hogan. "The first-game jitters were there, but we quickly worked on putting pressure on every ball. The whole team worked very well with getting to the ball quickly and forcing turnovers.

"O-M's keeper (Keyonna Garrison) was fantastic, so we had to really work for our goals.

"Lea VanAllen got to work in the first half with a hard-earned hat trick," noted Hogan. "She has been putting in extra time with her club team to work on her shot, and it already has paid off."

VanAllen's first two goals — with 15 and seven minutes remaining in the half — were unassisted. Eighth-grader Claire Clonch set up VanAllen's third goal with 3 minutes left before intermission.

Just two minutes later, Clonch scored her first varsity goal to give the Lady Wolverines a 4-0 lead. Kennedy Westbrook was credited with an assist.

Kiley Stillman, off another assist from Kennedy Westbrook, scored her first varsity goal just two minutes into the second half to make it 5-0.


With 29 minutes left in the game, Kennedy Westbrook was knocked to the ground as she attempted a shot. Her resulting penalty kick caromed off the cross bar, but she was able to head the rebound past Garrison to extend the lead to 6-0.
Gina Gavich put O-M on the board with a free kick with 21 minutes left.

With 17 minutes remaining, Kennedy Westbrook capped the scoring, off an assist from senior Allison Campbell.
"Junior captain Kennedy Westbrook was all over the field," said Hogan. "I'm just as antsy as her to move her up the field. Her energy and her drive is second to none."
Waverly had a 19-3 advantage in shots-on-goal, and a 5-1 edge in corner kicks.
Garrison recorded 18 saves in net for O-M, while Waverly freshmen Lea Cole and Bella Gonzalez, who had two and three saves, respectively.
"We tried two brand new goalies in the net tonight, and both did very well for their first varsity showing," Hogan said.
Hogan pointed out the play of several players.
"Senior captain Bella Romano started as center back and helped make sure the communication picked up," she said. "Paige Robinson was moved around quite a bit as well. She has become such a strong and confident player.
"Newcomer Claire Clonch has made quite an impression," noted Hogan. "She scored our only goal in our scrimmage last week against Horseheads, and netted another goal tonight.
"Everyone got to see a good amount of time on the field tonight," she added.
Waverly returns to action Friday at Athens.
About the Author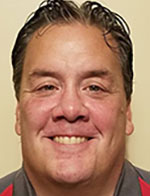 Tim Birney is the founder / owner of River Road Media Group. He was born and raised in the Valley, graduating from Waverly High School in 1984.
Birney earned an Associate's Degree in Journalism from SUNY Morrisville in 1986 and a Bachelor's Degree in Journalism / Public Relations from Utica College of Syracuse University in 1988. He began his newspaper career at The Daily Review in Towanda in 1989, before moving on to The Evening Times in 1995. He spent more than 10 years at the Times, the last four as Managing Editor.
River Road Media Group includes five sites in "The Sports Reports" family that cover 24 school districts in five counties: Valley Sports Report (launched Aug. 10, 2009), Tioga County (NY) Sports Report (Aug. 13, 2018), and Northern Tier Sports Report (Aug. 31, 2020); Northern Tier West Sports Report (March 15, 2021) Southern Tier Sports Report (Aug. 16, 2021).