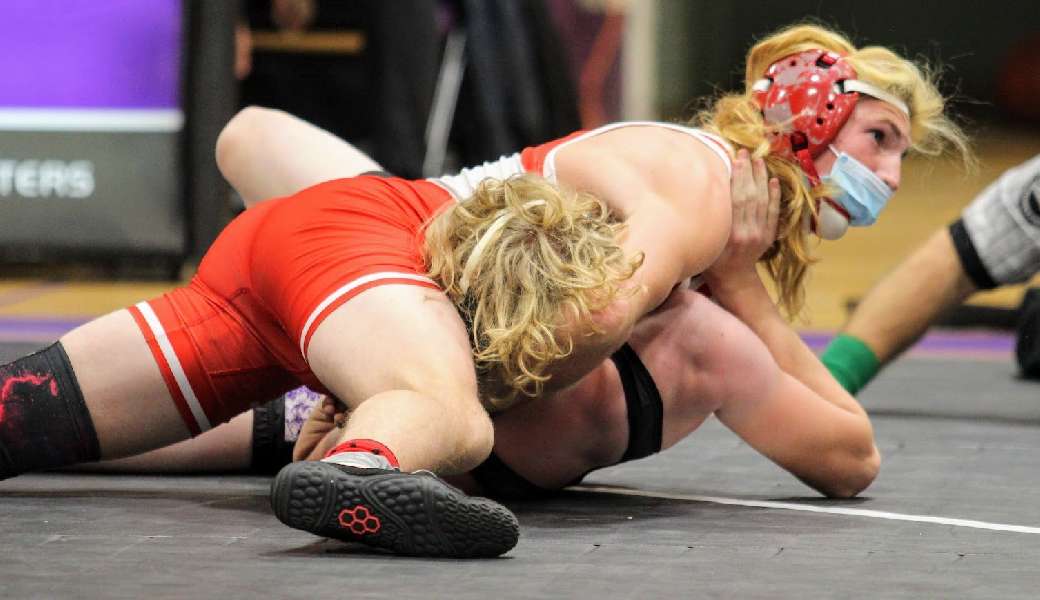 WAVERLY TAKES DOWN DRYDEN, 48-1
By: Tim Birney | Waverly Athletics | December 8, 2021 | Photo courtesy Shannon McCarty
DRYDEN — Waverly registered six falls in seven bouts to by fall overcome an early deficit en route to a 48-15 win by fall over Dryden here Wednesday night in IAC wrestling action.

Dryden's Connor Casterline, whose father is a Waverly grad, gave the Purple Lions an early 6-0 lead with a pin of freshman Jake Besecker, but the Wolverines won the next three bouts — two by fall.

Senior Austin Ingham tied the match at 132 pounds, with a pin of Sam Lamorte in 68 seconds, then junior Connor Stotler decked Dean Belden in 1:37 at 138 pounds to give the Wolverines the lead for good, at 12-6.

Junior Mason received a forfeit at 145 to make it 18-6, but Dryden's Josh Rowland scored a pin at 152 to lose the gap to 18-12.

Junior Braeden Hills decked Hunter Covington in 1:38 at 172 pounds, and junior Ty Beeman pinned Joe King in 1:28 at 215, sandwiched around a forfeit to junior Gage Tedesco at 189 to give Waverly a 36-12 lead.

Senior Andrew Kimble closed out Waverly's four-match win streak at 285 pounds with a pin of Kaydin Hinckley in 2:58.

After Dryden picked up a win at 110 pounds, Waverly senior Landon McCarty closed the match with a pin of Oscar Brotherton in 1:42 at 118 pounds.

There were no bouts at 102 or 160 pounds.

Waverly, now 2-5, returns to action Wednesday when it hosts SVEC.

——————

IN PHOTO 1: Waverly's Ty Beeman. … PHOTOS COURTESY OF SHANNON McCARTY.

——————

WAVERLY 48, DRYDEN 15
126: Connor Casterline (D) by fall over Jake Besecker (W), 1:32;
132: Austin Ingham (W) by fall over Sam LaMorte (D), 1:08;
138: Connor Stotler (W) by fall over Dean Belden (D), 1:37;
145: Mason Ham (W) by forfeit;
152: Joshua Rowland (D) by fall over Braeden Nichols (W), 0:58;
160: No match;
172: Braeden Hills (W) by fall over Hunter Covington (D), 1:38;
189: Gage Tedesco (W) by forfeit;
215: Ty Beeman (W) by fall over Joseph Kring (D), 1:28;
285: Andrew Kimble (W) by fall over Kaydin Hinckley (D), 2:58;
102: No match;
110: Christopher Greene (D) dec. Nico Rae (W), 7-2;
118: Landon McCarty (W) by fall over Oscar Brotherton (D), 1:42.

About the Author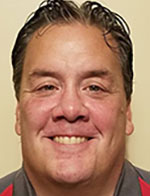 Tim Birney is the founder / owner of River Road Media Group. He was born and raised in the Valley, graduating from Waverly High School in 1984.
Birney earned an Associate's Degree in Journalism from SUNY Morrisville in 1986 and a Bachelor's Degree in Journalism / Public Relations from Utica College of Syracuse University in 1988. He began his newspaper career at The Daily Review in Towanda in 1989, before moving on to The Evening Times in 1995. He spent more than 10 years at the Times, the last four as Managing Editor.
River Road Media Group includes five sites in "The Sports Reports" family that cover 24 school districts in five counties: Valley Sports Report (launched Aug. 10, 2009), Tioga County (NY) Sports Report (Aug. 13, 2018), and Northern Tier Sports Report (Aug. 31, 2020); Northern Tier West Sports Report (March 15, 2021) Southern Tier Sports Report (Aug. 16, 2021).