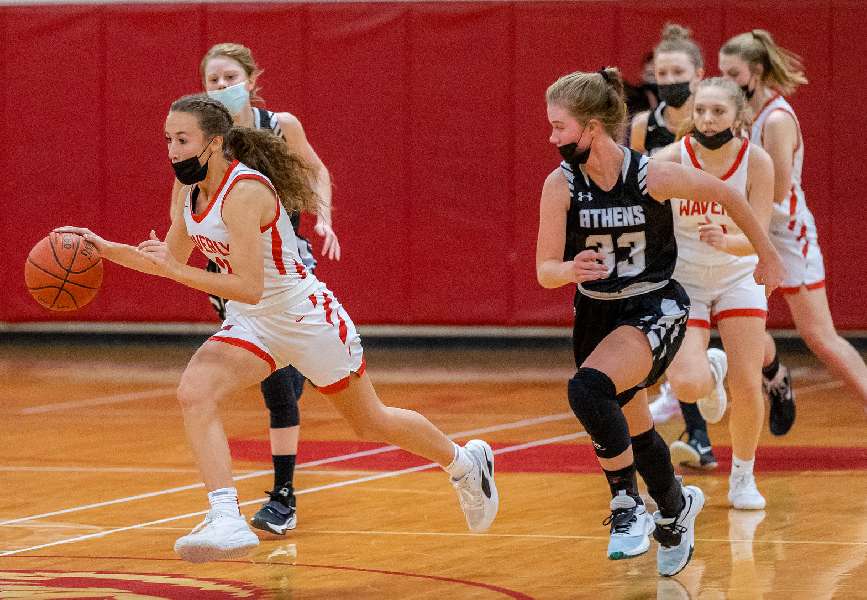 WAVERLY THUMPS MACIK-LESS ATHENS, 59-23, IN OPENING ROUND OF VALLEY CHRISTMAS TOURNAMENT
By: Tim Birney | Waverly Athletics | December 28, 2021 | Photo courtesy David Alliger
WAVERLY — Waverly used a 19-1 first-half run to take control on its way to a 59-23 win over Athens here Tuesday night in the opening round of the annual girls Valley Christmas Basketball Tournament.

"We played pretty good — solid defense, high energy, and we executed offensively," said Waverly coach Bob Kelly. "We could finish a lot better, but the execution was there.

"Sometimes when the ball's not going in, there's one thing you can always do, and that's play defense — and we played pretty solid defense," noted Kelly. "When the girls are all firing on the same cylinder it's a good thing. We've been working on it, we continue to work on it, and they get better with it.

"They seem to be getting comfortable with it, and I like what I see," he added.

The Lady Wildcats were playing without their leading scorer, senior Caydence Macik, who recently netted her 1,000th career point.

"Caydence (Macik) is the centerpiece of our team," said Athens coach Brian Miller. "She's a 1,000-point scorer and has almost 600 rebounds.

"The thing people don't realize is she breaks the press for us a lot," noted Miller. "She flashes to the middle, handles the ball, and gets the ball to the right girl in the right area, so we can get into our offense. Not having her, we had girls in different spots they weren't use to.

"Unfortunately, we played a team that's known for pressing and trapping, and making you feel uncomfortable," added Miller. "At times we looked OK, but most of the time we looked a little nervous and uncomfortable … we weren't moving to the ball, or making good passes, but that's Waverly's style and it hurt us tonight."

Junior Karlee Barlow scored back-to-back buckets to give the Lady Wildcats a 7-4 lead with 1:59 remaining in the first quarter, but they wouldn't score again for nearly 7 1/2 minutes, and would only score three points the remainder of the first half.

Sophomore Peyton Shaw scored on a putback on the offensive glass with 1:52 remaining to pull Waverly within one point, at 9-8 and junior Kennedy Westbrook canned a 3-pointer with 1:10 remaining to give the Lady Wolverines the lead for good, 11-9.

Kennedy Westbrook knocked down a 15-foot jumper with 33 seconds remaining to give Waverly a 13-9 lead after the first eight minutes.

Kennedy Westbrook also scored on a driving lay-up and a pair of free throws early in the second quarter to up the lead to 17-9.

Shaw canned a 3-pointer, and Kennedy Westbrook capped the 16-0 run with a fast-break lay-up to make it 20-7 with 3:51 left in the first half.

Junior Natalee Watson's free throw snapped Athens' scoreless drought, but sophomore Paige Robinson knocked down a 3-pointer to make it 23-7 with 2:22 left in the first half.

Freshman Addy Wheeler scored on a runner with 1:45 left in the half for the Lady Wildcats' first field goal in more than eight minutes.

Kennedy Westbrook gave Waverly a 24-10 lead at the half with a free throw with 32 seconds remaining.

Waverly freshman Addison Westbrook and Athens junior Emma Bronson traded buckets early in the third quarter, but Waverly scored the next 15 points in a run ignited by consecutive 3-pointers by Kennedy Westbrook, senior Olivia NIttinger, and Addison Westbrook.

Karlee Bartlow scored five points in the final 89 seconds of the quarter, but the Lady Wildcats trailed 41-17 entering the final eight minutes.

Addison Westbrook scored nine points in the fourth quarter, and Kennedy Westbrook added five — both hit 3-pointers — as Waverly closed the game with an 18-6 run.

Kennedy Westbrook led all scorers with 20 points, including a trio of 3-pointers, while Addison Westbrook added 16 points and two 3-pointers, Nittinger scored 13 points, and Shaw chipped in with five points.

Karlee Bartlow led Athens with nine points and five rebounds, while Wheeler had five points, five rebounds, and two steals, sophomore Mya Thompson added four points and eight boards, Bronson had four rebounds, and one blocked shot, and Watson had two boards and two blocked shots.

Waverly, now 4-2, will take on Towanda Thursday at 6 p.m. at Sayre High School in the championship game, while Athens (3-2) squares off with Sayre (0-2) Wednesday at 6 p.m. in the consolation game at Waverly High School.

About the Author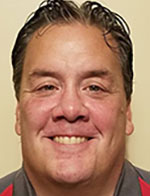 Tim Birney is the founder / owner of River Road Media Group. He was born and raised in the Valley, graduating from Waverly High School in 1984.
Birney earned an Associate's Degree in Journalism from SUNY Morrisville in 1986 and a Bachelor's Degree in Journalism / Public Relations from Utica College of Syracuse University in 1988. He began his newspaper career at The Daily Review in Towanda in 1989, before moving on to The Evening Times in 1995. He spent more than 10 years at the Times, the last four as Managing Editor.
River Road Media Group includes Valley Sports Report (launched Aug. 10, 2009), Tioga County (NY) Sports Report (Aug. 13, 2018), and Northern Tier Sports Report (Aug. 31, 2020). Southern Tier Sports Report is set to launch in 2021.