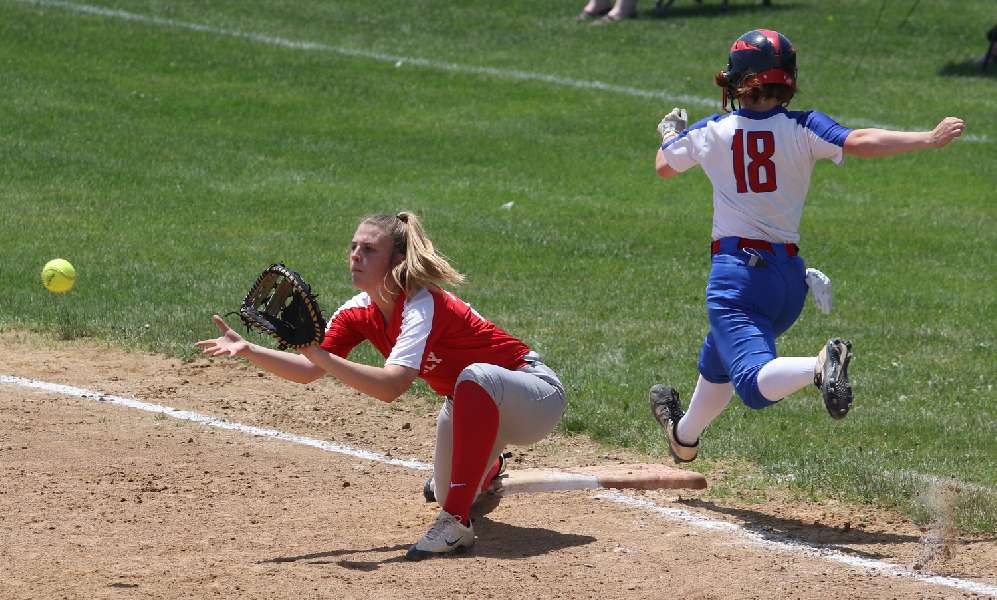 WAVERLY TOPS OWEGO IN 8 INNINGS IN MUST-WIN GAME
By: Tim Taylor | Waverly Athletics | June 5, 2021 | Photo courtesy Tim Taylor
WAVERLY — Heading into the weekend, it appeared the Waverly softball team would need a victory to qualify for the Section IV Class B tournament.

For six innings, the Wolverines had it, then they lost it. However, the hosts would battle back to send the game into extra innings and finally nip Owego, 3-2, in eight innings here Saturday.

"I think that shows a sign of a good team for moving ahead in sectionals," Waverly coach Brian Wendela said. "I think a lot of it had to do with playing Maine-Endwell last night in a tough game, turning around in the heat again.

"I think we got a little fatigued, a little flat, but they didn't give up. Our pitcher, (Hali) Jenner, pitched a hell of a game and the girls kept battling. I liked our chances there at the end."

Owego appeared to suffer as well as a schedule which had the Indians playing 12 games in the past 26 days, appeared to show as the Indians looked a little flat throughout the contest.

"I felt we were flat from the start from the very first pitch of the game," Owego coach Brent Doane said. "We just didn't have a lot of energy, a lot of life, and we couldn't seem to generate either as the game got going along until the very end when we finally scored those couple of runs late to try to get ahead.

"We finally got a little bit of momentum going, a little bit of energy, and then it was quickly squashed and allowed them back into the game.

Waverly would fall behind, 2-1, in the top of the eight, but was able to regroup in the bottom of the inning to pull out the win.

Michaela Lauper would lead off with a double to left center field to start the comeback and score while Sydney Tomasso was hit in the head by the throw after laying down a bunt single. Tomasso shook it off, advanced on an Olivia Robinson sacrifice, bunt then score the game-winning run on an Aubrey Ennis base hit.

The bunts were key to securing the victory.

"We talked about that prior to the game, that we needed to play some small ball," Wendela said. " It was just tough getting some runners on. We had a couple bad bunts beginning of the game and we made adjustments, and we did a good job of putting it in play and making them try to get us out and fortunately they weren't able to."

At the top of the inning, the Indians' Macy Gibson was hit by a pitch, but would get caught in a rundown. She slipped trying to get back to first on a pickoff attempt, but made it safely to second when the second baseman dropped the throw from the first baseman.

With one away, Emma Howe blooped a single behind first base and Jordan Greeno bunted safely, and the duo would advance to third and second, respectively. Alex Aubel would lay down a sacrifice bunt, but Howe would get thrown out attempting to score. Jenner would retire the next batter on a ground out.

Owego tied the game in the seventh when Taylor Dalton reached on a fielder's choice, moved to third on a passed ball after Aubel walked and scored on Sarah Terry's infield single.

The Indians would leave the bases loaded, however, giving them nine base runners stranded in scoring position for the game.

"It was a tough day," Doane said. "That was one of the things we talked about in post-game. We got runners on base and we're taking pitches, we're missing pitches. We've got to be able to capitalize there, whether it's getting the bunt down or making contact with the ball and putting it in play on the right side with the runners, we just didn't get the job done."

"I think they had a couple mental lapses on their base-running and I think we did a good job of making the outs, making sure they were simple outs and doing a good job of taking care of the ball," Wendela said.

Waverly would grab the early lead as Sydney Tomasso was hit by a pitch in the first. She would advance on a Robinson single to shallow center field and an Aubrey Ennis sacrifice fly to center, then score when an Owego pick-off attempt at second went awry.

The Indians left runners at second base in the second, third and fourth innings. Waverly's Olivia Robinson was stranded at third in the third after her booming triple took Owego center fielder Maddie Bennett tumbling over the fence and the Wolverines left a runner at second in the fourth.

Both pitchers retired five batters in a row in the fourth and fifth innings, then the Indians would strand four more runners in scoring position by game's end while Waverly left two hanging.

Owego had five hits through seven innings and finished the game with seven. Waverly had four hits in regulation and three more in the extra inning. Jenner struck out four and walked three while Lauren Gilbert fanned eight and walked one. Only one of the Wolverines' runs was earned. Both pitchers scattered seven hits.

Waverly now awaits its postseason fate.

"It's not 100 percent, but I'm pretty sure that's a ticket into the sectionals," Wendela said of the win. "We'll see what happens."

The Indians had qualified for sectionals before the game and are anxious to see who their opponent will be.