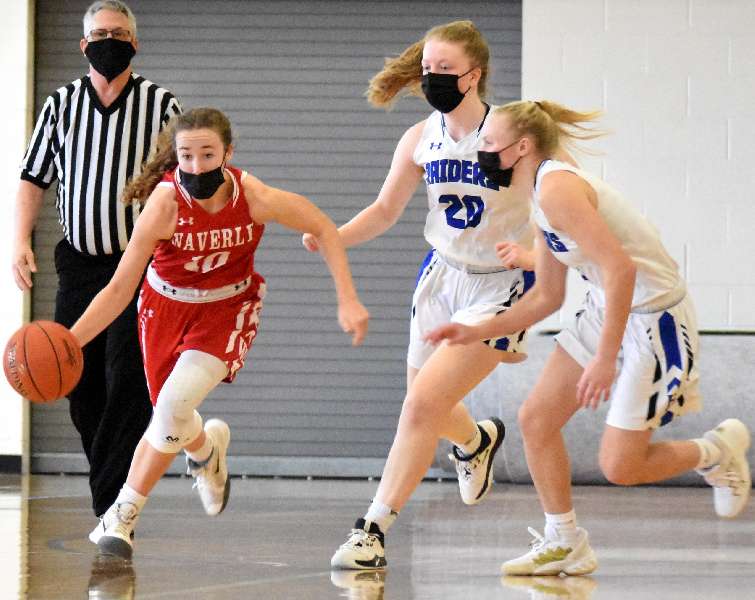 WAVERLY UPENDS HORSEHEADS, 59-5
By: Tim Birney | Waverly Athletics | February 13, 2021 | Photo courtesy PETER KENT
HORSEHEADS — Waverly made 8 of 12 free throws in the fourth quarter to preserve a 59-53 win over Class AA Horseheads at the fieldhouse here Saturday afternoon in non-league girls basketball action.

The Lady Wolverines improve to 3-0 on the season.

"This win feels really good," said Waverly senior Sidney Tomasso, "I think our team, for the amount of time we had to get ready, has been playing really well together and working hard.

It was super-exciting today, and definitely a little stressful," noted Tomasso. "We haven't played this tough of a game since last year, but we pulled it together and did well."

Tomasso — who scored 23 points, including a trio of 3-pointer — said the fieldhouse is a tougher venue for shooters.

"Honestly, I didn't even know we were playing in the fieldhouse," she said. "When we were warming up, I was telling everyone to get your shots in because the depth (behind the backboard) is a lot different than a normal gym in here."

Horseheads built an early 12-8 lead, but Waverly used an 11-0 run late in the quarter to take a 19-11 lead.

Senior Gabby Picco buried a 3-pointer with 2:43 remaining in the first quarter to tie the game, and Tomasso canned one moments later to give the Lady Wolverines a 14-12 lead.

A bucket by sophomore Kennedy Westbrook with 1:53 remaining the opening stanza pushed the lead to 16-12, then a free throw by Picco, and two by freshman Paige Robinson made it 19-12 with 52 seconds left.

A 3-pointer by Horseheads' Emma Romanski trimmed the Waverly lead to 19-15 at the end of the first quarter.

Picco opened the second-quarter scoring with a bucket with 6:56 left in the half, and Tomasso knocked down a 3-pointer just 32 seconds later to give Waverly a 24-15 lead.

Horseheads reeled off nine straight points to tie the game at 24-24 with 4:14 remaining in the half, but Waverly answered with an 8-0 spurt.

Tomasso started the run with a pair of free throws, then knocked down a short jumper to make it 28-24 with 3:09 remaining in the half.

After a free throw by junior Lourden Benjamin, PIcco knocked down a 3-pointer with 1:53 left in the half to make it 32-24.

Maddie Johnson converted an old-fashioned three-point play at 1:44, and Romansch drilled a 3-pointer with 38 seconds remaining as the Lady Blue Raider trimmed the deficit to 32-30, but Picco knocked a trey moments later to send the Lady Wolverines into the halftime locker room with a 35-30 lead

Horseheads scored the first five points of the third quarter to tie the game, but a 7-0 spurt — on a bucket by Tomasso, an old-fashioned three-point by Westbrook, and a bucket by Picco — gave Waverly a 42-35 lead with 4:11 remaining in the third quarter.

After a Horseheads free throw, Tomasso connected on a 3-pointer to make it 45-36 with 3:16 left in the third quarter.

The Lady Wolverines led 47-39 entering the final eight minutes. A bucket by freshman Peyton Shaw kept Waverly up eight points, at 51-43, with 5:45 left in the game.

A bucket by Picco gave Waverly a 55-45 lead, but Carly Scott's 3-pointer with 2:53 remaining trimmed the lead to eight points.

Two free throw apiece by Tomasso. who made 5 of 6 in the final stanza, and Westbrook sealed the win.

Tomasso led Waverly with 23 points, while Picco scored 19, and Westbrook added 10.

Johnson led Horseheads, while Romanski and Jenna Granger added nine points apiece.

Waverly, now 3-0, returns to action Tuesday at Newark Valley (1-0).
About the Author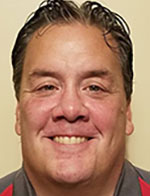 Tim Birney is the founder / owner of River Road Media Group. He was born and raised in the Valley, graduating from Waverly High School in 1984.
Birney earned an Associate's Degree in Journalism from SUNY Morrisville in 1986 and a Bachelor's Degree in Journalism / Public Relations from Utica College of Syracuse University in 1988. He began his newspaper career at The Daily Review in Towanda in 1989, before moving on to The Evening Times in 1995. He spent more than 10 years at the Times, the last four as Managing Editor.
River Road Media Group includes Valley Sports Report (launched Aug. 10, 2009), Tioga County (NY) Sports Report (Aug. 13, 2018), and Northern Tier Sports Report (Aug. 31, 2020). Southern Tier Sports Report is set to launch in 2021.