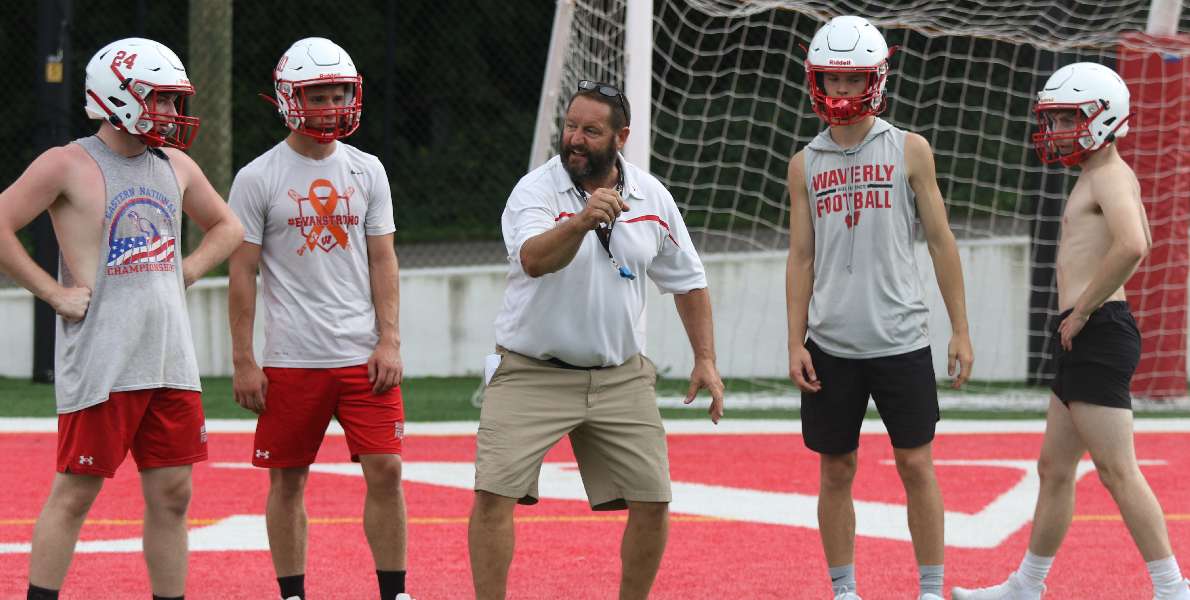 WAVERLY'S MILLER EXCITED BY 'WEEK ZERO' OPPORTUNITY; IMPRESSED WITH OPPONENT
By: Tim Birney | Waverly Athletics | September 3, 2021 | Photo courtesy Tim Birney
WAVERLY — On a weekend usually reserved for scrimmages, Waverly will open the 2021 regular season against Section III's East Syracuse Minoa, a Class A program, here tonight at Memorial Stadium. Game time is 6 p.m.

The Wolverines are one of just two Section IV schools (Norwich is the other) to take advantage of "Week Zero."

So why is longtime Waverly coach Jason Miller, who is also the winningest coach in school history with 101 victories, playing a "Week Zero" game when nearly no one else is?

"Why not?" said Miller. "I can't imagine having an opportunity, especially after last year and playing in the spring, to play a game in Week Zero, and not do it.

"Why wouldn't you play a game when you can play a game. It's beyond me, and we're one of only two teams in the Section playing," noted Miller. "What are you waiting for? How do you know if in Week 2, everything is not going to get shut down.

"I know there has been an incredible sense of urgency in the past seven days to prepare to play a game," continued Miller. "Practice tempo has been great. Mentality has been great, There are people flying around.

"There is usually an incredible lull in week 2 of a three-week camp going into the first game, and we haven't had it.

"It's forced us as a coaching staff to be much more prepared, and to have guys ready for special teams, and everything else.

"Could it be ugly? Yes," said Miller. "Parts of the game could look like a scrimmage, and be really bad, but these kids have worked hard not to be in that situation.

"I can't imagine ever, unless I have a modified team playing varsity, where this wouldn't be the right thing to do," added Miller. "This Week Zero game is enormous. We'll have a game under our belt going in against a team that doesn't have a game. If I was them, I'd be concerned."

The Wolverines are coming off a 1-4 season in 2020, while the Spartans were 3-2.

"On paper, you see a lot of athletes on our offense, but there's really not enough experience," said Miller. "You look at ESM's roster, and it's a veteran team with almost 20 seniors."

WHEN ES-M HAS THE BALL
"We're going to see a spread team, with a good quarterback, athletes everywhere on the field, and a massive line," said Miller. "On paper, it doesn't look good. They are big up front, and their athletes are very fast.

"We're looking at some challenges offensively with what they do," he noted. "Are we prepared for their speed? I don't know. Without a scrimmage it's tough to gauge.

"My concern is, at practice we can't replicate that. We cannot practice against that, so I think there's going to be an incredible shock the first few plays for our guys seeing how fast they are," added Miller. "We can replicate their formations and make sure we're lined up properly, but after the snap, I think there's going to be a little bit of a shock."

WHEN WAVERLY HAS THE BALL
"ES-M will use their athletes to match-up against ours," said Miller. "They play zero-coverage, and will bring six or seven guys. We only have six to protect with, so that's an issue.

"We have got to find a way to get rid of the football because they are going to be pressuring Joe (Tomasso).

"We're going to have to control the ball on offense, force ESM into mistakes on offense, and we're going to have to be patient," noted Miller.

"We're going to have to understand their strategy is tough to deal with. We have to win the one-on-one match-ups. We have to find somebody, and it's easier said than done. that we can beat one-on-one," added Miller. "If we can do that, we can be successful. If we can't do that, it's going to be a long night offensively."

Miller is relying on two things — preparation and special things — to give the Wolverines a chance to win.

"We've been successful against teams like this in Week 1 against city teams," he said. "As a staff, are we more prepared than they are? Can we find their weaknesses?

"No disrespect to them because I know their staff, but I'm confident in our staff.

"And, special teams have been critical for us," added Miller. "If we can hang (with ESM) in this game, I'm telling you it will be because of special teams."

——————

IN PHOTO: Waverly coach Jason Miller. … VSR STOCK PHOTO.

About the Author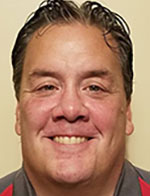 Tim Birney is the founder / owner of River Road Media Group. He was born and raised in the Valley, graduating from Waverly High School in 1984.
Birney earned an Associate's Degree in Journalism from SUNY Morrisville in 1986 and a Bachelor's Degree in Journalism / Public Relations from Utica College of Syracuse University in 1988. He began his newspaper career at The Daily Review in Towanda in 1989, before moving on to The Evening Times in 1995. He spent more than 10 years at the Times, the last four as Managing Editor.
River Road Media Group includes Valley Sports Report (launched Aug. 10, 2009), Tioga County (NY) Sports Report (Aug. 13, 2018), and Northern Tier Sports Report (Aug. 31, 2020). Southern Tier Sports Report is set to launch in 2021.