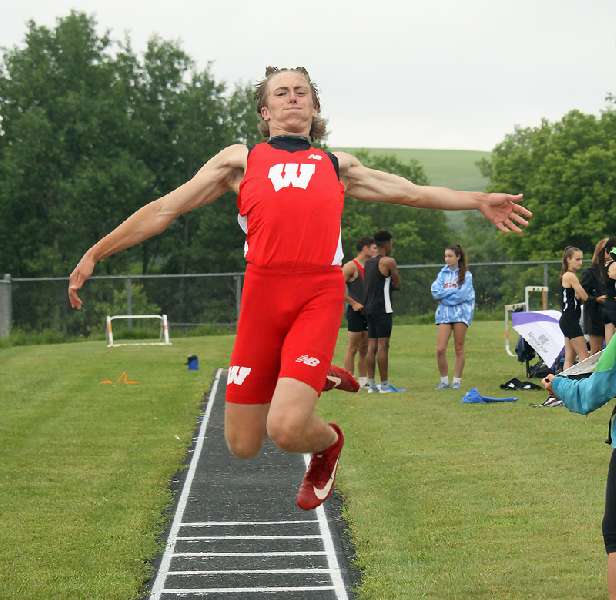 WHEELER WINS GOLD, WRIGHT BRONZE TO LEAD STRONG WAVERLY EFFORT AT SECTION IV SHOWCASE
By: Tim Birney | Waverly Athletics | June 12, 2021 | Photo courtesy Chris Manning
MARATHON — Senior Caden Wheeler won a gold medal, and his classmate Collin Wright won a bronze here Saturday to lead a strong Waverly effort at the Section IV Track & Field Showcase, which featured athletes from nearly every school — 499 in all, regardless of size.

In all, the Wolverines won six medals — three by the boys team and three by the girls team.

Wheeler won two medals, including one on a relay, while senior Gabby Picco, junior Abby Knolles, and sophomore Kennedy Westbrook were all part of two medal-winning relays for the Lady Wolverines.

BOYS
Wheeler won the long jump with a personal-best 21-feet, 1-inch, but noted he didn't quite meet his goal.

"It's a good feeling to win," said Wheeler. "I didn't quite get the results I was looking for in terms of distance and overall performance, but I'm happy."

Wheeler said he had his sights set on the school record of 22-feet, 1-inch.

"I'm not exactly sure what happened, maybe it was the weather," said Wheeler. "I just don't put it all together.

"My first and fourth jumps were the only ones marked, I faulted the other four times," added Chandler. "I believe one of the ones I faulted on may have been it."

Chandler was pleased to have the opportunity to compete.

"It was good to have a season," he said. "Last season got cut, so it made us worry we wouldn't have a season. Just to be out here, even with a short season, was nice."

Wright finished third in the 1,600-meter run in a time of 4:41.4.

"I felt great," said Wright. "I feel like I ended on the right note for my career.

"I wanted to PR and cut down my time a little bit, and I definitely did that," added Wright, who knocked more than two seconds off his previous-best time.

Wright ran in third of fourth place for the first two laps, but dropped to fifth early in the third lap. About midway through the final lap, Wright made his more and passed a pair of runners.

"Once the pack condensed a little bit, that's what prepped me for the move I made on the last lap.

That was the last lap of my high school career, so in that last 150 or so, I just wanted to give it everything I had," said Wright. "I feel like I laid it down pretty good."

Like Chandler, Wright was pleased to have the opportunity to compete in 2021.

"It was awesome. It was a crazy year, but I'll take everything we had," said Wright. "I really appreciate the opportunity to run, to do what I love doing."

Wheeler teamed with freshman Micah Chandler, junior Sam VanDyke,and senior Alex Gadow to finish fifth in the 1,600-meter relay in a time of 3:37.24.

VanDyke finished 12th in the 400-meter dash in 54.87 seconds

GIRLS
Picco, Knolles, and Kennedy Westbrook teamed with sophomore Natalie Garrity to finish fifth in the 400-meter relay in a time of 53.94 seconds.

The trio teamed with 8th-grader Addison Westbrook to finish fifth in the 1,600-meter relay in a time of 4:28.23,

Junior Olivia NIttinger also won a fifth-place medal, clearing the bar in the pole vault at 8-feet.

Eighth-grader Harper Minaker finished seventh in the 1,500-meter run in a time of 5:29.41.
About the Author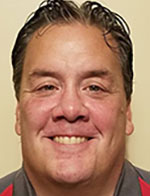 Tim Birney is the founder / owner of River Road Media Group. He was born and raised in the Valley, graduating from Waverly High School in 1984.
Birney earned an Associate's Degree in Journalism from SUNY Morrisville in 1986 and a Bachelor's Degree in Journalism / Public Relations from Utica College of Syracuse University in 1988. He began his newspaper career at The Daily Review in Towanda in 1989, before moving on to The Evening Times in 1995. He spent more than 10 years at the Times, the last four as Managing Editor.
River Road Media Group includes Valley Sports Report (launched Aug. 10, 2009), Tioga County (NY) Sports Report (Aug. 13, 2018), and Northern Tier Sports Report (Aug. 31, 2020). Southern Tier Sports Report is set to launch in 2021.