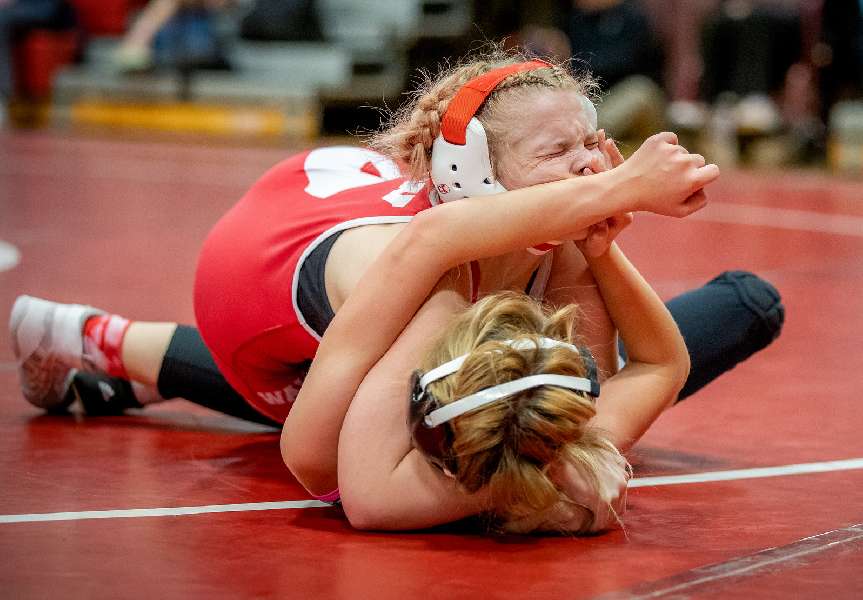 ATHENS TOPS WAVERLY, 42-18, IN HISTORIC DUAL
By: Tim Birney | Waverly Athletics | December 8, 2022 | Photo courtesy Tim Birney
WAVERLY — Athens won four of the five contested weight classes, and topped Waverly, 42-18, in front of a large and energetic crowd here Thursday night in the first-ever girls wrestling dual in Section IV history.

The dual was almost secondary to the historic nature of the event, and the excitement surrounding it.

"It was unbelievable," said Waverly girls coach Justin Wolcott.

"The energy they brought to start off the night, to a Valley rivalry like this, was impressive. To bring the heat, and get the energy going like that was awesome.

"We haven't seen a crowd like this in years, not since the Waverly-Athens and Waverly-Tioga matches when we were state champs," noted Wolcott.

"I couldn't be happier to be a part of it," he added.

Athens girls coach Jay White was pleased with atmosphere, and the number of matches, including exhibition bouts, wrestled.

"It was fun. There was a nice crowd, and it was an exciting match to watch," said White. "It was a good time. There were lots of people here, and the crowd got into it.

"There were a lot of matches. We matched them up the best we could, and the girls competed," he noted. "Everyone stepped up and wrestled extra bouts, so everyone here could get bouts.

"Both teams had lots of girls," added White. "We don't really match up well weight-wise, so we had to bump girls up, and they had to bump girls up, but everyone bumped up just so they could wrestle."

Athens, which has girls from NEB, Sayre, Troy, and Towanda on its roster, raced out to a 30-0 lead.

After 7th-grader Brooke Wheeler received a forfeit at 106 pounds, and NEB's Aniah Kolesar and Sayre's Layla Bennett recorded first-period pins at 112 and 118 pounds, respectively, to extend the lead to 18-0.

After a forfeit to sophomore Mary Henry at 124 pounds, freshman Hanna Rathbun registered a 30-second fall at 130 pounds to make it 30-0.

Junior Lily Sickler put Waverly on the board with a second-period fall. She trailed 3-0 at the end of the first period, but pulled off a five-point move from the bottom early in the second period, then finished off the fall at 3:19.

"Lily Sickler was unbelievable. She had a huge win against a very experienced senior girl," said Wolcott. "For her to come out and win a match like that in her first year was big."

A forfeit to 7th-grader Memphis Paul, and a pin by 8th-grader Abigail Wagner gave the Lady Wildcats a 42-6 lead.

Forfeits to freshman Lizzy Robinson and junior Mackenzie Laforest provided Waverly's final points of the match.

The match of the night may have been the first of the night — an exhibition match between Waverly's Elona Holmes and Athens 7th-grader Memphis Paul.

Holmes trailed 7-1 late in the second period, but used three near-fall points and a pair of takedowns in the third period to pull out a wild 12-8 decision.

Henry, freshmen Aurora Beaver, and Chloe Barrett, and 7th-grader Kendall Galasso picked up exhibition wins for Athens, while junior Lillian Wright, and freshman Emma Vanderhoof earned wins for Waverly.

Despite the loss, Wolcott was pleased with his team's efforts.

"For a bunch of first-year girls, I couldn't ask for anything more than what they showed tonight," he said.

White was also pleased with his team's work.

"We've had a lot of girls out sick this week," he said. "You could see some of our girls were having breathing problems, but they pulled through it.

"The matches we lost, our girls could have won. It was just simple mistakes that we'll fix.

"Our policy is, we wrestle before Christmas to see what we're doing wrong, and try to fix it before the postseason," added White. "We'll see how far we can get these girls to go."

White is hoping this is just the beginning.

"I'm glad to see (girls wrestling) growing in the area," he said. "I know Corning has a full team, and Horseheads has a bunch of girls. I'd like to see more dual meets like this."

Both teams will be in action Saturday at the Jarvis Girls Tournament at Athens.

——————

PHOTOS BY DAVID ALLIGER — TRAVELING PORTRAITS.

——————

ATHENS 42, WAVERLY 18
106: Brooke Wheeler (A) won by forfeit;
112: Aniah Kolesar (A) by fall over Lillian Wright (W), 0:41;
118: Layla Bennett (A) by fall over Emma Vanderhoof (W), 1:03;
124: Mary Henry (A) won by forfeit;
130: Hanna Rathbun (A) by fall over Sydney Rosenbloom (W), 0:30;
136: Lily Sickler (W) by fall over Braelynn Wood (A), 3:19;
142: Memphis Paul (A) won by forfeit;
170: Abigail Wagner (A) by fall over Elona Holmes (W), 3:54;
190: Elizabeth Robinson (W) won by forfeit;
235: Mackenzie Laforest (W) won by forfeit;

Exhibitions
Elona Holmes (W) dec. Memphis Paul (A), 12-7;
Aurora Beaver (A) dec. Emma Vanderhoof (W), 12-5:
Kendall Galasso (A) by fall over Lillian Wright (W), 1:17;
Mary Henry (A) by fall over Tayanna Andrews (W), 0:41;
Chloe Barrett (A) by fall over Lillyparker Ennis (W), 1:44;
Lillian Wright (W) by fall over Brooke Wheeler (A), 3:01;
Emma Vanderhoof (W) by fall over Jaelyn Roach (A), 4:50.
About the Author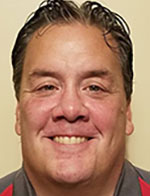 Tim Birney is the founder / owner of River Road Media Group. He was born and raised in the Valley, graduating from Waverly High School in 1984.
Birney earned an Associate's Degree in Journalism from SUNY Morrisville in 1986 and a Bachelor's Degree in Journalism / Public Relations from Utica College of Syracuse University in 1988. He began his newspaper career at The Daily Review in Towanda in 1989, before moving on to The Evening Times in 1995. He spent more than 10 years at the Times, the last four as Managing Editor.
River Road Media Group includes five sites in "The Sports Reports" family that cover 24 school districts in five counties: Valley Sports Report (launched Aug. 10, 2009), Tioga County (NY) Sports Report (Aug. 13, 2018), and Northern Tier Sports Report (Aug. 31, 2020); Northern Tier West Sports Report (March 15, 2021) Southern Tier Sports Report (Aug. 16, 2021).