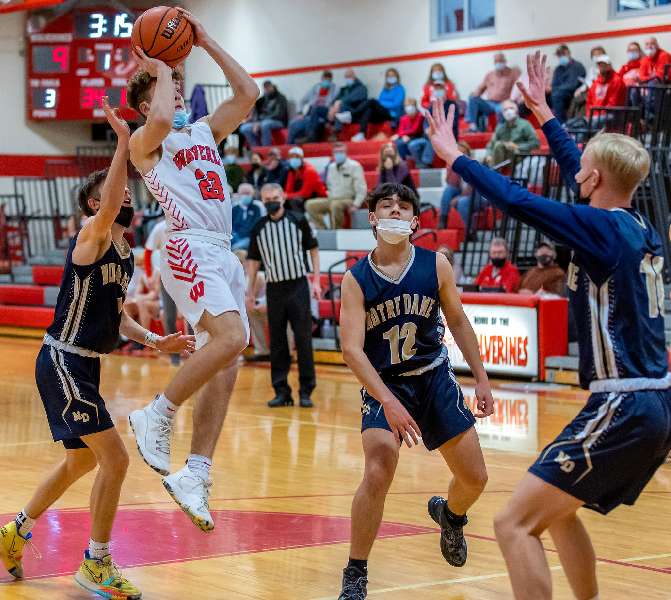 EARLY RUN CARRIES WAVERLY TO 67-39 WIN OVER NOTRE DAME
By: Tim Birney | Waverly Athletics | February 1, 2022 | Photo courtesy David Alliger
WAVERLY — Waverly used a 14-2 first-quarter run to take a 12-point lead, and never led by less than 10 points the remainder of the game in a 67-39 win over Notre Dame here Tuesday night in IAC South Large School boys basketball action.

"I think it was probably, in recent memory, our most complete game," said Waverly coach Lou Judson. "We didn't shoot the ball well int he first half, but we were still up 17.

"We played very hard defensively," he noted. "We really had to focus on their big guy inside Malaki (Owens), and taking Steven Gough away, and I think we did a very good job on both of them.

"And, we were able to get out in transition in the second half, and make some shots," continued Judson. "I'm really proud of the guys. This Notre Dame team took Watkins Glen to the brink (Friday) night, so I was a little worried — they are a much=improved basketball team.

"We played a very good basketball game tonight," added Judson. "I was very pleased with our energy and our intensity."

Notre Dame coach Nick Weirmiller said Waverly's shooting and defense was the difference.

"We didn't shoot the ball very well all night," said Weirmiller. "We had a couple opportunities early, but couldn't take advantage.

"(Waverly) shoots the heck out of the ball and they get on you real quick," he noted. "Before you know it, you're down 20.

"We had been playing well as of late, but Waverly has a really good team — playing Waverly is always tough," continued Weirmiller. "They pick you up full-court man-to-man, and they do a a heck of a job of pressuring you.

"Tonight was just not our night," he added.

Judson noted seeing the Notre Dame jerseys give his guys a little extra added incentive.

"Our rivalry goes back many, many years," said Judson. "There's a little added motivation and added incentive with playing against (Notre Dame). There's a different feel when we play against them."

Notre Dame scored first on a driving lay-up by Savi Waters to take a 2-0 lead just 23 seconds into the game.

After an exchange of possessions, Waverly's Brady Blauvelt made the first of two free throws, then Liam Traub rebounded the miss on the second, and found his brother Brennan behind the arc for a 3-pointer to give the Wolverines a 4-2 lead with 6:26 remaining in the first quarter.

The Crusaders hustled the ball down the floor against Waverly's pressure defense and Rylan Brewer scored on a move down the lane to make it 4-4 with 6:10 left in the first quarter.

Moments later, Liam Traub drained a 3-pointer from the top-of-the-key to give the Wolverines the lead for good, at 7-4, with five 5:50 remaining.

Notre Dame came up empty in its next five possessions, while Waverly got buckets from Blauvelt and Jay Pipher to make it 11-4 with 3:10 left in the first quarter.

After Eric Buckowinski drained a 15-foot jumper to make it 11-6 with 2:45 left in the first quarter, Liam Traub and Joey Tomasso scored in transition, and Liam Traub buried a long 3-pointer to make it 18-6 with 20 seconds left.

Waters scored again in transition to close the gap to 18-8 at the end of the first eight minutes.

Tomasso and Malakai Owens traded buckets in the opening minute of the second quarter to make it 20-10, but Waverly reeled off seven straight points on back-to-back buckets by Croft and a 3-pointer by Tomasso to make it 27-10 with 5:15 remaining in the first half.

A free throw and a driving lay-up by Steven Gough closed the gap to 27-13, and a three-point play by Owens made it 28-16 with with 2:42 remaining in the half, but Tyler Talada triggered a 7-0 spurt with a 3-ball from the corner.

Owens finished off a seven-point second quarter to pull Notre Dame within 35-18 at the half.

Waverly opened the third quarter with a 13-4 run, and led 48-22 with 3:48 remaining in the third quarter.

Tomasso opened the second-half scoring with a putback on the offensive glass, but Buckowinski answered with a 15-foot jumper to make it 37-20.

On Waverly's next trip down the floor, Tomasso knocked down a 12-foot jumper and was fouled. He missed the free throw, but Waverly controlled the rebound, and Blauvelt eventually canned a 3-pointer to make it 42-20 with 5:12 remaining in the third quarter.

Tomasso capped a 7-0 spurt within the run with a steal and breakaway lay-up to make it 44-20.

After a bucket by Gough made it 44-22, Liam Traub drained a 3-pointer, and Blauvelt made 1 of 2 free throws to make it 48–22.

Notre Dame trimmed the deficit to 50-28 late in the third quarter, but Waverly answered with a 12-2 run to take a 62-30 lead with 4:19 remaining in the game.

Talada started the run with a putback to make it 52-28 at the end of the third quarter.

Liam Traub's dunk kicked off the fourth-quarter scoring and gave Waverly a 54-24 lead, and Blauvelt scored on a fast-break lay-up moments later.

After a bucket by Buckowinski, Tomasso hit a pair of free throws and a jumper, sandwiched around a bucket by Liam Traub, to make it 62-30.

"We were down 17 points at the half, and we wanted to come out and get it down to single-digits, but it got away from us," said Weirmiller.

Tomasso led Waverly with 17 points, four steals, and three assists, while Liam Traub scored 15, six rebounds, three steals, and one blocked shot, and Blauvelt added 12 points and six boards.

"Liam (Traub) played very well tonight, and he's been playing pretty solid for us," said Judson. "He's the key for us, he's our X-factor. If he's able to get in double-digits, we're going to do some pretty good things.

"He's very skilled for being 6-3 or 6-4 and playing on the wing.He's very athletic," noted Judson. "If he's playing well, we're going to be playing well.

"And, Brady Blauvelt does all the little things a basketball team needs," added Judson. "He's rebounding the ball so well for his size, and he's as tough as nails."

Talada had seven points and six rebounds in the win, while junior Isaiah Bretz added five points and three boards, Croft chipped in with four points, six rebounds and one blocked shot, and senior Brennan Traub had four rebonds and three assists.

Gough led Notre Dame with 12 points, while Owens scored 11, Buckowinski added 10, and Waters chipped in with four.

Waverly, now 12-4, travels to Watkins Glen Friday night for a game that will determine the division title.
About the Author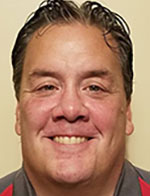 Tim Birney is the founder / owner of River Road Media Group. He was born and raised in the Valley, graduating from Waverly High School in 1984.
Birney earned an Associate's Degree in Journalism from SUNY Morrisville in 1986 and a Bachelor's Degree in Journalism / Public Relations from Utica College of Syracuse University in 1988. He began his newspaper career at The Daily Review in Towanda in 1989, before moving on to The Evening Times in 1995. He spent more than 10 years at the Times, the last four as Managing Editor.
River Road Media Group includes Valley Sports Report (launched Aug. 10, 2009), Tioga County (NY) Sports Report (Aug. 13, 2018), and Northern Tier Sports Report (Aug. 31, 2020). Southern Tier Sports Report is set to launch in 2021.