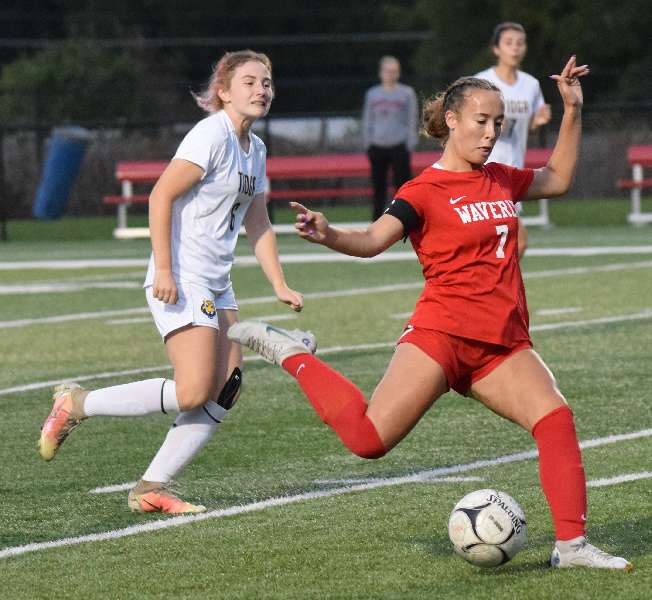 FAST START CARRIES WAVERLY TO 8-1 WIN OVER TIOGA
By: Tim Birney | Waverly Athletics | September 17, 2022 | Photo courtesy Mike Lubertowicz
WAVERLY — Senior Kennedy Westbrook and junior Lea VanAllen each recorded hat tricks to lead Waverly in an 8-1 win over Tioga here Saturday night in IAC South girls soccer action at Memorial Stadium.

"We had some key things we wanted to work on this game," said Waverly coach Tara Hogan. "Our spacing was significantly better, we utilized Lea Cole a bit more as a field option, and tried new players in new spots.

"Thanks to our versatility, we were able to really try some new things and work on understanding not just one position.

"Kennedy Westbrook and Lea VanAllen got right to work while Lauren Gorsline made her presence known again this game," Hogan noted. "Our passing in and around the 18 was much calmer and we were passing with purpose.

"I give a lot of credit to Tioga again as they don't simply give up," added Hogan. "They scored a great goal on us in the second half that we weren't prepared for."

Waverly screed seven goals in the first half, including three in a 95-second span.

Eighth-grader Lauren Gorsline, off a feed from Kennedy Westbrook, scored eight minutes into the game, to give Waverly a 1-0 lead.

Ten minutes later, Gorsline returned the favor, setting up Kennedy Westbrook for a goal that made it 2-0.

A minute late, Kennedy Westbrook scored an unassisted goal, and just 35 seconds after that sophomore Addison Westbrook scored an unassisted goal to make it 4-0.

In the 27th minute, VanAllen stole the ball from a Tioga defender, and drove a shot into the back of the net to make it 5-0.

Two minutes later, Kennedy Westbrook, off a feed from Gorsline, scored to extend the lead to 6-0.

VanAllen capped the first-half scoring in the 34th minute, with 8th-grader Ryleigh Judson getting the assist.

"Well, playing against one of the top teams in Section IV and our Tioga County neighbor presents a unique set of challenges and opportunities," said Tioga coach Jim Walsh. "Our 11 girls played a little scared tonight, and I guess that's to be expected.

"I wanted the girls to use the game as a good opportunity to prepare for our division games next week," he noted. "We had a small moral victory keeping them off the scoreboard for nine minutes, but once they scored the floodgates opened.

"Coach (Tara) Hogan pulled back her horses in the second half," added Walsh. "She knows how to play the game, and is a winner in my book."

VanAllen finished off her hat trick in the second half, off an assist from sophomore Kiley Stillman, while sophomore Erica Bradley put Tioga on the scoreboard.

"Freshman goalkeeper Reagen Foley made her first-ever varsity start in goal as our starting goalkeeper injured her hand early in the O-M game on Thursday night, and was unavailable for the game tonight," said Walsh. "Reagen was one of those admittedly scared prior to the game, but played well in goal.

"Freshman Emily Zwierlein battled hard at left defensive back, and junior midfielder Elyse Haney desperately tried to help out everywhere on the field tonight," he added.

Waverly had an 18-3 advantage in shots-on-goal, and a 6-0 edge in corner kicks.

Freshman Raegan Foley had 17 saves in net for the Lady Tigers, and sophomore Lea Cole had five for the Lady Wolverines.

Waverly, now 5-0, returns to action Monday against SVEC at Candor High School at 4:30 p.m., while Tioga, now 0-5, hosts Watkins Glen.
About the Author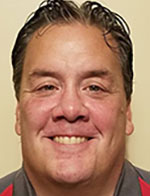 Tim Birney is the founder / owner of River Road Media Group. He was born and raised in the Valley, graduating from Waverly High School in 1984.
Birney earned an Associate's Degree in Journalism from SUNY Morrisville in 1986 and a Bachelor's Degree in Journalism / Public Relations from Utica College of Syracuse University in 1988. He began his newspaper career at The Daily Review in Towanda in 1989, before moving on to The Evening Times in 1995. He spent more than 10 years at the Times, the last four as Managing Editor.
River Road Media Group includes five sites in "The Sports Reports" family that cover 24 school districts in five counties: Valley Sports Report (launched Aug. 10, 2009), Tioga County (NY) Sports Report (Aug. 13, 2018), and Northern Tier Sports Report (Aug. 31, 2020); Northern Tier West Sports Report (March 15, 2021) Southern Tier Sports Report (Aug. 16, 2021).