KNIGHT PACES WAVERLY'S EFFORTS AT LARGE SCHOOL CHAMPIONSHIPS
By: Tim Birney | Waverly Athletics | May 25, 2022 | Photo courtesy Tim Taylor
HORSEHEADS — Senior Jackson Knight paced Waverly's efforts here Wednesday afternoon in the IAC Large School Division boys golf championships at the Soaring Eagles Golf Course.

SVEC won the team title with a four-player aggregate score of 337, edging runner-up Lansing by five strokes. Watkins Glen was third with 369, while Dryden was fourth with 396, Notre Dame was fifth with 404, and Waverly was sixth with 428 strokes. Moravia was seventh with 440.

Knight led Waverly with a 98 on the 6,331-yard par-71 course, which tied him for 18th on the day.

Senior Davis Croft shot a 101 for the Wolverines, while senior Matt Atanasoff carded a 113, and junior Evan Davies added a 116.

Junior Joey Bernatavitz and senior Declan Murphy each shot non-scoring rounds of 117.

SVEC's Taylor Brock earned low-medal honors to win the IAC title with a round of 77.
About the Author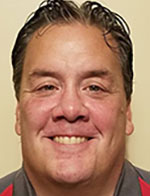 Tim Birney is the founder / owner of River Road Media Group. He was born and raised in the Valley, graduating from Waverly High School in 1984.
Birney earned an Associate's Degree in Journalism from SUNY Morrisville in 1986 and a Bachelor's Degree in Journalism / Public Relations from Utica College of Syracuse University in 1988. He began his newspaper career at The Daily Review in Towanda in 1989, before moving on to The Evening Times in 1995. He spent more than 10 years at the Times, the last four as Managing Editor.
River Road Media Group includes Valley Sports Report (launched Aug. 10, 2009), Tioga County (NY) Sports Report (Aug. 13, 2018), and Northern Tier Sports Report (Aug. 31, 2020). Southern Tier Sports Report is set to launch in 2021.