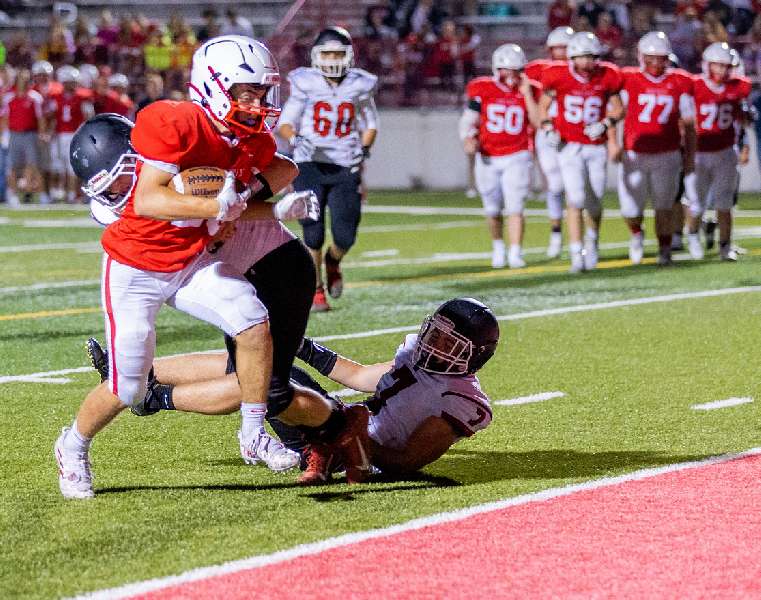 PIPHER'S FOUR TDs POWERS WAVERLY IN 52-34 SHOOTOUT WIN OVER NEWARK VALLEY
By: Tim Birney | Waverly Athletics | September 16, 2022 | Photo courtesy David Alliger
WAVERLY — Waverly won its first two games with defense. Friday night's 52-34 win over Section IV, Division IV rival Newark Valley here at Memorial Stadium was all about the offense.

Junior QB Joey Tomasso completed 18 of 25 passes for 309 yards, and three TDs, but the difference-maker in the game was junior receiver Jay Pipher, who had 10 receptions for 225 yards and three TDs — covering 69, 9, and 63 yards — and also added a 64-yard TD run.

"We executed well all night on offense," said Waverly coach Jason Miller.

"(Jay) Pipher was a difference-maker, but it wasn't all Jay," noted Miller. "Joe (Tomasso) was spot on, and all our receivers caught the ball very well.

"Our line did a nice job … (NV) wasn't able to get much pressure, and Joe was able to use his legs at times," he added. "It was a good all-around offensive performance."

The Wolverines amassed 510 yards in total offense, adding 201 rushing yards, with six different backs sharing the duties. Pipher led the way with 68 yards on two carries, while senior Gage Tedesco had 41 yards and two TDs on seven carries, and senior Braeden Hills added 34 yards on seven carries.

Newark Valley coach Ted Hardenstine was impressed with Waverly's offense.

"(Waverly) did a nice job of seeing what we were in and taking advantage of it," said Hardenstine. "They made plays … a lot of time we knew what was coming, but we weren't able to get the stop.

"Talking to our players, they were saying (Joey Tomasso) was zipping them in there … we weren't able to make the plays we usually make.

"(Tomasso to Pipher) is a heck of a combination. They are going to be tough," added Hardenstine. "It's no fluke that (Waverly) won the 7-on-7 state championship. If you can't get to (Tomasso), he's going to hurt you, and he definitely did that to us tonight."

Waverly took advantage of an mistake on the opening possession of the game when a high snap on fourth down forced the Newark Valley punter to fall on the ball at the Cardinal 7.

Three plays later, Tedesco scored on a 1-yard run. All-state kicker Ryan Clark tacked on the PAT kick to make it 7-0 with 9:12 remaining in the first quarter.

The Wolverines then executed an onside kick, and needed just four plays to drive 56 yards to up their lead to 14-0 with 8:17 left in the first quarter.

Following an 8-yard pass from Tomasso to junior Jake VanHouten, who had three catches for 30 yards, and a 17-yard pass to junior Carter George, who had three grabs for 32 yards, Tedesco did the honors with a 26-yard TD run. Clark tacked on the PAT to make it 14-0 with 8:17 remaining in the opening quarter.

However, what had the early markings of a blowout, quickly turned into a donnybrook.

The Cardinals took possession of the ensuing kickoff at their 25, and proceeded to play smashmouth football in a 14-play drive — all on the ground — that chewed more than 6 minutes off the game clock.

The key plays in the drive were a 13-yard run by Landon Spoonhower, and a 12-yard run by Daniel Truesdail. Spoonhower capped the drive with a 3-yard TD run with 2:05 remaining in the first quarter to close the gap to 14-6.

After an offsides call on the extra point moved the ball inside the Waverly 2, so the Cardinals went for two, but Ty Beeman and Tedesco combined to stop Spoonhower short of the goal line.

After a quick first down to start its ensuing possession, Waverly coughed the ball up at its own 37, and Spoonhower pounced on the loose ball.

On the Cardinals' first play, Max Flesher made a one-handed grab as he was falling to the turf for an 18-yard gain to the Waverly 19. Three plays later, on fourth-and-6, Flesher hauled in a 14-yard pass from QB Joey Sherwood, who then capped the drive with a 1-yard TD run with 9:39 remaining in the first half.

Waverly's defensive struggles against Newark Valley's offense may raise some eyebrows, but Miller said he expected a battle.

"I'm not surprised at all. (Newark Valley) is a physical team, they're a senior-laden team with a good quarterback, and three gi-normous backs.

"And, a team's biggest improvements come between Weeks 1 and 2," said Miller. "I thought Newark Valley played a great game. Their physicality up front gave us some fits, and their runners always fell forward. Even when we did a decent job, they were getting 4 yards.

"I didn't think they'd have so much success against us, but with the numbers they bring to the point-of-attack, with the tight end, and all those backs — and they are big backs — it's tough to stop them," noted Miller. "There aren't too many teams in Section IV with backs that size, and this is Class C.

"I give them a lot of credit. They improved a lot (from Week 1), and we have some work to do.

"They executed well, and were able to hit some seam balls to keep drives going," he added. "I thought it was a well-executed game for both offenses tonight."

The remainder of the first half was an offensive explosion.

Two plays after the ensuing kickoff, Tomasso connected with Pipher in the seam, and he outran a pair of defenders for a 69-yard TD with 9:23 remaining in the half. Clark added the PAT kick to give Waverly a 21-14 lead.

Just 13 seconds later, Flesher was in the end zone for the Cardinals following a 93-yard return of the ensuing kickoff.

He was injured on the return, and could not attempt the PAT. The Cardinals went for two and were unsuccessful, and trailed 21-20 with 9:10 left in the half.

"The kick return was a big play … we have problems there," said Miller. "We have to re-evaluate the personnel we have on the field.

"We're trying to get people off the field for breathers, and trying to get other people on the field. Some times that comes back to bite you in the ass.

"We've given up three kick returns for scores in three games, and that's going to change — it's unacceptable," added Miller.

Tomasso quickly directed the Wolverines back into the red zone with an 11-yard completion to DeLill, and a pair of 14-yard completions to Pipher, but the Cardinal defense stiffened. Clark then split the uprights with a 30-yard field goal to give Waverly a 24-20 lead with 5:16 remaining in the half.

The Wolverine defense forced a quick NV punt on its next possession, but the Waverly return man muffed the punt, and the Cardinals recovered at the Waverly 37.

After a 20-yard pass from Sherwood to Spoonhower moved the ball to the Wolverine 17, the Cardinals went back to the ground. Three carries moved the ball to the 1, and Sherwood finished off the drive with a QB sneak to give the Cardinals a 26-24 lead with 1:33 remaining in the half.

Waverly started at its 43 following the ensuing kickoff, and Tomasso quickly moved the ball into NV territory with a 19-yard pass to Pipher, and an 8-yard completion to George.

With 15 seconds remaining in the half, Tomasso hooked up with VanHouten on an 18-yard pass to the NV 8, then found the lanky wide receiver open on the sidelines for a 4-yard gain with 8 seconds left.

Tomasso picked up 3 yards to the NV 1 on a QB keeper, and Waverly called timeout with 3 seconds remaining in the half. Tomasso scored on the same play as time expired, then hit Pipher for the two-point conversion to give the Wolverines a 32-26 lead at the half.

"This is something we needed," said Miller. "I'm glad we were in a game like this, to see how we'd respond. I thought we responded every time, and executed very well.

"We don't want to go through a season without facing a little adversity. This is a great opportunity for us to see where we need to improve.

"Our defense has gotten a lot of credit in the first two weeks, and they deserved it, but tonight they weren't on top of their game," noted Miller.

"We kept plugging away," he added. "Thank God we had a great night on offense."

Waverly, which won the coin toss prior to the game and deferred to the second half, came out after the intermission and fashioned a 10-play, 59-yard drive, culminating with a 9-yard TD pass from Tomasso to Pipher, who bounced off a pair of would-be tacklers on his way to the end zone, with 8:04 remaining in the third quarter to extend the lead to 38-26.

Waverly avoided kicking deep, but Danny Pirger fielded the ensuing pooch kick, made a move past a Waverly defender and scooted 43 yards to the Waverly 30.

Eight running plays later, Kaiden Pado scored on a 3-yard run with 4:57 remaining in the third quarter. Sherwood added the conversion run to close the gap to 38-34.

Once again, however, Waverly responded quickly.

Facing third-and-11 from its own 37, Tomasso found Pipher in the seam, and he outraced the Newark Valley secondary 63 yards for his third receiving score of the game. Clark's PAT kick made it 45-34 with 3:56 remaining in the third quarter.

The Cardinals put together another drive on its next possession, with the big play a 30-yard pass from Sherwood to Pado, but the Waverly defense came up with a stop on downs at the Wolverine 22 when senior Isaiah Bretz hauled down Sherwood short of a first down.

Three plays later, Pipher busted loose on a jet sweep around right end for a 64-yard TD run. Clark's PAT kick made it 52-34 with 10:51 remaining in the game.

Newark Valley again drove to the Waverly 20, but VanHouten intercepted a Sherwood pass in the end zone to end the threat.

The Wolverines then strung together four first downs, and were able to run the final 5:07 off the clock to seal the win.

Newark Valley rushed for 195 yards, with Spoonhower's 76 yards and one TD on 16 carries, and Sherwood's 70 yards and one TD on 16 carries leading the way.

Sherwood also completed 5 of 8 passes for 87 yards and one TD, while being picked off once. Flesher was the leading receiver with two grabs for 30 yards.


Waverly, now 3-0, hosts Cowanesque Valley (0-4) Friday night.
About the Author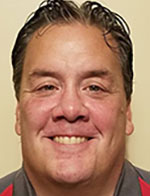 Tim Birney is the founder / owner of River Road Media Group. He was born and raised in the Valley, graduating from Waverly High School in 1984.
Birney earned an Associate's Degree in Journalism from SUNY Morrisville in 1986 and a Bachelor's Degree in Journalism / Public Relations from Utica College of Syracuse University in 1988. He began his newspaper career at The Daily Review in Towanda in 1989, before moving on to The Evening Times in 1995. He spent more than 10 years at the Times, the last four as Managing Editor.
River Road Media Group includes Valley Sports Report (launched Aug. 10, 2009), Tioga County (NY) Sports Report (Aug. 13, 2018), and Northern Tier Sports Report (Aug. 31, 2020). Southern Tier Sports Report is set to launch in 2021.