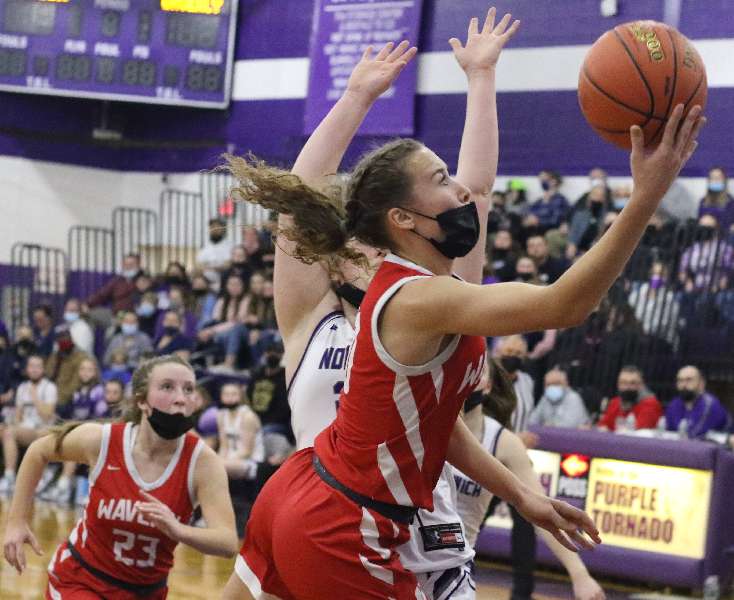 POOR SHOOTING NIGHT DOOMS WAVERLY IN CLASS B SEMI-FINAL LOSS AT NORWICH
By: Tim Birney | Waverly Athletics | March 1, 2022 | Photo courtesy Tim Birney
NORWICH — Waverly missed 5 of 6 free throws in the final two minutes of the first half, and Norwich stretched its lead from four points to 12 during that span on its way to a 52-28 win here Tuesday night in the semifinals of the Section IV, Class B girls basketball playoffs.

The Lady Wolverines made just 2 of 12 free throws in the first half, and were 10 of 28 in the game, while the Lady Purple Tornadoes were 14 of 22.

"Our free throw shooting was disastrous to say the least," said Waverly coach Bob Kelly.

"We were 2-for-12 in the first half, and 10-for-28 overall," noted Kelly. "Those are opportunities you have to capitalize on in games like these.

"Being as young as we are, we have to make those plays.

"We had our chances, but you have to make free throws, and you have to make shots around the basket; that didn't happen tonight," Kelly added.

Kelly was pleased with his team's effort.

"We just didn't score enough," he said. "Our effort was solid, we played with a lot of heart, and that's all we can ask.

"We ask them to show up with some energy, be physical, play their hearts out, and good things will happen. You just have to make shots.

"Tonight does nothing to take away from the girls, and how they played, and the season they had," noted Kelly.

Sophomore Peyton Shaw drained a 3-pointer with 6:22 remaining in the first quarter to tie the game at 3-3.

Junior Kennedy Westbrook scored in transition to tie the game at 6-6 with 2:57 remaining in the first quarter.

After a defensive stop, freshman Addison Westbrook buried a 3-pointer from the wing to give the Lady Wolverines its first lead at 9-6 with 2:01 left in the opening stanza.

It was short-lived, however, as Emily Evans scored on a lay-up against Waverly's press just nine seconds later to close the gap to 9-8. With 57 seconds remaining, Cameron VanHouten drained a pair of free throws to give Norwich the lead for good, at 10-9.

VanHouten added a 3-pointer with 12 seconds remaining to make it 13-9, but Kennedy Westbrook hustled the ball up court and banked in a runner from the lane with 1 tick remaining to trim the deficit to 13-11.

Kennedy Westbrook knocked down a driving lay-up in traffic with 4:18 remaining in the first half to close the gap to 19-15, but the Lady Wolverines only managed one free throw the remainder of the quarter.

Olivia Schiraldi connected on a 3-pointer with 1:19 left in the half to bolster a 9-1 run to end the half, and put Norwich up 28-16 at the break.

The Purple Tornadoes, who canned four 3-pointers in the first half, knocked down three of them in a 13-1 run that stretched the lead to 41-17 midway through the third quarter.

"It's tough to battle back against good teams," said Kelly.

"(Norwich) is such a good shooting team. It doesn't matter who it is, they have five or six girls that can shoot it. If you give any of them a spec of daylight, they're going to knock it down.

"We started going underneath some screens, which is not part of the plan, but that stuff starts to break down as the game goes on," noted Kelly. "We weren't switching. We know that's what they want, and what their offense is all about.

"We have have young kids, and when things happen and maybe aren't going your way, things break down," he added.

Norwich outscored Waverly 19-3 in the third quarter, and led 47-18 heading into the final eight minutes.

Kennedy Westbrook led Waverly with nine points, while Addison Westbrook added six points, and Shaw chipped in with five.

Evan led Norwich with 18 points, and VanHouten added 10.

The Lady Wolverines wrap up the season with a 16-6 record. They lose just two seniors, but Kelly said seniors Lourden Benjamin and Olivia NIttinger will be missed

"Both of our seniors have been part of our program for six years," said Kelly. "They work their tail off.

"Lourden is five-foot nothing, playing in the post. She's been a strong player for us," noted Kelly. "She works very hard, and is at everything, comes to everything.

"Liv went down with an injury last year, had surgery, and never missed a practice. She missed the entire season, but she never missed a practice.

"A couple of weeks ago, she suffered a severe ankle sprain, but she was ready for this game," continued Kelly. "Our goal was to get her ready for this game, and she was here.

"They were a real pleasure to coach," added Kelly. "They gave me a lot of nice memories. The good thing is, they'll be friends for life."
About the Author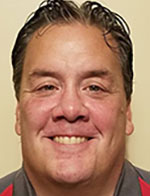 Tim Birney is the founder / owner of River Road Media Group. He was born and raised in the Valley, graduating from Waverly High School in 1984.
Birney earned an Associate's Degree in Journalism from SUNY Morrisville in 1986 and a Bachelor's Degree in Journalism / Public Relations from Utica College of Syracuse University in 1988. He began his newspaper career at The Daily Review in Towanda in 1989, before moving on to The Evening Times in 1995. He spent more than 10 years at the Times, the last four as Managing Editor.
River Road Media Group includes Valley Sports Report (launched Aug. 10, 2009), Tioga County (NY) Sports Report (Aug. 13, 2018), and Northern Tier Sports Report (Aug. 31, 2020). Southern Tier Sports Report is set to launch in 2021.