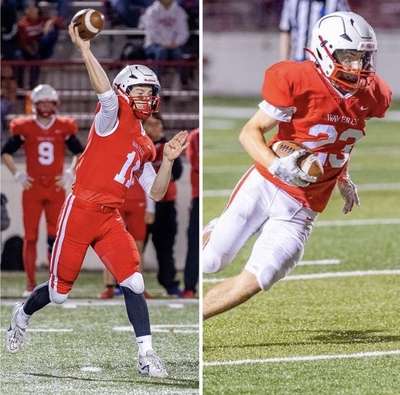 RECORD-BREAKING JUNOR DUO — TOMASSO AND PIPHER — RE-WRITING WAVERLY RECORD BOOKS
By: Tim Birney | Waverly Athletics | November 5, 2022 | Photo courtesy David Alliger
WAVERLY — On a night when junior receiver Jay Pipher was recognized for breaking three school records, junior QB Joey Tomasso added his name to the record book two more times.

Tomasso, who already owns the records for most completions in a season (149, set last year) and career passing yards (5,726), became the single-season passing yardage record-holder with 2,052 yards, surpassing Peyton Miller's mark of 1,909 yards set in 2015.

Tomasso also threw two TD passes Friday in Waverly's 48-14 win over Susquehanna, giving him 59 career TD throws, tying Miller atop the all-time list.

Pipher, who had five catches for 100 yards and one TD — all in the first half — Friday night, was honored for breaking the single-season record for receiving yards; he now has 961 yards, eclipsing the previous mark of 845 yards, set by Ryan Hewitt in 2011.

Pipher also owns the career receptions mark (107) and career mark for receiving yards (1,815). He is also now tied with Austyn Bostwick with 16 career TD receptions.

The record-breaking duo has started together for three years on the gridiron, but has also been varsity starters together on the baseball diamond since 7th-grade, and on the basketball hardwoods last year.

Tomasso and Pipher also form a mutual admiration society.

"The records definitely well-deserved for Jay," said Tomasso. "With the work he's put in … all summer long, he would stay extra long, and ask me to throw for him.

"With all the extra work he puts in, he definitely deserves everything he gets," added Tomasso.

"It's a great honor to be next to Joey Tomasso in the record book," said Pipher. "I'm lucky as a receiver to go out there and have the ball put right in my hands every time with him as QB."

What do they see as the other's biggest strength?

"(Jay's) speed is his biggest strength, and when the ball goes in the air, he's going to find a way to come down with the ball," said Tomasso. "He makes great catches in traffic, and he can just run by people."

"(Joey's) accuracy, by far, is his biggest strength," said Pipher. "It's in the bread basket every time."

Longtime Waverly coach Jason Miller credits their work ethic for their successes.

"The first thing I'll say is that they are the first ones on the field every day," said Miller. "By the time everybody gets here, they've probably thrown 30 balls to each other.

"There's a reason for their success," he noted. "They are both extremely talented individuals, but they work very hard at it.

"They set an example for everyone here by being the first ones on the field, and that means a lot," Miller added.

Miller notes Tomasso and Pipher believe in each other.

"Obviously, there's a great chemistry there," he said. "If you're a quarterback and you trust your receiver, it has a lot to do with it.

"When you have a trust, you know where your guy is going to be, and you have a sense of his capabilities to get into certain spots against certain looks, it gives you a sense of confidence.

"(Jay) gets a lot of balls thrown toward him, but there's a reason for it — (Joey) has confidence in him," added Miller.

And to the chagrin of the rest of Section IV, Miller believes the duo will only get better.

"Of course, there's room for improvement, and it's not just about them," said Miller "There are complimentary players to them … Jake VanHouten and Carter George are going to continue to develop, and that will may Jay (Pipher) more dangerous.

"(Tomasso and Pipher) will continue to get better," he noted. "They will have thousands and thousands of reps between the end of this season, and the beginning of next season — from our early training in May until our 7-on-7s in August.

"They are going to get better," said Miller with a smile.

But all the records aside, Pipher and Tomasso are focused on the task at hand, winning a Section IV title.

"Honestly, I'm not looking at the stats, we're just looking to get the Ws; that's really all I'm paying attention to," said Pipher.

"All the accolades and records are nice, but we're on the same page, we have something bigger on our mind as a team," said Tomasso. "The accolades are nice, but we want a win next weekend, that would be the best.

"I'm sure it will be even better to look back on when I get older, but I don't think it would be as nice as looking back and knowing we won a Section title; that would be great," added Tomasso.

About the Author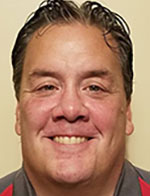 Tim Birney is the founder / owner of River Road Media Group. He was born and raised in the Valley, graduating from Waverly High School in 1984.
Birney earned an Associate's Degree in Journalism from SUNY Morrisville in 1986 and a Bachelor's Degree in Journalism / Public Relations from Utica College of Syracuse University in 1988. He began his newspaper career at The Daily Review in Towanda in 1989, before moving on to The Evening Times in 1995. He spent more than 10 years at the Times, the last four as Managing Editor.
River Road Media Group includes five sites in "The Sports Reports" family that cover 24 school districts in five counties: Valley Sports Report (launched Aug. 10, 2009), Tioga County (NY) Sports Report (Aug. 13, 2018), and Northern Tier Sports Report (Aug. 31, 2020); Northern Tier West Sports Report (March 15, 2021) Southern Tier Sports Report (Aug. 16, 2021).