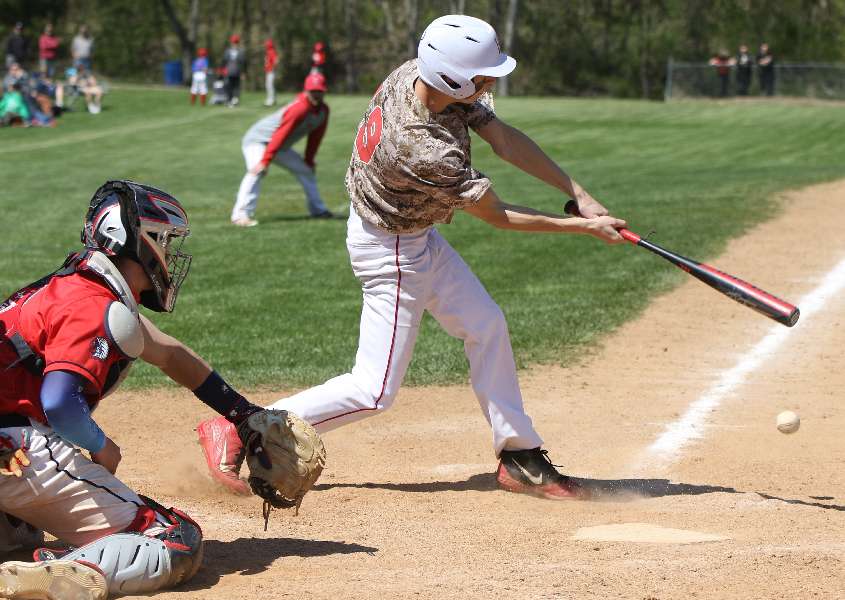 SAYRE EARNS BIT OF REDEMPTION; TOPS WAVERLY, 5-
By: Tim Birney | Waverly Athletics | April 30, 2022 | Photo courtesy Tim Birney
SAYRE — Sayre scored three runs in the bottom of the first inning, and led wire-to-wire in a 5-2 win over Waverly in non-league baseball action here Saturday afternoon in the "Battle at the Border."

For the Redskins part, they've had this game circled on their calendar for a long time in light of the fact the Wolverines handed them their only regular-season loss last year.

"This was definitely a big game for us, especially for our seniors," said Sayre coach Jamie VanDuzer. "They know they haven't beaten Waverly, and that's one thing they wanted to accomplish.

"They came out and played pretty good," he noted. "I was really happy with our defense, other than a couple little mistakes. Zach Garrity had a fantastic day at short, and Jackson (Hubbard) made some good plays.

"I was real happy with how our guys came to play," added VanDuzer.

Waverly coach Kyle McDuffee was impressed with the Redskins.

(Sayre) is a state-caliber team," he said. "We're going to be reading about them.

"Their coaches — (Jamie) VanDuzer and (Mike) Cron — do a great job," added McDuffee.

After junior ace Lucas Horton set Waverly down in order in the top of the first, Sayre took an early 3-0 lead.

Junior Zach Garrity walked, and took third on a single to right field by Brayden Horton. The throw to third was high and went out of play, allowing Garrity to score, and Brayden Horton to advance to third base.

After a walk to Lucas Horton, he attempted to steal second, and the throw sailed into center field, allowing Brayden Horton to score, and Lucas Horton to take third base. Lucas Horton scored later in the inning on a passed ball to make it 3-0.

"Those three runs were huge, especially in a game like this," said VanDuzer. "It gives you all the confidence in the world."

"(Sayre) is a quality team," said McDuffee. "They went after us, and jumped on us fast, and got the lead.

"It's tough to catch a team that's as good as Sayre … but my team never quit battling," he added.

The Wolverines answered in the top of the second inning.

Junior Ty Beeman led off with a single, advanced to second base on a wild pitch, and scored on a line-drive RBI single up the middle by senior Caden Hollywood, who was thrown out at second base.

Sophomore Joey Tomasso reached base on an infield error to re-ignite the error, and senior Brennan Traub singled to advance Tomasso to third base. Tomasso would score on a wild pitch to close the gap to 3-2.

Lucas Horton pitched around a pair of singles in the third inning, then allowed just one hit in his final three innings.

"Luke's been getting behind early in the count … going 2-0, 3-0, I think he gets a little amped up, and he's up in the zone," said VanDuzer.

"Once he settled down, he got into a groove," added VanDuzer. "(Waverly) puts the bat on the ball, they're a good-hitting team, but he did a nice job of limiting the damage."

Sayre added a pair of insurance runs in the third inning.

Brayden Horton was hit by a pitch to start the inning, and Lucas Horton walked. Northrup then stroked a line-drive RBI single to left field to make it 4-2.

With one out, junior Jackson Hubbard ripped a line-drive RBI single up the middle to push the lead to 5-2, but sophomore Jay Pipher relieved for the Wolverines, and struck out the next two batters to end the inning.

Neither team had a hit until Beeman served a 1-2 pitch into right field for a one-out single in the top of the sixth inning. Lucas Horton struck out the next two batters to end the inning.

After Pipher retired Sayre in order in the bottom of the sixth, senior Kannon VanDuzer relieved Lucas Horton, and retired Waverly in order, including a strikeout, to end the game.

Lucas Horton allowed two runs — one earned — on six hits, while striking out seven and walking none in six innings to earn the win. VanDuzer retired all three batters he faced in a perfect inning of relief.

Brayden Horton singled, scored two runs, and drove in one run to lead Sayre at the plate, while Northrup and Hubbard each singled and knocked in one run, Mason Houseknecht added a single, Lucas Horton scored two runs, and Garrity crossed the plate once.

Beeman was 3-for-3 with a run scored to lead Waverly at the plate, while Hollywood singled and drove in one run, and Bailey and Traub each had one hit.

Hollywood was tagged with the loss, allowing five runs — three earned — on three hits and three walks in 2 1/3 innings.

Pipher allowed one hit, while striking out six and walking two in 3 2/3 innings of scoreless relief.

Sayre improves to 12-1 on the season, while Waverly falls to 9-6.

Both coaches enjoyed the large crowds and atmosphere surrounding today's play.

"Today was awesome. To see all these people come out … it was opening day for the Little League and the barbecue was hear, but ultimately, all I've been hearing is I can't wait to see Sayre and Waverly play, or Tioga and Athens play … because everyone knows all four of these teams are pretty good.

"It was a lot of fun. I'm happy to get that type of support," added VanDuzer. "We get our regular fans — the parents and grandparents, but there were a lot of people here today that just wanted to see some good baseball."

"It was a great tournament," said McDuffee.

"This is awesome. Look at the crowds … it started at the (Waverly) Little League this morning, the place was packed, and the games at Athens and Sayre were both packed.

"Baseball is very big in the Valley, and it's because of the good teams, and the good coaches, like coach VanDuzer here (Sayre), coach Havens at Athens, and coach Evanek at Tioga," noted McDuffee.

"Two years ago, we didn't have baseball. Today, the parks were packed, you couldn't find a place to park," he added. "This is what it's all about."

Waverly returns to action Monday at Notre Dame, while Sayre returns to action Tuesday when it hosts Williamson.
About the Author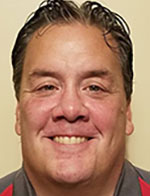 Tim Birney is the founder / owner of River Road Media Group. He was born and raised in the Valley, graduating from Waverly High School in 1984.
Birney earned an Associate's Degree in Journalism from SUNY Morrisville in 1986 and a Bachelor's Degree in Journalism / Public Relations from Utica College of Syracuse University in 1988. He began his newspaper career at The Daily Review in Towanda in 1989, before moving on to The Evening Times in 1995. He spent more than 10 years at the Times, the last four as Managing Editor.
River Road Media Group includes Valley Sports Report (launched Aug. 10, 2009), Tioga County (NY) Sports Report (Aug. 13, 2018), and Northern Tier Sports Report (Aug. 31, 2020). Southern Tier Sports Report is set to launch in 2021.