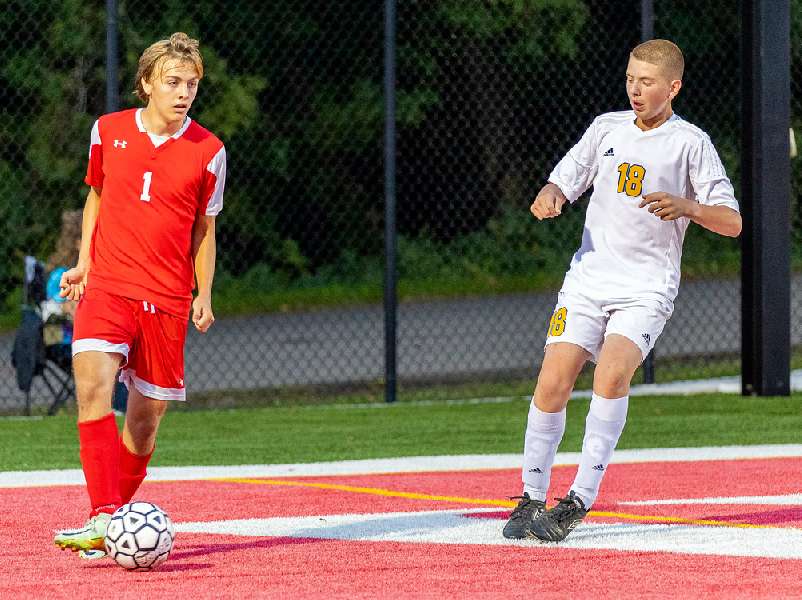 SCHILLMOELLER'S HAT TRICK HELPS WAVERLY TO 4-2 WIN OVER TIOGA
By: Tim Birney | Waverly Athletics | September 14, 2022 | Photo courtesy David Alliger
WAVERLY — Waverly junior Griff Schillmoeller netted a hat trick to help the Wolverines overcome a pair of goals by Tioga junior Tyler Roe is a 4-2 win here Wednesday night in IAC boys soccer action at Memorial Stadium.

Waverly coach Eric Ryck was pleased with his team's performance, but said the Wolverines need to find a little more consistency.

"I'm really happy with our first half play," he said. "We were doing all the right things. moving the ball and controlling possession. "The boys were patient and creating opportunities on goal."

Schillmoeller, off a feed from senior Sheldon Huddleston, scored just four minutes into the game to give the Wolverines a 1-0 lead.

Schillmoeller struck again, off an assist from 8th-grader Lauren Gorsline, with 13 minutes remaining in the first half to make it 2-0.

Freshman Peyton Robinson, with Huddleston collecting another assist, scored his first varsity goal with 4 minutes remaining in the half to extend the lead to 3-0.

Two minutes, later Roe scored to close the gap to 3-1, which is where it stood at the half.

"Honestly, I think the late first-half goal by Tioga kinda stunned us a bit, and put us on our heels in the second half," noted Ryck. "We were a bit unorganized to start the second half.

"It got better later in the half and we started creating opportunities again," added Ryck. "Unfortunately it's kind of been our MO, coming out slow in the second half and then turning it on late, so staying consistent with an even tempo in the second half is definitely something we have to talk through and get better at."

Conversely, Tioga coach Adam Layman said the Tigers need to pick up their play in the first half.

"It seems as though we really need to work on our first-half soccer," he said. "We strive in the second half and have to come back from a deficit.

"Again, like our past showings, the second half was the Tioga soccer the boys are capable of playing," he added.

Layman also took a bit of the blame.

"The first 20 minutes of the game was a coaching error," he said. "I changed the line-up now that Ethan Landmesser is back and it backfired. As a coach, I should have seen his assets and kept him in his strongest position, which is sweeper.

"Once I had the Landmesser boys switch positions (Brady sweeper at start and Ethan stopper), the dynamic of the game changed," added Layman.

Roe scored again midway through the second half to trim the deficit to 3-2, but Schillmoeller put the finishing touches on his hat trick 12 minutes later with a penalty kick goal to make it 4-2.

Layman dished out kudos to Gavin Carter and Roe

"Gavin Carter excelled tonight with the line-up change," he said. "With Gavin now being the offensive center midfielder, he was able to possess the ball more, make more passes, and make more runs.

"Gavin played some the best soccer I've seen out of him," noted Layman.

"Tyler Roe had two very hard-fought goals," added Layman. "Winning the ball and being chased down by the defense. Even with the defense pulling on him he was able to push through and beat the keeper."

Waverly had a 21-13 advantage in shots-on-goal, and a 6-1 edge in corner kicks.

Jake Brown needed nine saves in net for Tioga, and Aiden Doherty had one for Waverly.

"I'm happy for the boys tonight," said Ryck. "They were able to fight through the adversity and notch a win.

"I saw a lot tonight that I am excited about building on in the coming weeks," added Ryck.

"Overall, we played a good game tonight," said Layman.

"As a team, though, we will need to continue to work on our defensive game," he noted. "We are getting beat when we shouldn't and need to work more on our positioning.

"Of course, we do have our shining moments, but need some more work," added Layman. "We will work hard in practice and prepare for our next games."

Waverly, now 2-2, returns to action Saturday when it hosts Watkins Glen, while Tioga (2-4) travels to Marathon.
About the Author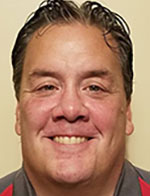 Tim Birney is the founder / owner of River Road Media Group. He was born and raised in the Valley, graduating from Waverly High School in 1984.
Birney earned an Associate's Degree in Journalism from SUNY Morrisville in 1986 and a Bachelor's Degree in Journalism / Public Relations from Utica College of Syracuse University in 1988. He began his newspaper career at The Daily Review in Towanda in 1989, before moving on to The Evening Times in 1995. He spent more than 10 years at the Times, the last four as Managing Editor.
River Road Media Group includes five sites in "The Sports Reports" family that cover 24 school districts in five counties: Valley Sports Report (launched Aug. 10, 2009), Tioga County (NY) Sports Report (Aug. 13, 2018), and Northern Tier Sports Report (Aug. 31, 2020); Northern Tier West Sports Report (March 15, 2021) Southern Tier Sports Report (Aug. 16, 2021).