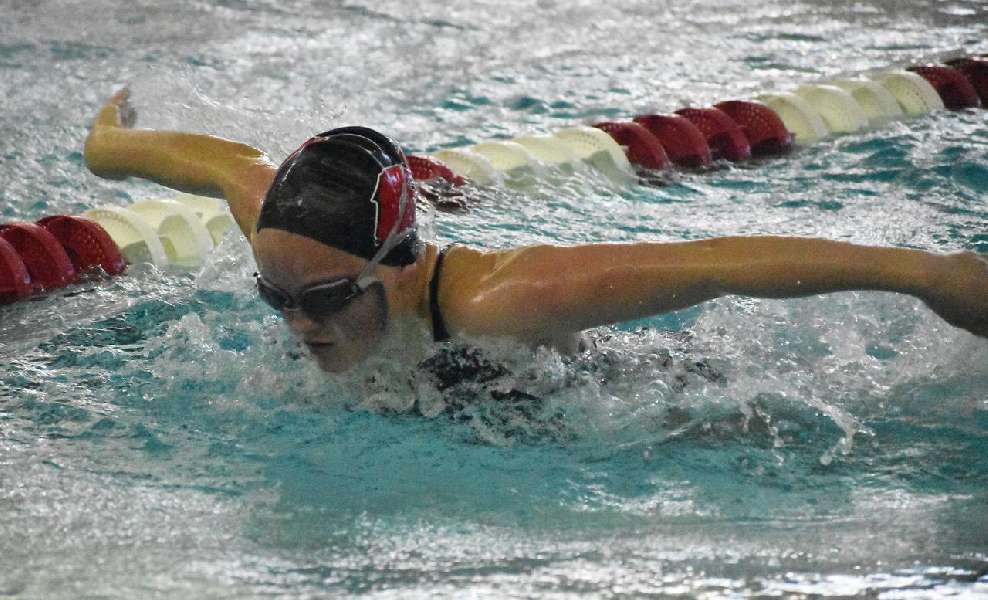 SCUYLER HANDS WAVERLY FIRST LOSS TO CLINCH LEAGUE TITLE
By: Tim Birney | Waverly Athletics | October 11, 2022 | Photo courtesy Connor Nichols
WAVERLY — Schuyler started fast, and won a 97-81 decision over Waverly here Tuesday evening to clinch the IAC girls swimming & diving regular-season title.

The Lady Storm (the newly-named teams from O-M and Watkins Glen) won seven of the first 10 events before swimming the final two in exhibition. They finished 1-2 in the opening 200-yard medley relay, then finished 1-3-4 in the 200-yard freestyle, and 1-2-4 in the 200-yard IM to take a 25-6 lead.

Freshman Mira Kittle, who was a triple-winner, notched Waverly first win of the day, winning the 50-yard freestyle in a time of 25.26 seconds. Freshman Sophia Lee, and 7th-grader Lauryn Welles tied for third in personal-best times o 28.31 seconds.

Kittle also won the 100-yard backstroke in a time of 1:02.29.

Kittle teamed with senior Sophia DeSisti, Welles and Lee to win the 400-yard freestyle relay in a season-best time of 4:15.01.

Kittle also teamed with DeSisti, Welles, and Lee to finish second in the 200-yard freestyle relay in a season-best time of 1:48.52, which ranks 8th all-time in program history.

Senior Josie VanDyke logged Waverly's only other win, placing first in the 1-meter diving competition with 182.9 points. Senior Abbey Knolles was second with 143.55 points.

DeSisti finished second in the 200-yard freestyle in a time of 2:10.87, and Welles swam the second-fastest time in the 100-yard breaststroke in a time of 1:31.16.

Freshman Elizabeth Robinson was third in the 100-yard butterfly in a time of 1:20.7, while DeSisti was third in 58.9 seconds, freshman Emma Vanderhoff was third in a personal-best time of 6:44.52.

Other personal-best times were posted by 7th-grader Isabella Root (3:05.91 in 200-yard free), freshman Sydney Rosenbloom (36.37 seconds in 50 free), freshman Vada Harmon (1:33.08 in 100-yard butterfly, and 1:51.87 in 100-yard breaststroke), sophomore Brinn Cooney (1:15.67 in 100 free), and Neri (8:40.69 in 500 free).

Waverly, which closed out the dual-meet season with a 6-1 record, returns to action Friday and Saturday at the Elmira Invitational.
About the Author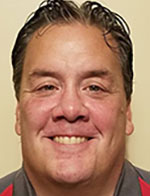 Tim Birney is the founder / owner of River Road Media Group. He was born and raised in the Valley, graduating from Waverly High School in 1984.
Birney earned an Associate's Degree in Journalism from SUNY Morrisville in 1986 and a Bachelor's Degree in Journalism / Public Relations from Utica College of Syracuse University in 1988. He began his newspaper career at The Daily Review in Towanda in 1989, before moving on to The Evening Times in 1995. He spent more than 10 years at the Times, the last four as Managing Editor.
River Road Media Group includes five sites in "The Sports Reports" family that cover 24 school districts in five counties: Valley Sports Report (launched Aug. 10, 2009), Tioga County (NY) Sports Report (Aug. 13, 2018), and Northern Tier Sports Report (Aug. 31, 2020); Northern Tier West Sports Report (March 15, 2021) Southern Tier Sports Report (Aug. 16, 2021).