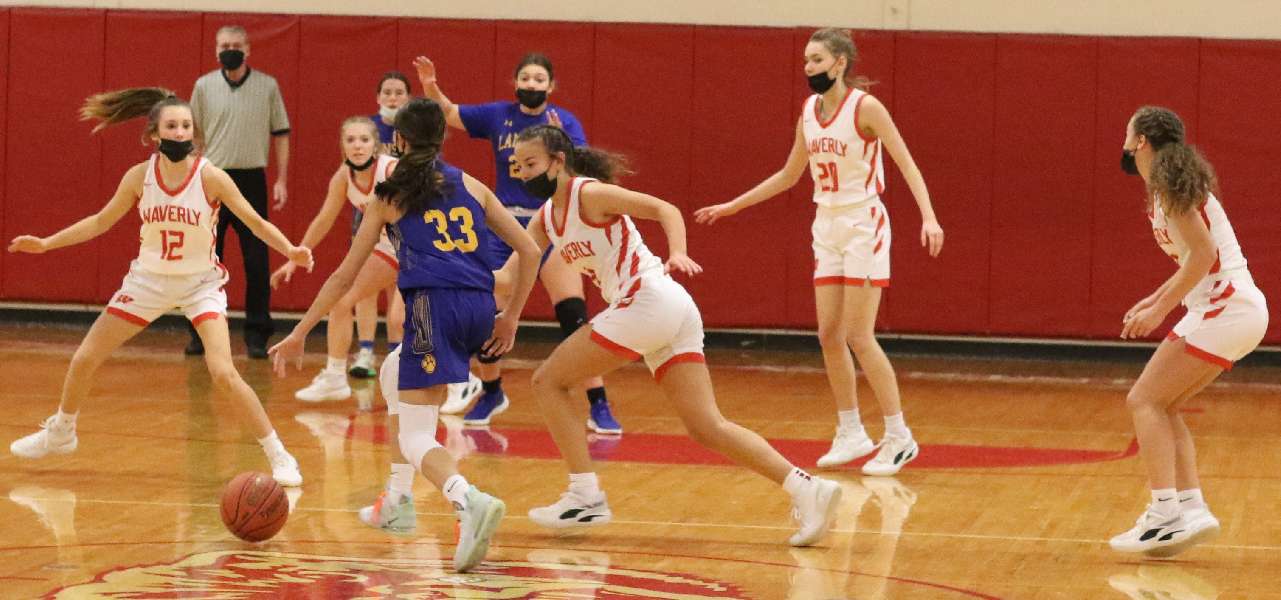 SECOND-QUARTER RUN PROPELS WAVERLY TO 71-29 WIN OVER LANSING
By: Tim Birney | Waverly Athletics | January 7, 2022 | Photo courtesy Tim Birney
WAVERLY — Waverly closed the second quarter with a 23-2 run to blow open a close game en route to a 71-29 win over Lansing here Friday night in IAC Large School crossover girls basketball action.

Waverly scored the first eight points of the game, including a 3-pointer by senior Olivia Nittinger, but Lansing answered with eight straight points to tie the game with 1:05 remaining in the first quarter.

Seventh-grader Ryleigh Judson gave Waverly a 10-8 lead with a short jumper for her first varsity points with 55 seconds remaining, but Lansing answered with a bucket to tie the game at 10-all after the first eight minutes.

Lansing took a 12-10 lead in the opening moments of the second quarter, but freshman Addison Westbrook cashed a steal into a lay-up to give the Lady Wolverines the lead for good, at 13-12, with 6:32 left in the half.

Moments later, NIttinger scored in transition to make it 15-12.

Junior Kennedy Westbrook made it 21-12 with a 3-point bomb, and an old-fashioned three-point play with 4:12 remaining in the half.

Kennedy Westbrook capped her own eight-point run with a lay-up in transition to extend the lead to 23-12 with 3:58 left.

Addison Westbrook capped the 15-0 run with a lay-up in transition to make it 25-12.

After Lansing scored to stop the run, Waverly closed out the quarter with an 8-0 spurt to take a 33-14 lead into the halftime break.

The Lady Wolverines kept it rolling in the third quarter as Addison Westbrook knocked down a pair of 3-pointers and scored 12 points to fuel a 21-6 run to take a 54-20 lead into the final eight minutes.

Addison Westbrook led Waverly with 23 points, while Nittinger scored 18 points and canned a trio of 3-pointers, Kennedy Westbrook had 13 points, Judson added nine points, including her first 3-pointer, and sophomore Peyton Shaw chipped in with four points.

Sydney Burke led Lansing with 12 points.

Waverly, now 6-3, travels to S-VE Tuesday.
About the Author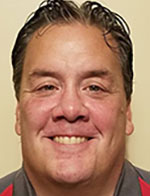 Tim Birney is the founder / owner of River Road Media Group. He was born and raised in the Valley, graduating from Waverly High School in 1984.
Birney earned an Associate's Degree in Journalism from SUNY Morrisville in 1986 and a Bachelor's Degree in Journalism / Public Relations from Utica College of Syracuse University in 1988. He began his newspaper career at The Daily Review in Towanda in 1989, before moving on to The Evening Times in 1995. He spent more than 10 years at the Times, the last four as Managing Editor.
River Road Media Group includes Valley Sports Report (launched Aug. 10, 2009), Tioga County (NY) Sports Report (Aug. 13, 2018), and Northern Tier Sports Report (Aug. 31, 2020). Southern Tier Sports Report is set to launch in 2021.