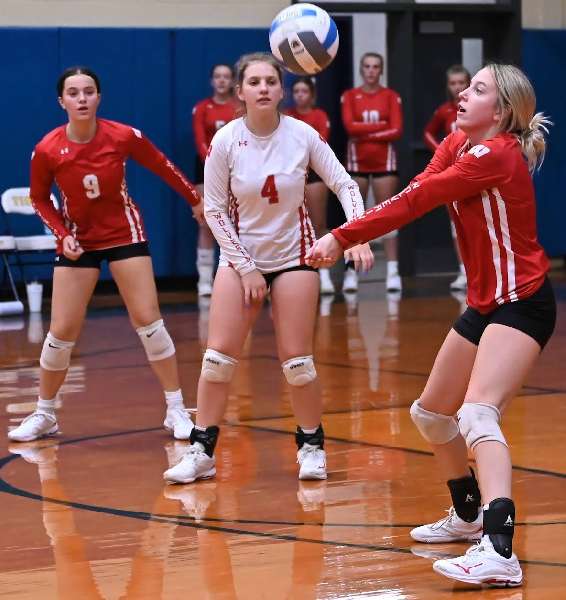 TIOGA RALLIES TO EDGE WAVERLY IN FIVE-SET THRILLER
By: Tim Birney | Waverly Athletics | September 19, 2022 | Photo courtesy Matt Patton
TIOGA CENTER — It couldn't get any closer.

Tioga rallied from a 2-1 deficit, and needed extra play in the decisive fifth set to pull out a 3-2 win over Waverly here Monday night in IAC South volleyball action.

The Lady Tigers opened the night with a 25-22 win in the first set, but the Lady Wolverines bounced back to win the next two sets 25-21 and 25-19.

Tioga responded with a 25-20 win in the fourth set, then edged Waverly, 17-15, in the fifth set.

"It was a great match, both teams very well," said Tioga coach Des Ford.

"I'm super-proud of my team tonight," said Waverly coach Charity Meyers. "They played hard and had a lot of amazing plays. They never gave up. and gave Tioga a battle all night.

"We definitely need to make sure we get our serves over, it makes a huge difference in the game," she added. "We can't wait to see Tioga again."

Senior Reese Howey led Tioga with 12 service points, including three aces, seven kills, six blocks, 12 digs, and two assists, while senior Kyra Bailey posted a triple-double with 13 points, 15 setter assists, 10 digs, and four kills, senior Hailey Browne had 10 points, including five aces, four kills, and seven digs, and junior Layni Whitmore had 10 points (three aces), three blocks, and four digs.

Senior Lily Mesler had five points, four assists, and four digs in the win, while junior Megan Vance had four points and three kills, junior Joslyn Maciak added two points and nine digs, and junior Megan Shumway chipped in with four digs and two blocks.

Sophomore Maddy Olmsted led Waverly with 12 points (three aces) and eight digs, while freshman Brilynn Belles had 11 points (three aces), 24 digs, four kills, and two blocks, senior Michaela Lauper had nine points (three aces), 22 assists, 15 digs, and two kills, and junior Ashlen Croft had eight points (three aces), five kills, one block, and five digs.

Junior Erica Ryck had seven points (three aces), five kills, one block, and 16 digs for Waverly, while freshman Lillie Kirk added three points, six kills, and 18 digs, and junior Peyton Shaw chipped in with three points and eight kills.

Tioga, now 4-0, travels to S-VE Wednesday night, while Waverly hosts Thomas A. Edison.

JV: Tioga swept the junior varsity match by scores of 25-13 and 25-13.

RaeAnne Feeko led Tioga with 13 points, including 11 aces, three assists, and three digs, while Lydiah Decker had 16 points (seven aces), Sophia Haney had nine points (four aces), three kills, two blocks, and two digs, Alyson Chamberlain added six points (two aces) and two digs, and Kali Bailey chipped in with two points, four kills, and three digs.

Zaelea Lane led Waverly with five points (two aces), four digs, and four assists, while Maddy Farnham recorded four digs, Alayna Miller, Adrianna Presher, and Addison Hunt each had two points, Meghan Apgar chipping with two digs, and Lauryn DeLill chipped in with two kills.

About the Author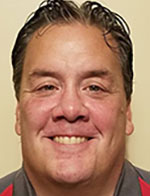 Tim Birney is the founder / owner of River Road Media Group. He was born and raised in the Valley, graduating from Waverly High School in 1984.
Birney earned an Associate's Degree in Journalism from SUNY Morrisville in 1986 and a Bachelor's Degree in Journalism / Public Relations from Utica College of Syracuse University in 1988. He began his newspaper career at The Daily Review in Towanda in 1989, before moving on to The Evening Times in 1995. He spent more than 10 years at the Times, the last four as Managing Editor.
River Road Media Group includes five sites in "The Sports Reports" family that cover 24 school districts in five counties: Valley Sports Report (launched Aug. 10, 2009), Tioga County (NY) Sports Report (Aug. 13, 2018), and Northern Tier Sports Report (Aug. 31, 2020); Northern Tier West Sports Report (March 15, 2021) Southern Tier Sports Report (Aug. 16, 2021).