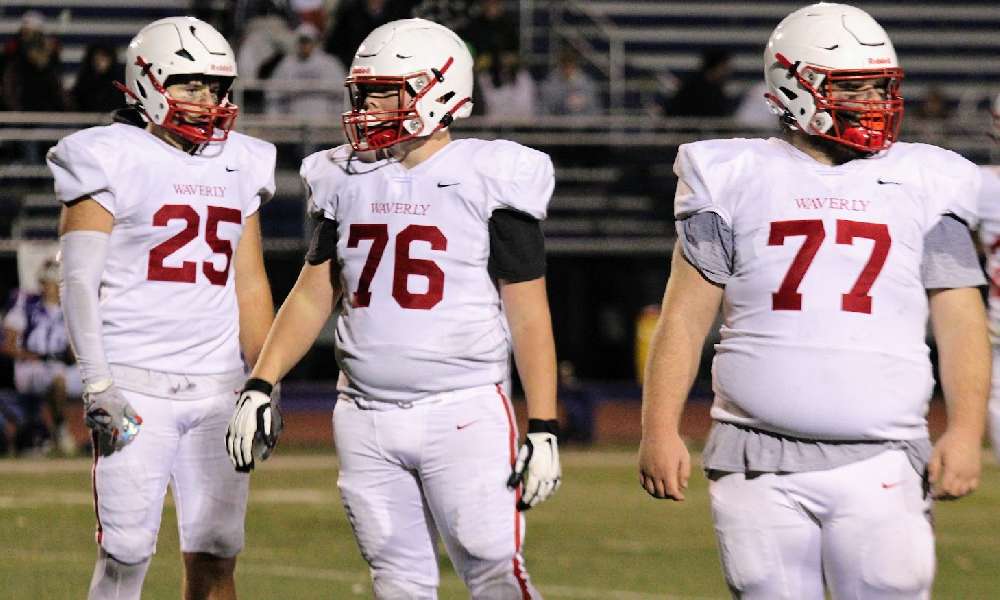 TOMASSO ACCOUNTS FOR FIVE TDs; LEADS WAVERLY TO 34-17 WIN OVER NORWICH
By: Tim Birney | Waverly Athletics | October 28, 2022 | Photo courtesy Shannon McCarty
NORWICH — Junior Joey Tomasso accounted for five touchdowns as Waverly rallied from an early deficit to close out regular season with a 34-17 win over Norwich here Friday night in Section IV non-divisional football action.

Tomasso completed 15 of his 21 pass attempts for 271 yards, and three TDs. He ran the ball just five times for 15 yards, but got into the end zone on two of those carries

The Purple Tornadoes took the opening kickoff, and drove into Waverly territory before the Wolverine defense stiffened and forced a punt.

The Wolverines were pinned inside their 1 on the punt, and after a quick three-and-out, booted it back.

Norwich took over at their 40, and put together a scoring drive, capped by Holden Ryan's 1-yard TD plunge with 40 seconds remaining in the opening stanza. The PAT kick made it 7-0.

The remainder of the game was nearly all Waverly.

The Wolverines put together a scoring drive on its next possession, capped by a 4-yard TD run by Tomasso. Senior Ryan Clark's PAT kick made it 7-7 with 7:49 remaining in the first half.

The drive included a 20-yard pass from Tomasso to Pipher, who had seven receptions for 139 yards, and one TD, a 16-yard pass to senior running back Braeden Hills.

After Clark's ensuing kick pinned Norwich at its own 20, the Waverly defense forced a quick three-and-out. A short punt gave the Wolverines the ball at their 45.

After a 2-yard pass to senior Isaiah Bretz, Tomasso hooked up with Pipher on a 43-yard scoring strike with 5:40 remaining in the half. Clark's PAT made it 14-7.

Norwich took the ensuing kickoff, and drove into Waverly territory, eventually having to settle for a 25-yard field goal to trim the deficit to 14-10 with 4 seconds left in the half.

The Wolverines opened the second half with a quick scoring drive, culminating with a 2-yard TD pass from Tomasso to Bretz with 9:29 remaining in the third quarter. Clark's PAT made it 21-10.

The drive featured a 35-yard hook-up from Tomasso to Pipher, and a 13-yard pass to junior Jake VanHouten.

Waverly got the ball back quickly again, after the defense came up with another three-and-out stop. Tomasso capped a short scoring drive with a 2-yard TD run to make it 28-10 with 6:50 remaining in the third quarter.

The Wolverines would tack on another TD — a 36-yard TD pass from Tomasso to VanHouten — in the opening moments of the game to stretch the lead to 34-10.

Norwich provided the final margin with 1:07 remaining in the contest on a 3-yard TD run against Waverly's reserves.

Norwich ran 67 offensive plays to Waverly's 41, but the Wolverines had a 377-285 advantage in total yards.

VanHouten had three catches for 59 yards and a TD for the Wolverines, and senior tight end Nate DeLill had one grab for 48 yards.

Hills led Waverly's ground game with 53 yards on 11 carries, and Pipher added 23 yards on thrree carries. The Wolverines finished the game with 106 rushing yards on 20 carries.

Norwich had 209 rushing yards on 45 carries, led by Ryan, who had 125 yards and one TD on 24 carries.

Waverly, now 7-1, will host Susquehanna Valley Friday in the semifinals of the Section IV, Class C playoffs. Game time is 7 p.m.
About the Author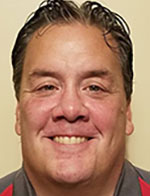 Tim Birney is the founder / owner of River Road Media Group. He was born and raised in the Valley, graduating from Waverly High School in 1984.
Birney earned an Associate's Degree in Journalism from SUNY Morrisville in 1986 and a Bachelor's Degree in Journalism / Public Relations from Utica College of Syracuse University in 1988. He began his newspaper career at The Daily Review in Towanda in 1989, before moving on to The Evening Times in 1995. He spent more than 10 years at the Times, the last four as Managing Editor.
River Road Media Group includes five sites in "The Sports Reports" family that cover 24 school districts in five counties: Valley Sports Report (launched Aug. 10, 2009), Tioga County (NY) Sports Report (Aug. 13, 2018), and Northern Tier Sports Report (Aug. 31, 2020); Northern Tier West Sports Report (March 15, 2021) Southern Tier Sports Report (Aug. 16, 2021).