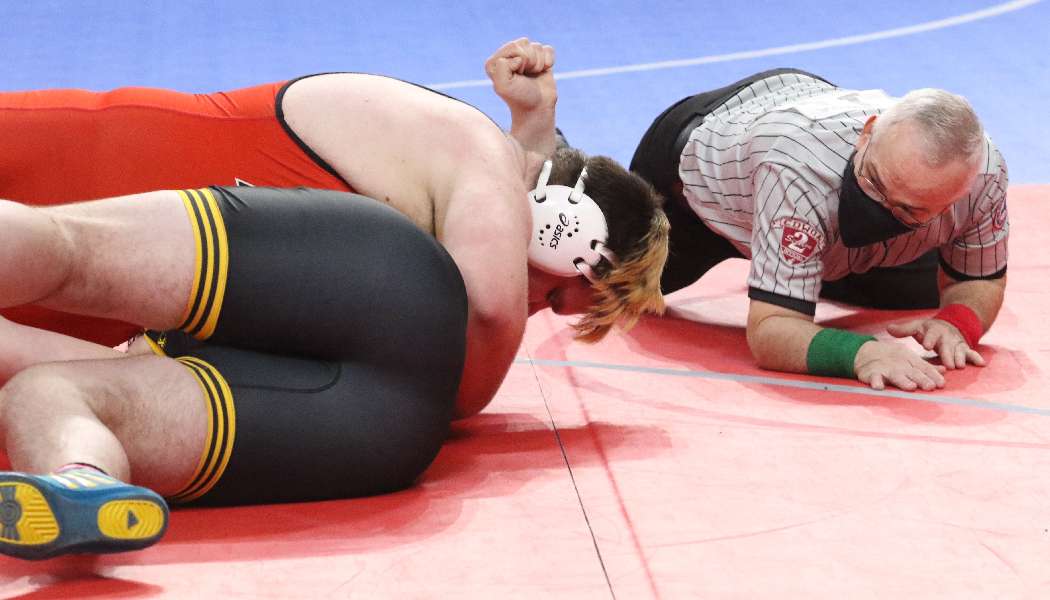 TOURNAMENT DEBUT TOUGH ON WAVERLY DUO, BUT HOPEFULLY A STEPPING STONE TO 202
By: Tim Taylor | Waverly Athletics | February 25, 2022 | Photo courtesy Tim Taylor
ALBANY — Waverly junior Ty Beeman and freshman Kam Hills received their first taste of state-level competition Friday at the NYSPHSAA Division II Wrestling Championships at MVP Arena here.

While the day didn't go as junior Ty Beeman and freshman Kam Hills had hoped, the experience could serve as a stepping stone to the podium next year.

Beeman, seeded 10th at 215 pounds, dropped his first bout to Trent Sibble of Bolivar-Richburg by a 5-1 verdict. Sibble scored a takedown with 1:18 left in the first period and added an escape early in the second. He added another takedown with 18 seconds left in the period to go ahead, 5-0. Beeman registered an escape in the third period.

Sibble, the No. 7 seed, went on to pin the second seed in the quarterfinals to improve to 50-0 on the season.

"Ty, he wrestled really well in that first round. This is a kid that pinned him in the first period first match of the year, and this just goes to show you how far he's come," Waverly coach Devan Witman said. "He had his opportunities to score. He was right there, late in the first period when he was looking for more push away. It would have been 2-1 going into the second. Unfortunately, he didn't get it because he was looking for a 2-2, instead of 2-1, and it ended up 2-0 going into the third.

"He's getting to his shots. Something that he really has worked on the past two weeks with me is that you've got to get to your shots and you've got to pick them clean. In the beginning of the year, he was, he wasn't picking his shots. He was diving for stuff. This just goes to show you how far along he's come this season."

In his consolation match, Beeman faced Dominic Jones of Mount Markham. Following a scoreless opening period, Beeman tallied a quick escape in the second, but fell victim to a throw with 1:25 on the clock and near-fall points gave Jones a 5-1 lead.

Beeman scored another escape moments later, only to suffer another throw which would make it 7-2. Back points at the buzzer put Jones up, 10-3, heading into the final two minutes.

Beeman picked up a point on a stalling call in the final minute of the bout and his tournament would end with a 10-3 loss.

"Ty looked really good until he fell into a position he hadn't seen yet," Witman said. "Ty got hit with an over-under throw, then an arm throw. Ty hasn't been thrown like that all season and just couldn't read the pressure. Ty turned it on, down 10-2."

Hills, a freshman, came into the tournament as the No. 3 seed at 285, while Salem-Cambridge's Evan Day was seeded 19th. Day picked up a takedown with 58 seconds remaining in the first period and scored a fall in 1:32.

Day, who pinned the 14th seed in his first match of the tourney, decked 6th-seeded Mason Petersen of Marcus Whitman / Penn Yan in the quarterfinals.

In his second bout, Hills recorded his first state tourney win, pinning Malone's Brody Fountain in 2:53.

Hills would face a familiar foe in his third match in Marathon's Logan Jamison. Hills beat the Olympians' big man at the IAC championships, then lost to him at Section IV Qualifier B before defeating him at the sectional championships.

In this one, the two battled deep into the final period before Jamison scored a controversial takedown at the buzzer to win, 3-1.

"Kamm for a 14-year-old to be on this stage at that weight, I think that first match, he was clammed up a little bit. Normally, you don't see too many 285-pounders, even though he's 14, push Kam around and that kid was kind of pushing Kam around a little bit.

"That just goes to show me that his eyes were a little bit wider than they should have been, and I think he got a little bit of the taste of what states is really like in that first round.

"To come back to push the way he did, he just stayed in perfect position that whole time, never gave position, always stayed tight with the guy, picked his shots. He shot three times, got two out of the three, and then once he got that last takedown he broke him. We just stayed on his side, got our turn and that's all she wrote.

Hills didn't change anything about his style of wrestling prior to his win, other than "getting back to what Kam Hills does," Witman said. "He pushes. He digs. He's on the head. He didn't in the first match. He definitely wasn't the one dictating the pace of the match in that first round, which is not what Kam Hills does. Kam likes to go out, likes to be the bully, likes to push and likes to stay in good position. That wasn't him.

"We had a little talk, settled him down from that first round of the state competition. He got back to what Kam does. He bullied the kid around a little bit, stayed in perfect position and got his shots, and got his takedowns."

Witman is looking forward to what his state qualifiers have to bring to the mat in the future.

"Ty grew so much this season I couldn't be more proud of him," he said. "We will definitely see him here again next year.


"Kam, for being 14 years old, this was a great experience. It did not turn out the way he wanted, but we have everything to look forward to. Kam is going to be a leader going forward. I can't wait to have him in our room for the next three years."