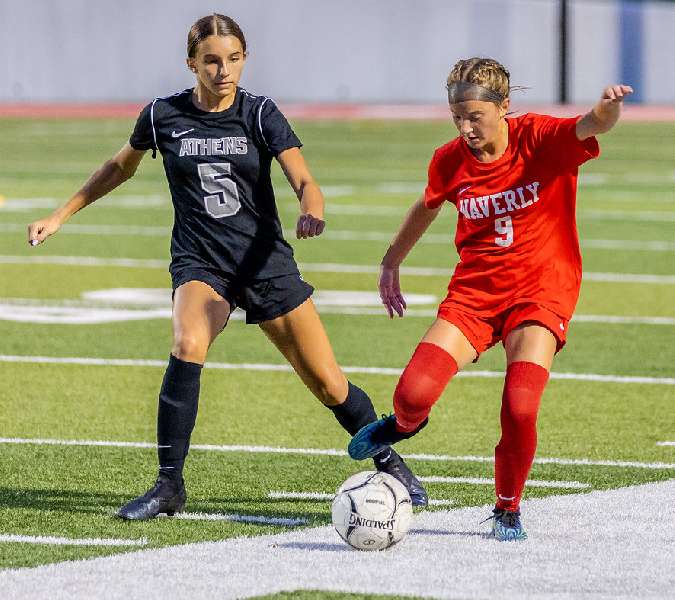 VanALLEN LIFTS WAVERLY TO 2-0 WIN OVER ATHENS
By: Tim Birney | Waverly Athletics | September 12, 2022 | Photo courtesy David Alliger
WAVERLY — Junior Lea VanAllen delivered a pair long second-half goals to lift Waverly to a 2-0 win over crosstown rival Athens here Monday night in non-league girls soccer action at Memorial Stadium.

"This game was a true test for us," said Waverly coach Tara Hogan.

"I thought the girls played a really tough match," said Athens coach Rich Pitts. "We battled right to the end, had our chances in the second half, but just couldn't convert."

The majority of the first half was spent in the Athens defensive end, but the game went scoreless into the halftime intermission.

"We were happy with the way the girls started the game," said Hogan. "In the first half, our forwards — Kiley Stillman, Addy Westbrook, and Ryleigh Judson — were playing their positions well and put a lot of pressure on their defense right from the start."

VanAllen took a feed from 8th-grader Mackenzie Olmsted, and fired a hard, low shot from 25 yards out into the corner of the net just 2 1/2 minutes into the second half to give the Lady Wolverines a 1-0 lead.

With 22 minutes remaining, VanAllen, off a feed from senior Kennedy Westbrook, and bent a shot from outside the right hash from 28 yards out over the keeper's outstretch hands, and into the net to make it 2-0.

Hogan also credited her defense, which allowed just two shots-on-goal, for its part in the win.

"We tried Claire Clonch in goal tonight and she did not disappoint," she said. "She has seen time in goal before, but hasn't played there much for us. She really stepped up and was a strong presence on the field.

"We also switched up our starting defensive line with Kennedy Westbrook being shifted back," noted Hogan. "We wanted to scope out Athens before we really started to push up.

"I continue to sing our defenders' praises," she continued. "They — Kennedy, Paige Robinson, and Olivia Robinson — with the help of Makenzie Olmsted as sweeper, are just so smart and incredibly reliable. Nothing gets past them and if they do, they are phenomenal about covering for each other.

"And, Makenzie Olmsted is such a force and is everywhere she needs to be to support all the lines," added Hogan. (Assistant coach Berent) and I are very proud of the girls never quitting and for playing a smart, strong game."

Pitts said his team will benefit from the loss.

"However, we tried some new things and I like what we learned as a team," he said. "I'm looking forward to the rest of the week.

"Thanks to Waverly for having us, they were a good match up that we needed at the right time," added Pitts.

Waverly had an 8-2 edge in shots-on-goal, and a 4-2 advantage in corner kicks.

Senior Karlee Bartlow had six saves in net for Athens, while 8th-grader Clare Clonch had two saves for the Lady Wolverines.

"Karlee Bartlow had the best game of her young career," said Pitts. "I'm super-proud of her."

Waverly, now 3-0, hosts divisional rival Notre Dame Wednesday night, while Athens (1-2) travels to North Penn-Mansfield Tuesday.
About the Author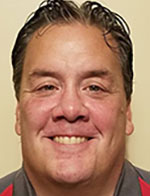 Tim Birney is the founder / owner of River Road Media Group. He was born and raised in the Valley, graduating from Waverly High School in 1984.
Birney earned an Associate's Degree in Journalism from SUNY Morrisville in 1986 and a Bachelor's Degree in Journalism / Public Relations from Utica College of Syracuse University in 1988. He began his newspaper career at The Daily Review in Towanda in 1989, before moving on to The Evening Times in 1995. He spent more than 10 years at the Times, the last four as Managing Editor.
River Road Media Group includes Valley Sports Report (launched Aug. 10, 2009), Tioga County (NY) Sports Report (Aug. 13, 2018), and Northern Tier Sports Report (Aug. 31, 2020). Southern Tier Sports Report is set to launch in 2021.