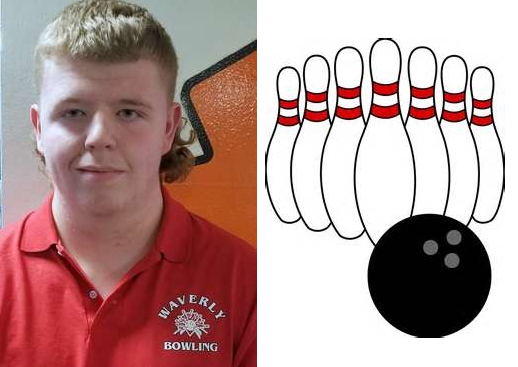 VANDERPOOL LEADS WAVERLY BOYS TO THIRD-PLACE FINISH AT CLASS C CHAMPIONSHIPS; LADY WOLVERINES PLACE FOURTH
By: Tim Birney | Waverly Athletics | February 18, 2022 | Photo courtesy Tim Birney
VESTAL — Junior Zach Vanderpool fired the high series across all classes Friday, leading the Waverly boys to a third-place finish at the Section IV, Class C Championships here at Midway Lanes, while the Lady Wolverines finished fourth on Saturday.

BOYS
Vanderpool banged out a 798 series on games of 266, 256, and 276 to take home the individual gold in the high series across all classes and high game in Class C.

The Wolverines rolled a three-game aggregate score of 2,886 to finish third. The finished just five pins behind runner-up Susquehanna Valley, and 33 pins behind Class C champion Sidney.


Freshman Dom Wood rolled a 573 for the Wolverines, including a 221 in the first game, while 8th-grader Derek Johnson shot a 218 and a 140, and 8th-grader Tristan Campbell added a 168.
Sophomore Trenton Sindoni added a 499 series for Waverly, and junior Ashton Pritchard takes on a 490.
Waverly will bowl in the State Qualifier next weekend at the Valley Bowling Center by virtue of its IAC division title.


GIRLS
The Lady Wolverines had four bowlers roll 500 series, and finish in the top 14 in a fourth-place finish in the Class C Championships.
Union Springs / Port Byron won the Class C title with a three-game aggregate score of 2,750, while Sidney was second with 2,555 pins, Oxford-Greene was third at 2,470, and Waverly tallied 2,341.
Junior Victoria Houseknecht finished eight on the day with a 545 series, while freshman Serenity Conklin was 10th with a 530, junior Shantilly Decker was 12th with a 508, and sophomore Rachel Houseknecht was 14th with a 500.
Seventh-grader Emily Houseknecht tacked on a 258.
Victoria Houseknecht, Rachel Houseknecht, and Decker will bowl in the State Qualifier next weekend at the State Qualifier by virtue of their Top-30 average in Section IV.
About the Author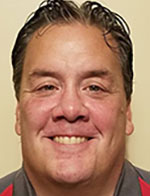 Tim Birney is the founder / owner of River Road Media Group. He was born and raised in the Valley, graduating from Waverly High School in 1984.
Birney earned an Associate's Degree in Journalism from SUNY Morrisville in 1986 and a Bachelor's Degree in Journalism / Public Relations from Utica College of Syracuse University in 1988. He began his newspaper career at The Daily Review in Towanda in 1989, before moving on to The Evening Times in 1995. He spent more than 10 years at the Times, the last four as Managing Editor.
River Road Media Group includes five sites in "The Sports Reports" family that cover 24 school districts in five counties: Valley Sports Report (launched Aug. 10, 2009), Tioga County (NY) Sports Report (Aug. 13, 2018), and Northern Tier Sports Report (Aug. 31, 2020); Northern Tier West Sports Report (March 15, 2021) Southern Tier Sports Report (Aug. 16, 2021).