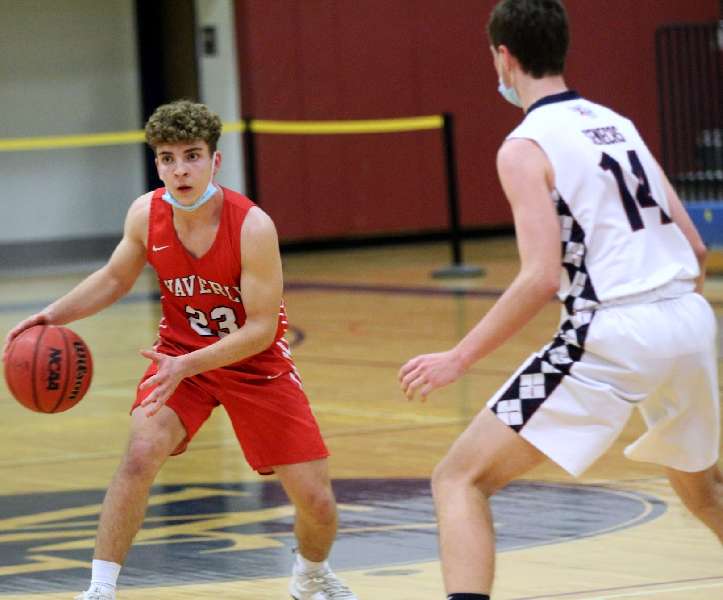 WATKINS GLEN EDGES WAVERLY, 54-48, TO CLINCH SHARE OF DIVISION TITLE
By: Tim Birney | Waverly Athletics | February 7, 2022 | Photo courtesy Jackson Lawrence
WATKINS GLEN — After a back-and-forth first half, Watkins Glen took the lead early in the second half, and held off Waverly in a 54-48 win to clinch a share of the IAC South Large School Division boys basketball title.

Watkins Glen can clinch the division title with a home win over Newark Valley Tuesday.

"We didn't put four quarters together," said Waverly coach Lou Judson.

"We played a pretty solid first half," he noted. "We came out in the third quarter, and played very poorly, then played a very inspired fourth quarter.

"We got within two points a couple times, but we didn't make the plays down the stretch that you need to make against a good basketball team," Judson added.

Judson said the Wolverines had their chances.

"We played sold defense all game … we held them to 54 points," he said. "I told my team we needed to score int he high 50s or low 60s to win the game, and we didn't do that.

"It was definitely a game of missed opportunities," noted Judson. "I don't think Watkins Glen played all that well tonight. I think they were ripe for the taking.

"I'm proud of the guys," added Judson. "We gave ourselves a chance to win the basketball game late in the game, we just didn't come through."

Adam Pastore and Cam Holland scored seven points apiece in the first quarter to help the Senecas to a 19-11 lead after the first eight minutes.

Pastore, who hadn't played in a game since Jan.2 due to an ankle injury, added five points early in the second quarter, including a 3-pointer, so Judson decided to make a change.

"Adam Pastore played tonight, and he hasn't played in five weeks … it was his first game back, and he really didn't miss a beat in that first half.

"We had trouble guarding him in the first quarter in the man-to-man, so I switched up our defense and went to a match-up zone in the second quarter," said Judson. "It got them out of rhythm a little bit, and we were able to get back into the game, and took the lead.

"Then they started figuring it out, so we switched back to man-to-man in the second half," added Judson.

Tomasso, who scored seven points in the first quarter, scored seven more in the second quarter, while senior Liam Traub canned a 3-pointer and two free throws, and senior Brady Blauvelt added a 3-pointer in a 19-10 run that gave the Wolverines a 30-29 lead at the half.

The Senecas opened the second half with an 8-4 spurt to take a 37-34 lead with 3:40 remaining in the third quarter, then extend their lead to 41-34 entering the final eight minutes.

Waverly closed the gap to 44-42 with 3:45 remaining in the game, and again pulled within two points, at 50-48, with 17 seconds remaining, but Watkins Glen sealed the win with four free throws.

Judson said his team's inability to keep the Senecas off the boards was a key in the loss.

"The key tonight was our lack of rebounding," said Judson. "I don't know how many offensive rebounds (Watkins Glen) had tonight, but it had to be more than 20.

"It seemed like every time they shot the basketball, they were getting second and third opportunities," added Judson. "You can't do that against good basketball teams, especially when you're trying to win a division championship."

Tomasso led Waverly with 24 points and four rebounds, while Blauvelt had eight points, while Liam Traub added seven points, 12 rebounds, and one blocked shot, and senior Davis Croft chipped in with six points, five boards, and two assists.

Pastors led Watkins Glen with 18 points, while Mitchell Pike had 14 points, including a trio of 3-pointers, and Holland added 11 points.

Waverly, now 12-5, returns to action Tuesday when it hosts Thomas A. Edison.
About the Author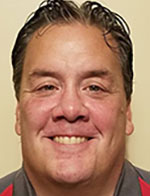 Tim Birney is the founder / owner of River Road Media Group. He was born and raised in the Valley, graduating from Waverly High School in 1984.
Birney earned an Associate's Degree in Journalism from SUNY Morrisville in 1986 and a Bachelor's Degree in Journalism / Public Relations from Utica College of Syracuse University in 1988. He began his newspaper career at The Daily Review in Towanda in 1989, before moving on to The Evening Times in 1995. He spent more than 10 years at the Times, the last four as Managing Editor.
River Road Media Group includes Valley Sports Report (launched Aug. 10, 2009), Tioga County (NY) Sports Report (Aug. 13, 2018), and Northern Tier Sports Report (Aug. 31, 2020). Southern Tier Sports Report is set to launch in 2021.