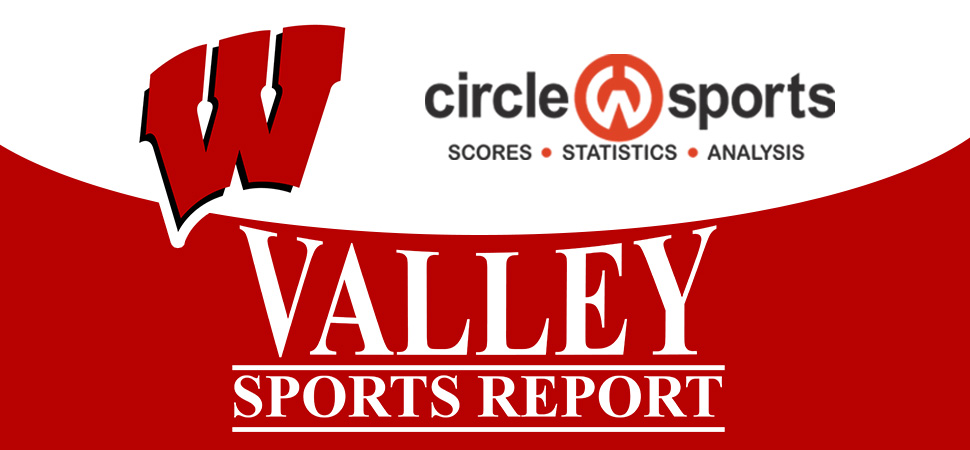 WAVERLY BATTLES PAST NEWARK VALLEY IN FOUR SETS
By: Tim Taylor | Waverly Athletics | September 13, 2022 | Photo courtesy Tim Taylor
NEWARK VALLEY — Waverly overcame a close loss in the opening set to defeat Newark Valley, 3-1, in IAC South Large School action here Tuesday evening.

The Cardinals broke a 24-24 deadlock to win the opening set, 27-25, but the Wolverines would rally to take the next three, 25-19, 25-19 and 25-22.

"I tell the girls all the time that we can't start like that," Waverly coach Charity Meyers said. "It really makes it more difficult of a night, but I was still super proud of them.

"They dealt with a little bit of harassing in the stands kind of thing and they pulled through and they finished it. That's what we've been working for. It's like when you get that mindset, when you are down and not being able to finish it, that's what we've done in the past. And now they're pulling through and finishing and.

"There were a couple of things that were off tonight. We were serving a little better and some hitting and stuff, but overall, I thought they did fantastic and I'm super proud of them."

NV coach Kelsey O'Donnell saw room for improvement among here group

"I have a big team, but I have a lot of people who are young or inexperienced," she said. "I'm not mad at how we played. We just have a few kinks to work out and I think we'll be really good.

"Our back row looked really good tonight and we had some really monster hits, so I think we'll pull together next time we see them. It's gonna be exciting."

Waverly fell behind, 11-7, in the second set following a long hit out of bounds, but the call was reversed when it was determined an NV player touched the ball. That made it a 10-8 game.

The Wolverines' Lillie Kirk would head to the service line for the eight straight points and an 18-11 advantage. NV would close the gap to 20-18, but the visitors scored five of the final six points.

The third set saw Waverly slip behind by four twice, but would chrome back to tie things up at 13, 14 and 15 before going ahead to stay at 16-15. The Wolverines opened a 5-point advantage down the stretch and NV couldn't get closer than 22-19.

Newark Valley would go up by four early in the fourth set, but Waverly worked a 15-15 tie. The two teams traded leads before tying it up again at 20. NV went up, 22-20, but Waverly scored five straight points to end the match and improve to 3-0 on the season.

"There were a few calls that I didn't like at the beginning and I was just like, alright, is this how it's going to go for the night?" Meyers said. "But, then it got turned around, but I told them, you know, we don't lose by one or two. You've got to just push through everything and if you don't like the call, you've still got to shake it off and just keep moving forward, so they were ready."

Waverly's Michael Lauper posted a double-double with 19 assists and 12 service points. She also had seven digs and one kill. Brilynn Belles also had a double-double with 16 digs and 10 points, including two aces, and also contributed three kills.

Erica Ryck added 12 points, five of them aces, three kills, to digs and one assist; and Lillie Kirk had 11 points, four aces, nine kills and six digs.

Ashlen Croft chipped in with seven kills, four points, one ace and one dig; Peyton Shaw added four kills, two blocks, one point, one ace and one dig; and Maddy Olmsted tacked on six points, two aces, six digs and a kill.

For NV, Jasmine Graham had eight kills, 10 digs and an ace; Jenna Hanson recorded three aces, two kills, eight assists and eight digs; and Rae Matthewson added three aces and four assists.

Joslyn Wright contributed an ace and nine digs; Rosie Wandell had an assist; Laura Ludwig had two aces, two kills and a dig; Leah Austin-Whitaker added two aces and three digs; Kalyna Graham registered four kills; MIchael Medina pitched in with 15 digs and a kill; and Matthew Kasper tacked on five digs.

JV: Newark Valley won, 25-23 and 25-23. Waverly took the exhibition third game, 25-19.

NV's Anaya Aylesworth scored a kill and five aces; Adrianna Rich added two aces and a dig; Hattie Sue Hines chipped in with four aces and a dig; Jenna Vosburgh had four digs; Olivia Webb had an ace; Abby Groover posted two aces and two digs; and Lexie Rosengrant tacked on two aces.

Zaela Lane had 14 points, including nine aces, seven digs and three assists for the Wolverines. Maddy Farnham added eight points, five of them aces. Meghan Apgar had a point and a dig; Alayna Miller scored four points, an ace and two kills; Lauryn Delill had three points, two aces and a kill; Adrianna Presher added two points and a dig; Addison Hunt tacked on three points and ace and a dig; and Delaney Wheeler had a dig.