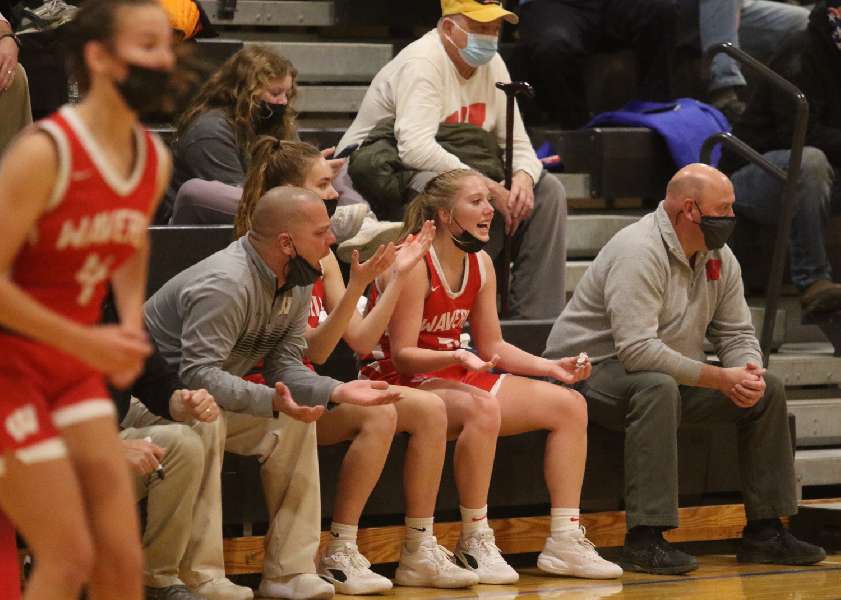 WAVERLY BATTLES TOUGH BEFORE FADING AGAINST TOP-RANKED NEWARK VALLEY
By: Tim Taylor | Waverly Athletics | January 4, 2022 | Photo courtesy Tim Taylor
NEWARK VALLEY — Waverly climbed out of an early 11-point deficit, but could not match Newark Valley's 12-3 run midway through the game as the Cardinals eventually pulled away for a 72-52 IAC South Large School victory here Tuesday.

"It's a great rivalry," NV coach Greg Schweiger said. "It's great to have them to push us and us to push them, and you get pretty good basketball. That was a fun game to be part of and coach.

"I told the girls before it that it takes four quarters to beat a team like that, and that's absolutely what it takes. So I'm real proud of my guys."

Schweiger also credited the effort of the Wolverines.

"Hats off to them," he said. "They're going to shoot threes and they made a lot. (Olivia) Nittinger had an impactful game for them, but we just had to keep working, and taking whatever they threw at us and try to give some of it back to them.

"That's the type of opponent and that's the type of game that makes your team better."

Waverly coach Bob Kelly commended Newark Valley's effort.

"They handled the pressure pretty well," he said. "They get in the passing lanes and they do a good job Obviously, some easy buckets inside."

The coach also applauded his own team's effort.

"They play hard. It's a tough group," Kelly said. "Trying to juggle in the foul troubles and trying to deal with that, it's tough because it takes away from your game plan, but we fought hard. It was an uphill battle against a very good team."

The visitors battled back a couple of times to keep NV's lead to single digits, but the Cardinals' size, depth and experience eventually began wearing the Wolverines down. It didn't help that Waverly had just two reserves on the bench.

The first separation began when Hayley Beebe's steal and layup with 52 seconds remaining in the half gave NV a 38-28 lead. The Cardinals pushed their lead to 13, but Addison Westbrook drained a buzzer-beating 3-pointer to make it a 41-31 game at the half.

Newark Valley took control in the first minute of the second half with 7-0 run to make it 48-31.

"That's when they were going a little bit over the top of us and getting some shots inside, made for difficult things," Kelly said. "You want to come out of that halftime with a good start. We kind of dug ourselves a little hole there. It was a battle from that point on."

"That's kind of our motto, coming out in the third quarter and taking control of the game, especially a tight game like that," Schweiger said. "But again, they answered too.

"We want to come out and, maybe change some things up, make some adjustments at half time, show them something different they haven't seen, and really come with the intensity in that first couple of minutes of the third to establish this is our game and we're going to do what we can do to take it."

Still, the Wolverines refused to break and trimmed the lead to 49-42 with the help of two treys from Kennedy Westbrook and another by Nittinger in a 51-second span.

The Cardinals closed out the final five minutes of the third period with a 14-2 surge, then scored the first seven points of the final frame to build a 70-44 cushion and put the game out of reach.

Newark Valley went on a 9-0 tear early in the contest. Hannah Ferguson knocked down a trey and followed that with a basket off a teammate's miss to start the scoring. Taylor Benjamin scored on a layup and Cha Gardner put back a rebound.

Nittinger would finally get the Wolverines on the scoreboard around the 5-minute mark with the first of her four threes.

Following another Ferguson trey and bucket which made it a 14-3 game, Waverly sank four consecutive free throws by Peyton Shaw and Kennedy Westbrook, then Paige Robinson added three straight baskets to cut the lead to 16-13.

Ferguson, who pumped out a game-high 31 points, made it 18-13 at quarter's end with a late bucket.

"Hannah has had some cold nights here recently, so it was great to see her break out, but it's balance," Schweiger said. "You saw it in the score. We've got that balance going on."

A Ferguson three in the second quarter pushed the lead to 25-15, but a Nittinger trey and Addison Westbrook basket closed the gap to 25-20.

Ferguson capped a 6-point burst with a three, making it 31-20. Back-to-back treys by Shaw and Nittinger narrowed the lead to 36-28 heading into the final minute.

In what was a very physical contest, the Wolverines committed 22 fouls with two players drawing four violations and four others having three apiece.

Ferguson accounted for all five NV 3-pointers. Cha Gardner contributed a double-double for NV with 12 points and 11 rebounds. Beebe finished with 11 points, Benjamin had 10 and Gracie Gardner tacked on another eight as the Cardinals improved to 9-1 on the season with their eighth straight victory.

Waverly Nittinger and Kennedy Westbrook paced the Wolverines (5-3) with 13 points apiece. Addison Westbrook added nine, Shaw chipped in with seven, Robinson scored six and Lourden Benjamin added four.

While Waverly has some things to work on before the next meeting if these two teams, Kelly couldn't fault the Wolverines' effort against the state's top Class C team.

"It's a good group that works their tails off," he said. "They have no quit in them and they work hard. We just have to continue with it. We'll see them again and we'll see what happens then."

That will be Jan. 19 at Waverly.