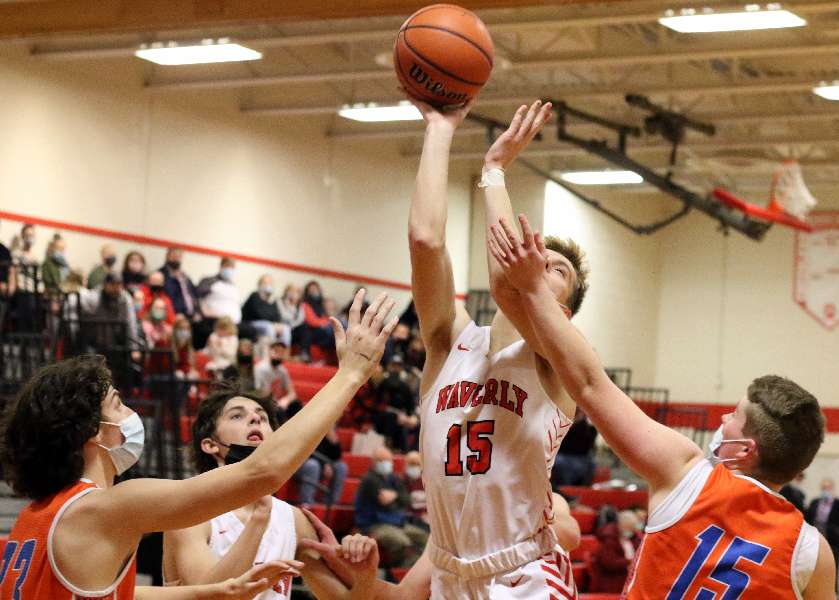 WAVERLY BOUNCES BACK WITH LOPSIDED WIN OVER EDISON
By: Tim Birney | Waverly Athletics | February 8, 2022 | Photo courtesy Tim Birney
WAVERLY — Waverly raced out to a double-digit lead midway through the first quarter, and cruised to a 69-16 win over Thomas A. Edison here Tuesday night in IAC South Large School Division boys basketball action.

The win comes just 24 hours after the Wolverines were eliminated from division title contention with a 54-48 loss at Watkins Glen.

"You never know how you're going to play after an emotional loss like (Monday) night, but the kids played well," said Waverly coach Lou Judson. "I was pleased with how we came out and played tonight.

"Hopefully, they understand there's a lot more to be played for than a division title," Judson added.

Seniors Brennan Traub and Liam Traub combined for 13 points in Waverly's game-opening 15-0 run.

"It was a very good start on Senior Night," said Judson. "We were able to get Tyler Talada a start, and a lot of minutes for Declan Murphy.

"Our seniors all played well," noted Judson.

"The guys were sharing the basketball, and getting out in transition. And, they were having fun," he added.

A pair of free throws by George Smith put Edison on the board with 3:24 remaining in the first quarter, and buckets by Evan Bush and Tyler Belloma closed the gap to 16-6, but five points by sophomore Joey Tomasso in the final minute, including a 3-pointer with 10 seconds remaining gave the Wolverines a 21-6 lead after the first eight minutes.

Tomasso knocked down another 3-pointer and scored seven points in the second quarter, while Liam Traub scored six points, senior Brady Blauvelt added four points, and Brennan Traub and senior Tyler Talada each knocked down 3-pointers to fuel a 23-2 blitz that push Waverly's lead to 44-8 at the halftime intermission.

Liam Traub scored six points in the third quarter, while senior Davis Croft and sophomore Jake Benjamin each added four points in a 20-8 run that extended Waverly's lead to 64-16 entering the final eight minutes.

"I was pleased with our defense," said Judson.

"I've been experimenting with a 1-3-1 all year long, maybe against some lesser competition," he noted. "I've really liked it when we put it in, and in practice, but I've never trusted it against good teams.

"Maybe it will be in the back of my mind, and we can use it in Sectional play, because we're long and athletic," added Judson.

Liam Traub led Waverly with 18 points, while Tomasso had 14 points, three steals, and one blocked shot, and Brennan Traub had 10 points, five boards, five assists, and three steals.

Benjamin had seven points and a team-high nine rebounds in the win, while Croft had six points, seven rebounds, and three assists, Blauvelt scored six points, Talada chipped in with four points, six rebounds, and three steals, Murphy grabbed three rebounds, and sophomore Jay Pipher dished out three assists.

Smith led Edison with four points.

Waverly, now 13-5, hosts Chenango Forks Friday night in what is the final game on the schedule. However, Judson said he expects to add a game for next week.
About the Author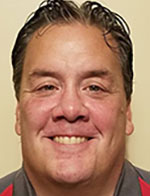 Tim Birney is the founder / owner of River Road Media Group. He was born and raised in the Valley, graduating from Waverly High School in 1984.
Birney earned an Associate's Degree in Journalism from SUNY Morrisville in 1986 and a Bachelor's Degree in Journalism / Public Relations from Utica College of Syracuse University in 1988. He began his newspaper career at The Daily Review in Towanda in 1989, before moving on to The Evening Times in 1995. He spent more than 10 years at the Times, the last four as Managing Editor.
River Road Media Group includes five sites in "The Sports Reports" family that cover 24 school districts in five counties: Valley Sports Report (launched Aug. 10, 2009), Tioga County (NY) Sports Report (Aug. 13, 2018), and Northern Tier Sports Report (Aug. 31, 2020); Northern Tier West Sports Report (March 15, 2021) Southern Tier Sports Report (Aug. 16, 2021).