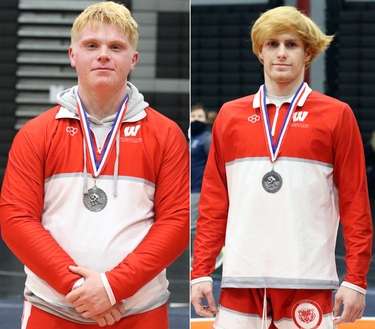 WAVERLY CROWNS THREE CHAMPS; FINSIHES THIRD AT ONEONTA ROTARY TOURNAMENT
By: Tim Birney | Waverly Athletics | January 8, 2022 | Photo courtesy Tim Birney
ONEONTA — Waverly crowned three champs, and had four other wrestlers place in a third-place finish here over the weekend at the 32nd annual Oneonta Rotary Tournament.

Juniors Connor Stotler, Braedon Hills, and Ty Beeman each won titles for the Wolverines, while junior Gage Tedesco was a runner-up, freshman Kam Hills was a third-place finisher, junior Landon McCarty earned a fifth-place medal, and senior Andrew Kimble reached the podium with a sixth-place finish.

Chenango Forks won the team title with 153 points, while Unatego-Unadilla Valley was second with 144 points, and Cobleskill-Richmondville and Waverly were tied for third with 139 points. Walton-Delhi was fifth with 122 points.

Stotler, the third seed at 132 pounds, went 3-0 to earn his title. He opened with a 91-second pin of Cobleskille-Richmondville's Dominic Scolaro in the quarterfinals.

In the semifinals, Stotler forged a 12-5 decision over second-seeded Christopher Vogt of Duanesburg to earn a trip to the finals against top-seeded T.J. O'Connor of Cooperstown.

Stotler earned the 132-pound title with an impressive 11-4 decision over O'Connor, who is a former state qualifier.

Beeman, the second seed, went 3-0 to win the 215-pound title. He opened with a 45-second fall over Saugerties' Keegan Bondar, then edged third-seeded Will Petite of Walton-Delhi, 3-1, in the semifinals.

Beeman faced Oneonta's Jaden Bellissimo in the finals. Bellissimo advanced to the championship match by edged top-seeded Kamdyn Dorchester of Carthage, 6-5, in the semifinals.

Beeman scored a fall in 3:19 to earn the 215-pound title.

Hills, the top seed at 152 pounds, needed just two wins to claim his title.

Hills opened with a pin of fourth-seeded T.J. Hasbrouck of Oneonta in 2:50, then forged a 15-4 major decision over third-seeded Jeremy Rehberg of Duanesburg.

Tedesco, the second seed at 172 pounds, scored a pair of falls to get to the finals. He decked Elmira's Tyler Keefe in 5:17 in the quarterfinals, then flattened third-seeded Henry Loeffler of Cooperstown in 1:10 in the semifinals.

In the finals, top-seeded Xander Arnold of Chenango Forks pinned Tedesco in 4:32 to win the 172-pound crown.

Freshman Kam Hills, the 12th seed, went 4-1 on the day to finish third in the 285-pound weight class.

Hills opened with a 6-1 win over fifth-seeded Jayden Zakala of Oneonta in the opening round, then pinned fourth-seeded Bennett Howell of Chenango Forks in 61 seconds in the quarterfinals.

In the semifinals, top-seeded Mason Cooper of Cobleskill-Richmondville pinned Hills in 1:31.

He bounced back in wrestlebacks, pinning third-seeded Ethan Richards-Follett of Chenango Valley in 4:25 in the consolation semifinals.

In the third-place match, Hills decked Howell again, this time in 2:05.

McCarty, the 10th seed at 118 pounds, opened with a pin of seventh-seeded J.T. Guyette of Elmira in 2:48 to advance to the quarterfinals, where he lost via fall to second-seeded Dylan Furman of Chenango Forks in 3:36.

In wrestlebacks, McCarty decked Saugerties' Zach Burns in 36 seconds, then dropped a 7-1 decision to Carthage's Shay Sinitiere. In the fifth-place match, McCarty received a medical forfeit from Furman.

Kimble, the second seed, went 1-3 to finish sixth at 189 pounds. HIs lone win was his first match in wrestlebacks, where he pinned Chenango Valley's Anthony Holt in 1:26.

Senior Austin Ingham was 1-2 at 126 pounds, and junior Braedon Nichols 1-2 at 138 pounds, while
7th-grader Nico Rae 0-2 at 102, and freshman Jake Besecker 0-2 at 126.

Waverly hosts Tioga Thursday, then hosts the first annual Jim McCloe Memorial Tournament.
About the Author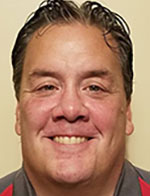 Tim Birney is the founder / owner of River Road Media Group. He was born and raised in the Valley, graduating from Waverly High School in 1984.
Birney earned an Associate's Degree in Journalism from SUNY Morrisville in 1986 and a Bachelor's Degree in Journalism / Public Relations from Utica College of Syracuse University in 1988. He began his newspaper career at The Daily Review in Towanda in 1989, before moving on to The Evening Times in 1995. He spent more than 10 years at the Times, the last four as Managing Editor.
River Road Media Group includes Valley Sports Report (launched Aug. 10, 2009), Tioga County (NY) Sports Report (Aug. 13, 2018), and Northern Tier Sports Report (Aug. 31, 2020). Southern Tier Sports Report is set to launch in 2021.