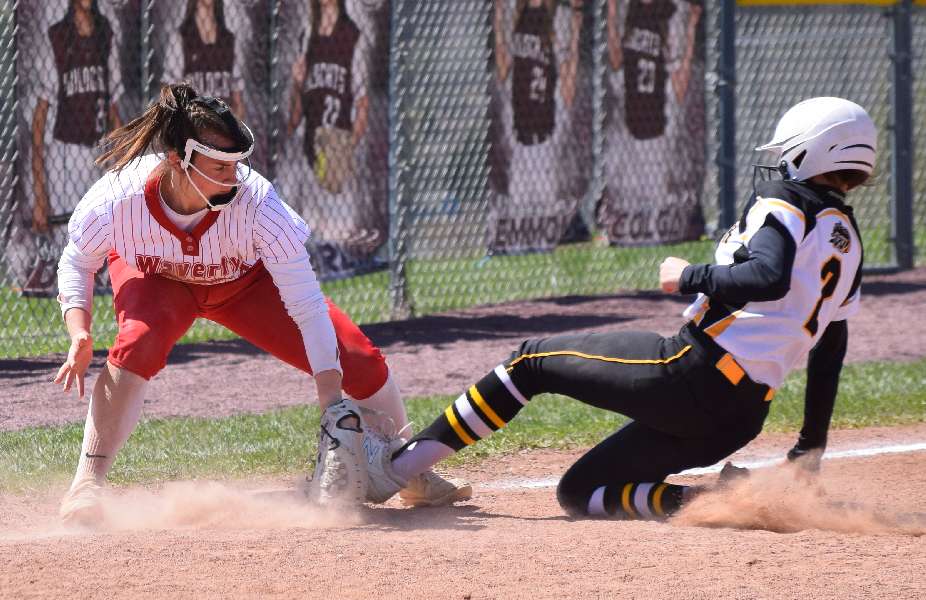 WAVERLY FALLS TO WINDSOR, JOHNSON CITY IN NON-LEAGUE CONTESTS
By: Tim Birney | Waverly Athletics | April 30, 2022 | Photo courtesy Mike Lubertowicz
JOHNSON CITY — Waverly played a pair of non-league softball games here Saturday afternoon, dropping a 9-0 decision to Windsor, and a 10-8 decision to Johnson City.

Windsor 9, Waverly 0
Windsor scored three runs in the bottom of the first inning, and cruised to a 9-0 win over Waverly Saturday afternoon.

The Lady Black Knights scored in all six of their trips to the plate, tacking on single runs in the second, third, fifth, and sixth innings, and two runs in the fourth inning.

The Lady Wolverines managed just five hits in the loss.

Senior Bella Romano doubled, while sophomores Olivia Robinson, and Faith Blauvelt, senior Lourden Benjamin, and junior Michaela Lauper each singled to account for Waverly's offense.

Lauper was tagged with the loss, allowing five earned runs on nine hits, while striking out one and walking six in six innings of work.

Johnson City 10, Waverly 8
Waverly's comeback efforts from an early nine-run deficit fell short in a 10-8 setback against Johnson City.

The Lady Wildcats, playing as the visiting team, scored five runs in the top of the first inning.

Senior Bella Romano reached base on an error to lead the game, and eventually scored on a passed ball to trim the deficit to 5-1.

Johnson City, however pushed five more runs across the plate in the second inning.

Waverly began its come-from-behind efforts in the home half of the second inning on an RBI by sophomore Lea VanAllen to make it 10-2.

Romano and junior Michaela Lauper reached on singles in the top of the fourth, and both ended up scoring on wild pitches to cut the JC lead to 10-4.

With two outs in the fifth inning, Romano lined a two-out RBI single up the middle, and sophomore Peyton Shaw ripped a two-run single into left-center field to close the gap to 10-7. Shaw, however, was thrown out at second to end the inning.

The Waverly bats were silenced until the seventh inning when senior Aubrey Ennis grounded a two-out RBI single into left field to score Romano, who walked to lead off the inning, but that's all the offense the Lady Wolverines could muster.

Romano led Waverley with two hits, four runs scored, and one RBI, and Ennis had two hits and two RBI in the seven-hit attack.

Shaw singled and drove in two runs for the Lady Wolverines, while Lauper singed and scored one run, VanAllen singled and drove in one run, and freshman Brinn Cooney, sophomore Olivia Robinson, and Pauley Purvis each scored one run.

Robinson was tagged with the loss. She allowed 10 runs — only one earned — on 13 hits, while striking out 13 and walking none. Robinson shut out the Wildcats over the last five innings.

Waverly, now 5-5, travels to Newfield Monday.
About the Author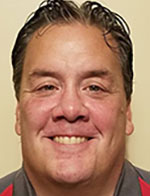 Tim Birney is the founder / owner of River Road Media Group. He was born and raised in the Valley, graduating from Waverly High School in 1984.
Birney earned an Associate's Degree in Journalism from SUNY Morrisville in 1986 and a Bachelor's Degree in Journalism / Public Relations from Utica College of Syracuse University in 1988. He began his newspaper career at The Daily Review in Towanda in 1989, before moving on to The Evening Times in 1995. He spent more than 10 years at the Times, the last four as Managing Editor.
River Road Media Group includes Valley Sports Report (launched Aug. 10, 2009), Tioga County (NY) Sports Report (Aug. 13, 2018), and Northern Tier Sports Report (Aug. 31, 2020). Southern Tier Sports Report is set to launch in 2021.