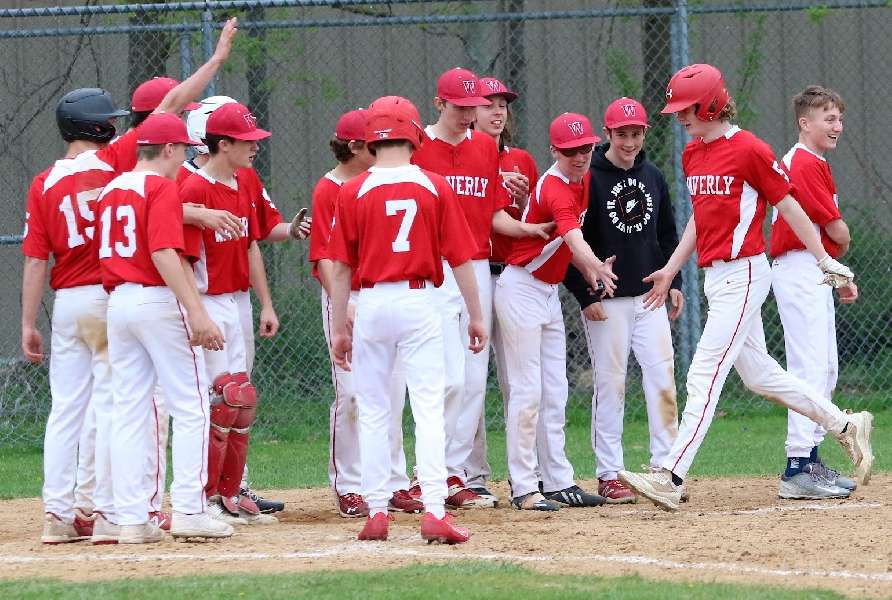 WAVERLY JVs TOPS TIOGA, 16-
By: Tim Birney | Waverly Athletics | May 5, 2022 | Photo courtesy Chela Bubniak
WAVERLY — Waverly pulled away in the middle innings on its way to a 16-6 six-inning win over Tioga here Thursday afternoon in IAC junior varsity baseball action.

The junior Wolverines took a 2-0 lead in the bottom of the second inning on a one-out RBI triple by Thomas Morley, and an RBI single by Nehemiah Anthony.

The Tigers tied the game in the top of the third inning. With one out, Zach Mumbulo reached on an error, and Brennan Sindoni followed with a double to put runners on second and third.

Luke Powell put Tioga on the board with an RBI single, and Sindoni scampered home on an error on the play to make it 2-2.

Waverly answered with three runs in the home half of the inning in a rally that featured RBI singles by Sean Bubniak and Ryan Bostiwck.

Waverly added five more runs — all with two outs — in the fourth to make it 10-2. Charlie Larrabee singled to spark the rally, then Ben Shaw worked a walk.

Carter George ripped a two-run triple, and scored on an RBI single by Bubniak to give Waverly an 8-2 lead. The Wolverines added two more runs on bases-loaded walks to Morley and Anthony.

Tioga closed the gap to 10-4 in the top of the fifth on an RBI groundout off the bat of Gavin Fisher, and an RBI single by Cameron Rought.

The Tigers cut further into the lead with two unearned runs in the top of the sixth to make it 10-6.

Waverly finished off the game with six runs in the bottom of the sixth inning to invoke the 10-run "mercy rule."

Dustyn Gingerich's RBI single made it 13-6, and George ended the game with a three-run walk—ff home run to left field.

George homered and tripled, scored three runs, and had five RBI to lead Waverly at the plate, while Bubniak singled twice, scored two runs, and drove in two, and Morley tripled and singled, scored twice, and knocked in two runs.

Anthony singled, scored once and had three RBI in the win, while Bostwick singled, scored one run, and drove in one run, Larrabee singled and scored one run, Gingerich singled and drove in one run, Jake VanHouten and Shaw scored two runs apiece, Bryce LaForest had one RBI, and Jake Besecker and Josh Courtney each crossed the plate once.

VanHouten earned the win for Waverly, allowing five runs — three earned — on six hits, while striking out five and walking two. Anthony closed out the game, allowing an unearned run in 2/3 innings, with two strikeouts and one walk.

Powell led Tioga with two hits, one run scored, and one RBI, while Sindoni doubled and scored two runs, Tate Macauley singled and scored one run, Rought singled and drove in one run, Jackson Clark added a single, Frank Chapman and Mumbulo each scored one run, and Fisher had one RBI.

Waverly returns to action Monday at Sayre.

About the Author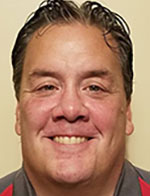 Tim Birney is the founder / owner of River Road Media Group. He was born and raised in the Valley, graduating from Waverly High School in 1984.
Birney earned an Associate's Degree in Journalism from SUNY Morrisville in 1986 and a Bachelor's Degree in Journalism / Public Relations from Utica College of Syracuse University in 1988. He began his newspaper career at The Daily Review in Towanda in 1989, before moving on to The Evening Times in 1995. He spent more than 10 years at the Times, the last four as Managing Editor.
River Road Media Group includes five sites in "The Sports Reports" family that cover 24 school districts in five counties: Valley Sports Report (launched Aug. 10, 2009), Tioga County (NY) Sports Report (Aug. 13, 2018), and Northern Tier Sports Report (Aug. 31, 2020); Northern Tier West Sports Report (March 15, 2021) Southern Tier Sports Report (Aug. 16, 2021).