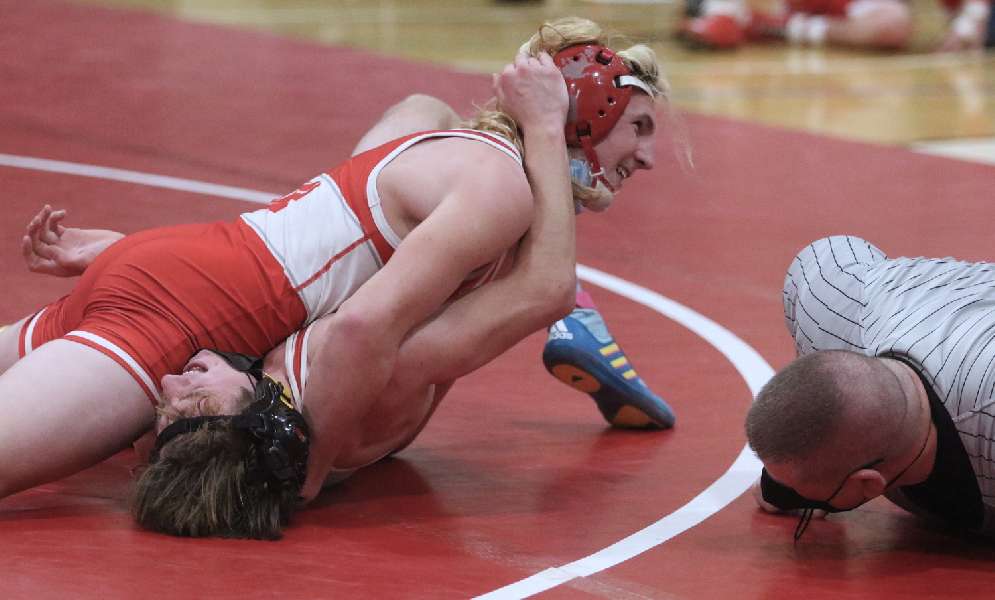 WAVERLY LOSS AT NEWARK VALLEY COMES DOWN TO FINAL BOUT
By: Tim Taylor | Waverly Athletics | January 5, 2022 | Photo courtesy Tim Taylor
NEWARK VALLEY — Wednesday's battle between Waverly and Newark Valley for the top spot in IAC Division I wrestling went down to the final bout. The Cardinals would pull out a 39-36 victory on their Senior Night to improve to 3-0 in the division while the Wolverines slipped to 2-1.

"The kids really stepped up, but we're pretty short-handed right now," NV coach Mike Daly said, noting the Cardinals were without several wrestlers, including five regulars.

"It was nice to see the kids step up. We haven't been able to necessarily to close the deal sometimes all year and in some of the matches we were able to close the deal tonight. Proud of them. They battled out there and kept doing what they do well."

Despite an impressive win in the evening's marquee match-up, the setback left a bitter taste in Waverly coach Devan Witman's mouth.

"This one stings. We came in here very much expecting to win, not to say that we were going to come in here and blow them out, but we definitely came in here expecting to win," he said.

"Newark Valley does what Newark Valley does. They came in, they cradled us and they pinned us. We have to do a better job of defending that cradle. I'd rather get cradled and pinned here tonight than cradled and pinned in the section qualifier or sectionals.

"Our end goal isn't here at Newark Valley. Our end goal is definitely at sectionals and I think some of our guys made some pretty big strides to get there."

The most anticipated meeting of the night came at 132 pounds where NV senior Mark Vosburgh would square off with Wolverine junior Connor Stotler. In the end, Stotler would emerge with a fall in 5:27 — and it was a battle for both grapplers.

Stotler would try a throw about a minute into the match, but was unsuccessful — and he wasn't having any luck on a few double leg takedown attempts either. With six seconds remaining in the second period, he was able to take Vosburgh to the mat for a 2-0 lead.

He would make it 3-0 on an escape 39 seconds into the third period, then tack on another takedown for a 5-0 advantage with 1:05 to go. Stotler would put Vosburgh to his back and score the pin with 33 seconds left on the clock.

The fall avenged a loss by pin to Vosburgh last season.

"Connor wrestled probably the best I've seen him all year, against a tough Vosburgh kid that beat him last year, so we definitely are making strides toward that end goal of our section tournament, but this one still stings.This one's going to keep me up tonight."

Stotler's triumph would knot the team score at 18, but NV would win the next three matches to build a 36-18 lead.

Senior Noah Waterman would dispatch freshman Seth Noto in 1:32 at 138, then sophomore Connor Vanzile decked freshman Dustyn Gingerich in 1:19 at 145, both using those cradles Witman had referenced.

At 152, freshman John Turnbull and sophomore Braeden Nichols went deep into the second period before Turnbull ended the bout with a fall at 3:32.

Just when it appeared Newark Valley might run away with the dual meet, the Wolverines came storming back.

Waverly junior Braedon Hills hit sophomore Kaiden Pado with a headlock for a pin 43 seconds into their 160-pound bout, then junior Gage Tedesco (172) and senior Andrew Kimble (189) received forfeits to create a deadlock at 36 apiece.

The final match of the night came at 215 where NV senior Nate Demmer scored an 8-2 decision over 8th-grader Troy Beeman. Demmer rode a pair of takedowns and a near fall to build a 7-1 cushion after one period. Following a scoreless second period, Demmer added an escape in the third, then surrendered a stalling point.

The dual started at 285, where Waverly junior Ty Beeman pinned sophomore Seth Northrop in 1:56 to give the Wolverines the initial lead.

Freshman Logan Woodin (102) scored a 52-second fall to tie the match at six, then NV freshman Trevor Middendorf (110) and Waverly junior Landon McCarty (118) traded forfeits to make it a 12-12 battle.

NV 8th-grader Cadin Creeley picked up a pin over senior Austin Ingham in 2:19 to put the Cardinals ahead, 18-12.

The Cardinals wrestled well on their feet, recording the initial takedown in six of nine matches, and would win each of those bouts.

"That's the goal," Daly said. "Big match. We're a young team, so we're not going to get it all the time, but we're big matches are won on the feet and that's my philosophy. It's a little slower when you want to win matches by neutral. It takes a little longer to teach kids to get that position, but I believe that's where section titles and state titles, and so on are won. So, that's our focus and it's really just a tribute to the kids to put in the time and the extra time to get that done."

Waverly will host the Jim McCloe Memorial Tournament Jan. 15.