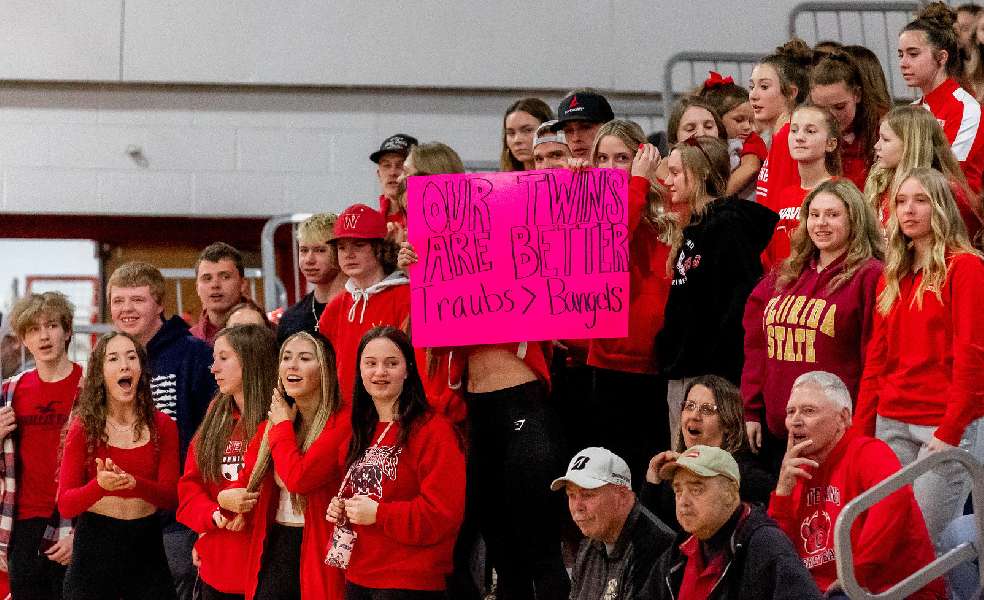 WAVERLY RALLIES, BUT FALLS SHORT IN CLASS B SEMI AT OWEGO
By: Tim Taylor | Waverly Athletics | March 2, 2022 | Photo courtesy Tim Taylor
OWEGO — Third-seeded Waverly clawed its way out of an 11-0 hole, but came up short in the latter stages of a 47-40 Section IV Class B boys basketball semi-final setback against second-seeded Owego here Wednesday.

"It comes down to making the most of your opportunities," Waverly coach Lou Judson said. "We had a lot of opportunities tonight. We just didn't capitalize. Even when they were up five, six points, we were never out of it, but you know, you miss a lay-up here, you miss a wide-open three and you don't capitalize and they come down and get on the free throw line, what have you?"

"Obviously, it was a great start because we were scoring early with our stuff, but I thought Lou (Judson) and Waverly, I think they did a fantastic job of kind of really going to this match-up zone that we were trying to navigate, and I thought they did a great job with it," Owego coach Chris Evans said. "That's what I told them after the game. They're tough. They play hard and they're well-coached. That's a good squad with really good guards and obviously great outside shooting. They stayed in the game by making threes."

The Wolverines closed the gap to 31-30 on a Brennan Traub 3-pointer with 1:19 remaining in the third quarter.

However, that's as close as they would get as John Bangel's buzzer-beater from underneath gave the Indians a 33-30 lead heading into the final frame.

The 6-foot-7 junior scored the next three baskets, giving Owego a 39-30 advantage with just under 4 1/2 minutes remaining in the game.

"You can never just chip away and get it down to two or three late in the game, but we battled hard," Judson said. "Defensively, we played about as good as we could play tonight. We held a team to 47 points. I would've figured us averaging 65 points on the year that we're going to score more than 50."

Davis Croft drained a three-ball at 3:32 and Joey Tomasso added a free throw moments later. John and Joe Bangel countered with one basket apiece, then Brady Blauvelt responded with a steal and lay-up to trim the lead to 43-36 as the contest neared its end.

The Indians went 4-for-10 at the free throw line in the last minute while Waverly went 4-for-6, but neither team could make a field goal.

"It was tough to try to navigate that match-up zone. We finally actually went to some man-to-man plays in that third and fourth quarter, which helped us a lot, " Evans said. "We were kind of setting a high-ball screen early and letting (Drew) Tavelli kind of create, then we changed things up a little bit and then that helps us."

The game didn't look like much of a battle at the onset as Owego ran out to an 11-0 advantage.

After a handful of missed opportunities by both teams, the Indians would break the ice on a steal and layup from Tavelli, and then another basket by Tavelli following a turnover off a deflected pass.

The junior guard would then sandwich a trey between baskets by Ethan Nichols and Joe Bangel to finish off the game-opening run.

"You get these situations where the lack of experience — and I say that, I've got a lot of seniors — but our season was cut short last year with COVID, so a lot of the games were meaningless," Judson said. "We put ourselves in a position to play semifinals and we just lack a little bit of experience. Maybe a little bit of nerves had something to do with it.

"Got down 11-0 to begin the game and we battled back. We were only down one at the half and we didn't play all that well, so I liked our chances."

Three-balls would factor into the Wolverines' rally as Tomasso halted the outburst with a three and Liam Traub followed with another.

John Bangel and Tomasso traded buckets to end the opening quarter with Owego up, 13-8.

Waverly opened the second period with a 9-3 run on treys from Liam and Brennan Traub, and Jay Pipher, the latter three-ball giving the visitors a 17-16 edge with 2:21 remaining in the half.

A Joe Bangel bucket gave the lead back to the Indians at the break, 18-17.

Tomasso put Waverly back ahead just 31 seconds into the third quarter, but the Bangel twins combined for four consecutive points to make it 22-19 just under two minutes into the period.

Baskets by Tomasso and Brennan Traub made it 23-22 in favor of the Wolverines, then Joe Bangel and Brennan Traub swapped baskets, which gave Waverly its final lead of the night, 25-24.

The Indians' Ryan Pryor got open underneath and Tavelli hit a jumper. Croft scored to keep it close with Waverly down a point, but John Bangel and Palmer scored consecutive baskets to make it 31-27 before Brennan Traub's three and John Bangel's buzzer-beater made it 33-30 at quarter's end.

"Brad had a bunch of open threes that he'd hit the other night and they just didn't go in today, but you know, we stayed with it and stayed with it, and like all year when we're not shooting well and not scoring like we'd like, our defense was good enough, and our rebounding, especially in the second half was tremendous with John and Joe Bangle," Evans said.

Holding a team which scores 60-plus points per game to 40 says a lot about Owego's defense, but Evans noted the offense deserves part of the credit as well.

"It also says something about our ball control offense," he said. "because we work at the ball and we run a lot of sets. It cuts down on their possessions. I thought, even in the second half, the big thing at halftime that we talked about with our transition defense, we weren't building out early enough. We made that adjustment a little bit, so we built out a little sooner and we missed one guy over here, on the right wing … but other than that I thought we did a great job in transition defense well."

John and Joe Bangel scored 15 and 12 points, respectively, for Owego. Tavelli contributed nine and Palmer added six.

Judson was impressed with the Wolverines' effort against the 6-foot-7 twins.

"We did a very good job on them," he said. "It's just that at certain moments tonight, at key moments, they were able to find a way to get a basket for them. I don't know what they had combined, but we were hoping to keep them both combined together 25 or less. They're very good. They've got one more year left, they're just going to get better, but I thought we did an excellent job on them, and I think we did an excellent job defensively.

"It was not our defense, it was our offense that was lacking tonight," added Judson.

Tomasso paced Waverly with 11 points, six rebounds, two steals, and one blocked shot, while Brennan Traub scored 10 points, and Liam Traub tacked on seven points, and seven rebounds.

Senior Brady Blauvelt had five boards and two steals for the Wolverines, and senior Davis Croft grabbed six rebounds, and blocked one shot.

"They did an unbelievable job guarding Joey," Judson said. "They knew where he was at all times in the zone. Other guys for us had to step up and shoot the ball well, and we just didn't do it tonight."

"I saw him score 16 first-quarter points against Susquehanna Valley. He's such a good athlete," Evans said. "He's so good with the ball. He's just really solid, and we threw a lot of different people at him, and tried to deny him the ball. If he gave it up, we were trying to make him work really, really hard to get it back. We were in total denial. You can't help. You're denying him because he's their man. He's their guy. I think even in the second half he got away from us a little bit. We made him work for it."

"It's a tough pill to swallow, but I think we're just as good of a basketball team as them, but they proved they're better than us tonight," Judson said.

Judson applauded the dedication and sacrifices which his seniors have committed to the program.

"These seniors have been through this program a long, long time, and I feel bad for them. This senior class has been through more than any team I've ever had with COVID and not being able to play as much last year. I want to give a shout-out to them.

"I really appreciate all their hard work and their dedication to the program, and they're going to be very successful in life because they came every day, worked very hard, as you saw tonight," added Judson.

Waverly wraps up its season at 14-7.

Owego advances to the Class B championship game against top-seeded Seton Catholic Sunday at 6 p.m. at Visions Veterans Memorial Arena.