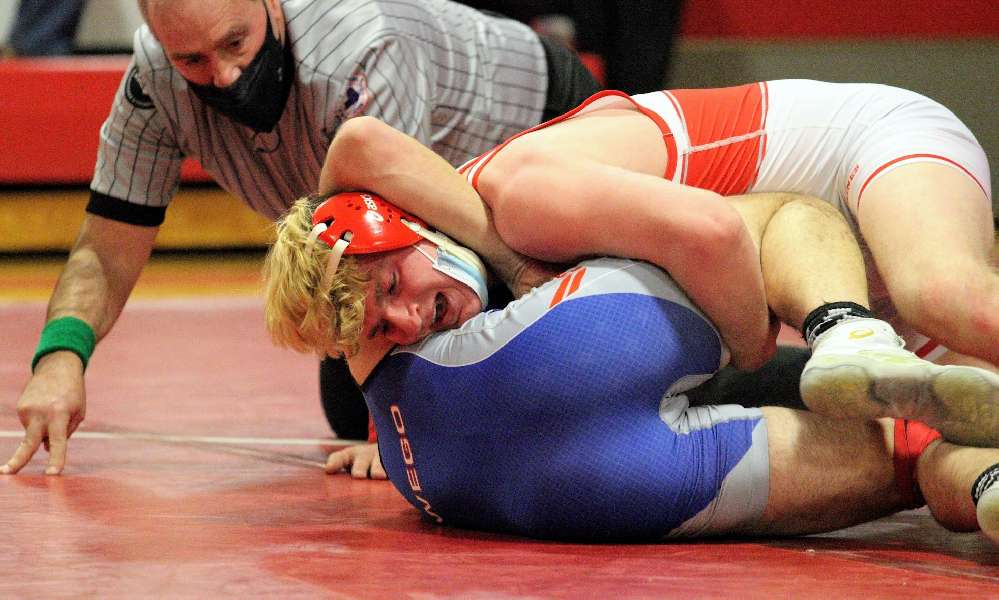 WAVERLY RALLIES TO TOP OWEGO, 40-2
By: Tim Birney | Waverly Athletics | January 27, 2022 | Photo courtesy Shannon McCarty
WAVERLY — Waverly won five weight classes in a row late in the match to pull out a regular-season ending, 40-27, win over Owego here Thursday night in non-league wrestling action.

Owego won three of the first four weight classes to take an early 15-6 lead.

Owego's RaeAnn Craft opened the night with an 8-3 win over freshman Jake Besecker at 118 pounds to give the Indians a 3-0 lead.

After junior Landon McCarty received a forfeit at 126 to give Waverly a 6-3 lead, Colin Brink and Jozsiah Varga-Flynn registered pins at 132 and 138 to make it 15-6.

Junior Connor Stotler pinned Owego's Garit Hodson in 1:53 at 145 pounds, but Owego's Caleb Hoover answered with a 33-second fall at 152 pounds to give the Indians a 21-12 lead.

After junior Braeden Hills scored a first-period pin at 160 pounds to close the gap to 21-18, junior Gage Tedesco forged an 11-2 major decision over Owego's Matt Gatto in the marquee match-up at 172 pounds to put the Wolverines ahead for good, at 22-21.

Senior Andrew Kimble (189 pounds) and junior Ty Beeman (215 pounds) both registered first-period falls for the Wolverines to extend the lead to 34-21.

A forfeit to freshman Cam Hills at 285 gave Waverly an insurmountable 40-21 lead with just two weight classes remaining.

A forfeit to Owego's Collin Monell at 102 pounds provided the final margin.

Waverly returns to action Feb. 5 in a Section IV Qualifier.

——————

IN PHOTO 1: Waverly's Gage Tedesco. … PHOTOS BY SHANNON McCARTY.

——————

WAVERLY 40, OWEGO 27
118: RaeAnn Craft (OFA) dec. Jake Besecker (W), 8-3;
126: Landon McCarty (W) by forfeit;
132: Colin Brink (OFA) over Austin Ingham (W), 5:18;
138: Jozsiah Varga-Flynn (OFA) over Seth Noto (W), 2:47;
145: Connor Stotler (W) over Gairit Hodson (OFA), 1:53;
152: Caleb Hoover (OFA) over Dustyn Gingerich (W), 0:33;
160: Braeden Hills (W) over Bobby Struble (OFA), 1:54;
172: Gage Tedesco (W) major dec. Matt Gatto (OFA), 11-2;
189: Andrew Kimble (W) over John Swackhammer (OFA), 1:30;
215: Ty Beeman (W) over Trevor Decker (OFA), 0:57;
285: Kam Hills (W) by forfeit;
102: Collin Monell (OFA) by forfeit;
110: No Match.
About the Author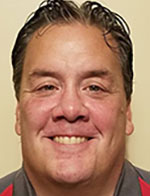 Tim Birney is the founder / owner of River Road Media Group. He was born and raised in the Valley, graduating from Waverly High School in 1984.
Birney earned an Associate's Degree in Journalism from SUNY Morrisville in 1986 and a Bachelor's Degree in Journalism / Public Relations from Utica College of Syracuse University in 1988. He began his newspaper career at The Daily Review in Towanda in 1989, before moving on to The Evening Times in 1995. He spent more than 10 years at the Times, the last four as Managing Editor.
River Road Media Group includes Valley Sports Report (launched Aug. 10, 2009), Tioga County (NY) Sports Report (Aug. 13, 2018), and Northern Tier Sports Report (Aug. 31, 2020). Southern Tier Sports Report is set to launch in 2021.