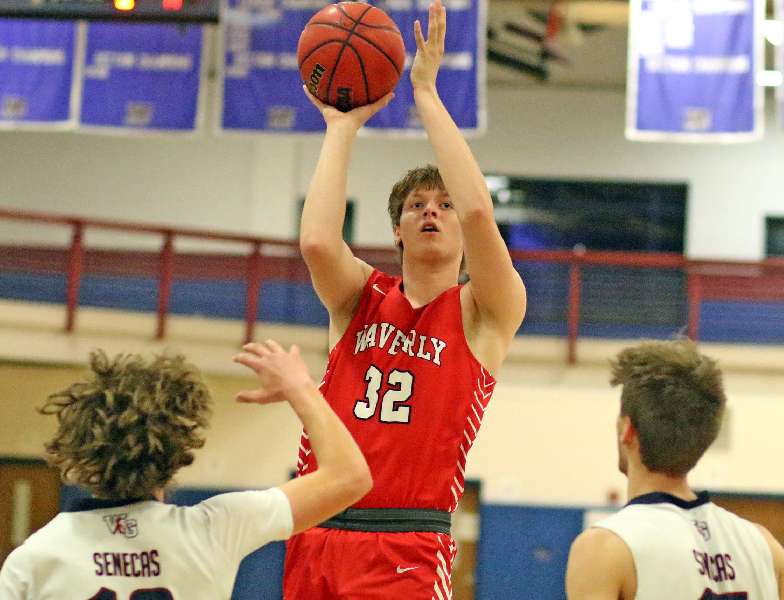 WAVERLY RIDES FAST START, STRONG DEFENSIVE EFFORT TO 62-40 WIN OVER WATKINS GLEN
By: Tim Birney | Waverly Athletics | December 12, 2022 | Photo courtesy Charlie Haeffer
WATKINS GLEN — Waverly got off to a quick start, and rode its defense all game in a 62-40 win over Watkins Glen here Monday night in IAC South Large School boys basketball action.

"We played very well, especially defensively in the first quarter," said Waverly coach Lou Judson. "We locked in and played extremely well defensively all night.

"Jacob Yontz came in averaging 26 points per game, and we held him to 12. I thought that was big for us. And, our defensive pressure in the full court really got to their young guards," noted Judson.

"We didn't finish well around the rim tonight. We had a lot of good looks … we need to capitalize on those.

"Watkins Glen is a pretty solid basketball team," added Judson. "To beat them on their home floor, where I've probably only won five or six times in 20 years is a good win for us. We have a lot of young guys in terms of varsity experience, these guys have never played in that Fieldhouse before. I'm real proud of them."

Junior Joey Tomasso, who topped 30 points for the second game in a row, scored nine points in the first quarter to fuel a 15-3 blitz over the first eight minutes.

Six-foot-6 Jacob Yontz scored six points in the second quarter, and Alex Holmes added five points as the Senecas trimmed three points off the Waverly lead, and trailed 28-19 at the half.

Tomasso scored seven points in the third quarter, junior Jake VanHouten added four points, and senior Isaiah Bretz canned a 3-pointer in a 16-9 run that extended Waverly lead to 44-28 heading into the final eight minutes.

Waverly, which made just 6 of its 12 free throws in the first half, made 9 of 10 in the fourth quarter to nail down the win.

Tomasso poured in 33 points, including a pair of 3-pointers, and had four rebounds, four steals, and one blocked shot, while VanHouten scored nine points, pulled down 12 rebounds, and blocked one shot, and junior Jay Pipher had seven points, four rebounds, four assists, three steals, and five deflections.

Bretz added five points, six rebounds, and three assists in the win, while freshman Hogan Shaw chipped in with four points in his first varsity game, junior Jon Searles grabbed four rebounds, and blocked one shot, junior Jake Benjamin had five rebounds, and senior Nate DeLill chipped in with three boards.

Tomasso had 36 in Waverly's season-opener, and no one else scored more than four.

"This felt a little different in the fact that other guys were contributing in a lot of ways," said Judson.

"Jacob VanHouten was an animal on the boards," noted Judson. "With VanHouten getting nine, Pipher seven, and Bretz five tonight, we're getting closer to where we need to be, but I'd like to a couple more guys get into double-figures."


Yontz led Watkins Glen with 12 points, while Holmes and Joe Sutterby added seven points apiece.
Waverly, now 1-1, hosts Notre Dame Thursday night.
About the Author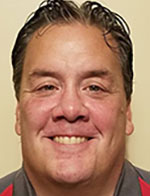 Tim Birney is the founder / owner of River Road Media Group. He was born and raised in the Valley, graduating from Waverly High School in 1984.
Birney earned an Associate's Degree in Journalism from SUNY Morrisville in 1986 and a Bachelor's Degree in Journalism / Public Relations from Utica College of Syracuse University in 1988. He began his newspaper career at The Daily Review in Towanda in 1989, before moving on to The Evening Times in 1995. He spent more than 10 years at the Times, the last four as Managing Editor.
River Road Media Group includes five sites in "The Sports Reports" family that cover 24 school districts in five counties: Valley Sports Report (launched Aug. 10, 2009), Tioga County (NY) Sports Report (Aug. 13, 2018), and Northern Tier Sports Report (Aug. 31, 2020); Northern Tier West Sports Report (March 15, 2021) Southern Tier Sports Report (Aug. 16, 2021).