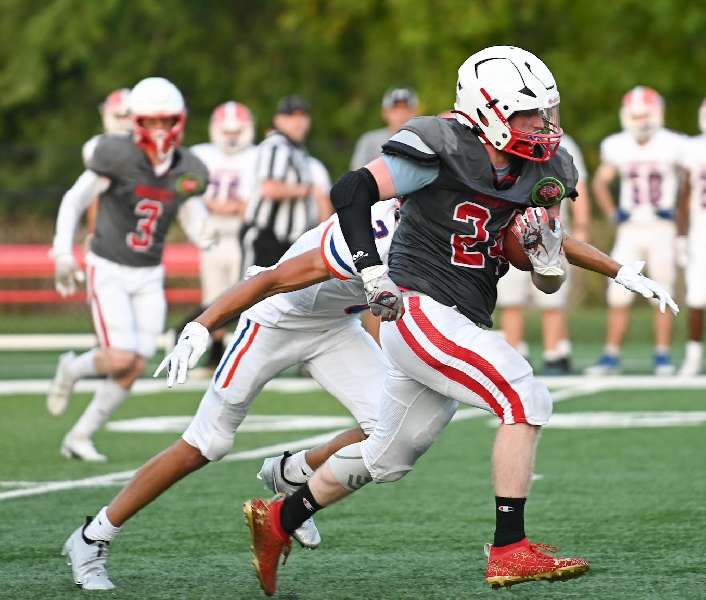 WAVERLY RIDES STRONG DEFENSIVE EFFORT IN 31-13 SEASON-OPENING WIN OVER CHESTER
By: Tim Birney | Waverly Athletics | September 3, 2022 | Photo courtesy Matt Patton
WAVERLY — Waverly overcame four turnovers, including three in the red zone in the first half, using a stifling defense in a dominating, 31-13, win over Chester here Saturday night in the Section IV-Section IX Challenge at Memorial Stadium.

The Wolverines created four turnovers, and held the Hambletonians without an offensive TD until the final seconds of the game.

"Our defense played outstanding," said Waverly coach Jason Miller. "We turned the ball over three times in the first half, and that really hurt us.

"We fortunate to get out of there without giving up any points," he added.

Miller said the key to the game was the Wolverine run game, which accounted for 250 yards.

"When it came down to it, we were struggling to get guys free in the secondary, and they were putting pressure on us, so we ran the ball," he said. "We'll take pride in that.

"I thought the line did an outstanding job," noted Miller. "We knew they had a couple good linemen … we challenged our linemen, and went right at them.

"It's good to see the kids execute late in the game, and run the ball," he added, complimenting the play of his line — seniors Ty Beeman and Zach Vanderpool, junior Jacob Beeman, sophomore Kam Hills, and freshman Troy Beeman.

The Wolverines built a 14-0 halftime advantage, thanks in large part to the leg of senior place-kicker Ryan Clark, who gave his team a tremendous advantage in field position throughout the game.

Chester started its last six possessions of the first half at or inside its own 23, while Waverly started five consecutive possessions in the Hambletonians' end of the field.

Clark booted kickoffs into the end zone three times in the game.

"Ryan Clark was outstanding," said Miller. "When a high school team has to go 80 yards, that's tough. The percentages of a team scoring from 80 yards is really low; that was a huge factor.

"It's also a factor in why our defense played so well," he added. "(Chester) had their backs pinned to the wall, and that effects play calling."

After the teams exchanged punts to start the game, Waverly senior Connor Stotler ended Chester's second possession with an interception, and a 43-yard return to the Hambletonian 22.

Three plays later, however, Waverly's junior QB Joey Tomasso was picked off in the end zone.

After forcing Chester into a three-and-out, Waverly took over at Chester 38 following a 13-yard punt.

On second-and-13, senior Gage Tedesco ripped off a 28-yard run to the Chester 13, but the Wolverines fumbled the ball away on the next play.

Another three-and-out and short punt gave the Wolverines the ball back at the Chester 30, but this time they took advantage.

Three plays later, Tomasso found senior Isaiah Bretz on an 18-yard TD pass to put Waverly on the board on the final play of the first quarter. Clark's PAT kick gave Waverly a 7-0 lead.

Waverly's defense forced its third straight three-and-out, and the Wolverines took over at the Chester 45.

Following a 9-yard run by Tedesco, and a 15-yard pass from Tomasso to junior Jay Pipher the Wolverines had the ball at the Chester 20. Three plays later, a Tomasso pass bounced off the hands of his intended receiver and was intercepted at the 13 for Waverly's third red-zone turnover of the half.

"We had three turnovers in red zone, and we can't do that," said Miller. "We have a long way to go, there's a lot of work to do. Those turnovers can kill you.

"Give (Chester) credit, they did a really good job on our receivers by pressing us and not allowing us to get downfield.

"And, they got a little pressure on Joe (Tomasso)," added Miller. "They ran a front and brought some stunts from the inside that we didn't do a good job picking up."

Two plays later, a big hit by inside linebacker Ty Beeman dislodged the ball from a Chester back, and Waverly pounced on the loose ball at the Hambletonian 25.

Five plays later, Tomasso connected with Pipher on a 6-yard scoring strike. The drive was highlighted by a 15-yard run by senior Kayleb Bechy. Clark's PAT kick made it 14-0 with 4:01 remaining in the first half.

Chester's offense sprung to life on the ensuing possession, mixing the run and the pass in an 11-play drive that moved the ball to the Waverly 14 before turning it over on downs with 17 seconds left in the first half.

Waverly's first possession of the second half ended with an interception — the Wolverines' fourth turnover of the game — at the Chester 22.

After an exchange of punts, Tomasso picked off his counterpart — Chester's Wils Siebert — at the Waverly 18, but three plays later, he was forced to punt from his own end zone, and the Hambletonians took over at the Wolverine 36.

Three plays later, Braeden Hills registered an interception for the Wolverines and returned it 27 yards to the Waverly 37.

Following a run of 7 yards by Tedesco to start the drive, Braeden Hills ripped off a 30-yard run to the Chester 26.

Two plays later, Tomasso connected with Pipher for a 15-yard gain to the Chester 9, and Braeden Hills followed with a 9-yard TD run. Clark's PAT kick made it 21-0 with 2 seconds left in the third quarter.

Taquan Williams returned the ensuing kickoff 88 yards to put Chester on the board, and trim the Waverly lead to 21-6 entering the final quarter.

The Wolverines answered quickly, however, with a two-play, 56-yard scoring drive.

Following a 15-yard run on a QB keeper by Tomasso, Pipher covered the remaining 41 yards on a jet sweep to extend the lead with 11 minutes remaining in the contest. Clark's PAT kick made it 28-6.

Chester took more than 5 minutes off the clock with its next possession, but was forced to punt.

Runs of 13 yards by Pipher, and 23 yards by Payton Fravel quickly moved the ball to the Chester 20. The drive stalled at the 12, and Clark delivered a 29-yard field goal to give Waverly a 31-6 lead with 2:16 remaining.

Chester scored on a 27-yard TD pass with 29 seconds remaining to provide the final margin.

The Wolverines ran for 153 of its 250 yards after the break.

"In the second half, we really wanted to establish the run," said Miller. "I thought Braeden Hills gave us a spark there, and I thought our line did a great job — on pretty basic plays."

Tomasso completed 9 of 20 passes for 111 yards and two TDs in the win, while being picked off three times.

Pipher led Waverly's receivers with six catches for 77 yards and one TD, while Fravel had two grabs for 13 yards, and Bretz had one catch for 18 yards and one TD.

Tedesco led Waverly 72 yards on eight carries, while Pipher had 56 yards and one TD on three carries, Braeden Hills added 49 yards and one TD on four carries, and Bechy chipped in with 28 yards on six carries.

"It's a good start; (Chester) is going to be a pretty good football team in Section IX," said Miller. "Physically, I thought we performed, and that's what I wanted us to do."

Waverly returns to action Friday at Owego.
About the Author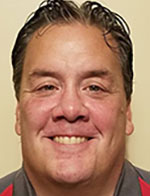 Tim Birney is the founder / owner of River Road Media Group. He was born and raised in the Valley, graduating from Waverly High School in 1984.
Birney earned an Associate's Degree in Journalism from SUNY Morrisville in 1986 and a Bachelor's Degree in Journalism / Public Relations from Utica College of Syracuse University in 1988. He began his newspaper career at The Daily Review in Towanda in 1989, before moving on to The Evening Times in 1995. He spent more than 10 years at the Times, the last four as Managing Editor.
River Road Media Group includes five sites in "The Sports Reports" family that cover 24 school districts in five counties: Valley Sports Report (launched Aug. 10, 2009), Tioga County (NY) Sports Report (Aug. 13, 2018), and Northern Tier Sports Report (Aug. 31, 2020); Northern Tier West Sports Report (March 15, 2021) Southern Tier Sports Report (Aug. 16, 2021).