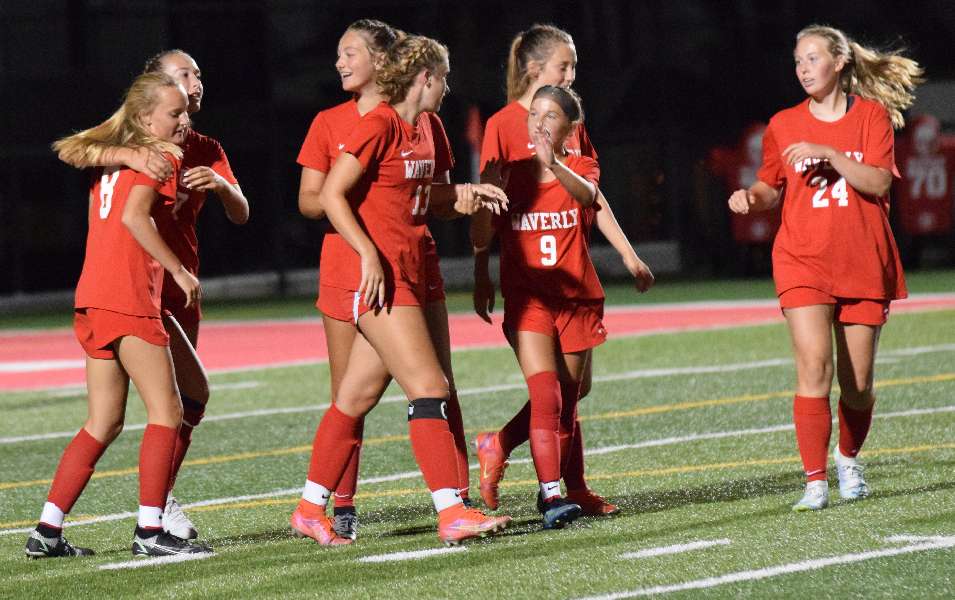 WAVERLY ROLLS PAST DRYDEN, 4-1, IN SEASON OPENER
By: Tim Birney | Waverly Athletics | September 1, 2022 | Photo courtesy Mike Lubertowicz
WAVERLY — Junior Lea VanAllen tallied a pair of goals, and senior Kennedy Westbrook scored once and dished out one assist to lead Waverly to a 4-1 win over defending IAC North Large School champion Dryden here Thursday night in girls soccer action at Memorial Stadium.

"'Wow,' that would be my first reaction to tonight's game," said Waverly coach Tara Hogan. "We had forwards making great runs and taking great, well-placed shots, and defenders not letting a single person get by.

"And, every sub that came off the bench was ready to go," added Hogan.

Sophomore Addison Westbrook put Waverly on the board 6 1/2 minutes into the game, scoring off a corner kick from Kennedy Westbrook.

About 5 1/2 minutes later, VanAllen took a feed from 8th-grader Makenzie Olmsted, beat a defender, then beat the keeper in a 1-on-1 to make it 2-0.

Dryden answered with a goal with 25:07 remaining in the first half to trim the deficit to 2-1, and the teams battled without a goal for nearly 35 minutes.

With 30:18 remaining in the game, Kennedy Westbrook took a pass from Olmsted at the top of the 18, and rifled a shot through the keeper's hands and into the net to make it 3-1.

With 15 minutes remaining, VanAllen added an insurance goal with a header off a cross into the box by 8th-grader Lauren Gorsline.

Hogan praised the performance of several of her players after the game.

"Kennedy (Westbrook) went back and forth between stopper and center-mid tonight," said Hogan. "Her energy and ability to be everywhere we need her to be is second to none. She is an incredibly hard-working player.

"Newcomer Makenzie Olmsted is absolutely fantastic," noted Hogan. "She is a ball of energy. You can just tell she thrives on being able to be involved in all plays.

"She saw time at stopper and center-mid," continued Hogan. "Not only did she 'hold her own,' she far exceeded my expectations.

"Another major standout was newcomer Lauren Gorsline," added Hogan. "She got a few shots off and had a beautiful assist to Lea VanAllen. Lauren and Makenzie are players I can, and have, put on every single line — forward, midfielder, defender."

Hogan also praised the play of her defense.

"Paige Robinson is filling the very large shoes left by Bella Romano, and doing a very good job if it," she said. "She has blown me away already with how well she is playing this position.

"I have 100 percent faith in her," noted Hogan. "I even said to her, 'it's not a glamorous position but it's the most important.'

"Claire Clonch and Olivia Robinson continue to impress me by holding down the line with Paige," added Hogan. "They are all smart and never shy away from contact."

Waverly had a 12-1 advantage in shots-on-goal, and a 4-2 edge in corner kicks.

Sophomore Lea Cole had one save in net for the Lady Wolverines.

Waverly returns to action Wednesday at Newfield.
About the Author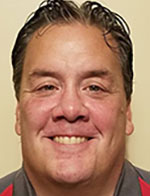 Tim Birney is the founder / owner of River Road Media Group. He was born and raised in the Valley, graduating from Waverly High School in 1984.
Birney earned an Associate's Degree in Journalism from SUNY Morrisville in 1986 and a Bachelor's Degree in Journalism / Public Relations from Utica College of Syracuse University in 1988. He began his newspaper career at The Daily Review in Towanda in 1989, before moving on to The Evening Times in 1995. He spent more than 10 years at the Times, the last four as Managing Editor.
River Road Media Group includes five sites in "The Sports Reports" family that cover 24 school districts in five counties: Valley Sports Report (launched Aug. 10, 2009), Tioga County (NY) Sports Report (Aug. 13, 2018), and Northern Tier Sports Report (Aug. 31, 2020); Northern Tier West Sports Report (March 15, 2021) Southern Tier Sports Report (Aug. 16, 2021).